Modern-day alternative fuel vehicles arrived in the United States in 1999 with the debut of the Honda Insight, a hybrid-electric that resembled a horizontally positioned peanut on wheels. The Toyota Prius arrived a few months later and remains the dominant leader in the segment with its family of "green" vehicles.
Several manufacturers continue their quests infiltrate, most notably Honda. It debuted the Honda Civic GX (later called the Civic CNG), its compressed natural gas sedan, in limited markets in 1998. It was eventually available to consumers throughout the country, but production stopped with 2015 model.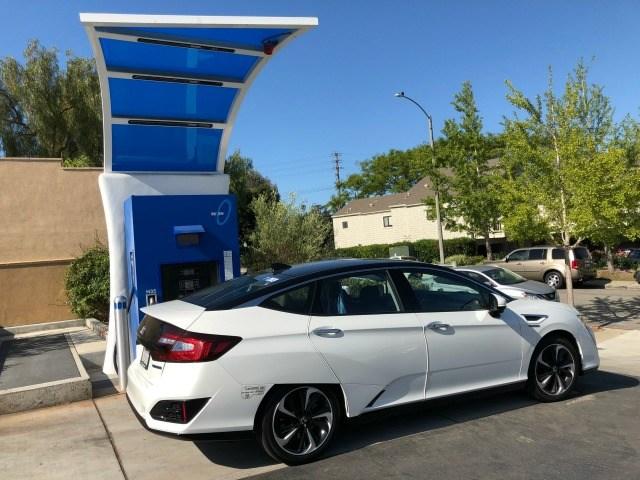 More innovative is the Honda Clarity Fuel Cell, one of the three Clarity models available. It operates only on hydrogen, the emissions of which are water. The manufacturer unveiled its hydrogen car for the second time in late 2016 but only in Southern California.
The 2017 model and the just-released 2018 model are available for a three-year leases in California, via 12 dealerships. The MSRP is $58,490. The monthly lease is $369 with a 20,000 per-year mileage allowance. The signing cost is 2,868. A 21-day rental policy from Avis is also included. But the key incentives are the $5,000 via the  state's clean vehicle rebate project. A California Clear Air Sticker for single occupancy driving in High Occupancy Vehicle lanes is also available.
I drove a 2017 Clarity Fuel Cell throughout the recent Amgen Tour of California bicycle race. The round trip from Sacramento to Long Beach covered about 900 miles.
Hydrogen vehicles are still foreign to a skeptical buying public. Range anxiety is a common concern. The lack of refueling stations, as well as hydrogen costs and safety are questioned. Friends who knew I was making the trip, joked about the Hindenburg, the infamous German airship that exploded in New Jersey in 1937.
From my week with the Clarity Fuel Cell, any reservation is unwarranted. The four-door sedan was surprisingly smooth. It's quiet, comfortable and sporty. I'd watched a refueling video narrated by Chris White, Communications Director of the California Fuel Cell Partnership in Sacramento. I had a map and an app listing the now 35 hydrogen refueling stations in California. The logical first refueling location was about the halfway point in Coalinga, 191 miles from Sacramento.
Honda promotes the Clarity with a range of 366 miles. I'd driven the on a few city trips before my departure and left Sacramento 278 miles remaining. The Clarity's exterior and designs are similar to an Accord. But with its hydrogen engine, it's substantially heavier, weighing more than 4,000 pounds.
While not appreciably concerned, I repeatedly checked the destination arrival mileage posted on the navigation system with the hydrogen fuel gauge mileage remaining. Simple math predicted my arrival with a range of 87 miles left. Traffic along Interstate 5 almost always exceeds the posted speed limit, and I often drove with the air conditioner on.
I arrived at the refuel location with 78 miles left. The hydrogen station at across the street from Harris Ranch in Coalinga is located in a spacious corner of a Shell station. True Zero, which operates the stations, has designed them with large blue overhangs, ample space to maneuver a vehicle and good lighting. The hydrogen nozzle can be cold, so consider keeping a glove in your car.
As the video instructed, and as other Clarity Fuel Cell drivers had mentioned, refueling the Clarity was a simple four-step process, and instructions are provided. Hydrogen is only available via credit card. The process was straight-forward and efficient. The refueling sound was similar to putting air into a tire.
The fill-up time was less than five minutes, and my total was 3.658 kilograms at $16.50 per kilogram. I'd driven 221 miles since receiving the car and the refueling cost was $60.19. Subsequent refills in Long Beach, Santa Barbara and Campbell all averaged about the $16.50 per kilogram and with highest total price about $83.
Nearly 20 years later their introduction, alternative fuel vehicles still haven't changed more than small a percentage of buyers' preferences. Every major manufacturer has at least one alternative fuel vehicle in its lineup, but total yearly sales comprise only about three percent of the new vehicles sold in the United States.
The Honda Clarity may never catch-on with the public, but it's an alternative fuel car that makes a lot sense — at least it did for me.
Support independent journalism. Many of us are undergoing pay cuts and decreased hours. Shop on Amazon using this banner, and The Weekly Driver receives a small commission at no cost to you.
Advertising Disclosure: TheWeeklyDriver.com is a participant in the Amazon Services LLC Associates Program, an affiliate advertising program designed to provide a means for sites to earn advertising fees by advertising and linking to Amazon.com.