The cars featured in the 24 James Bond movies are arguably as famous as the actors who have played secret agent 007. Those actors, Sean Connery to Daniel Craig, have varying personalities in the films. And so do the cars they've driven, a Sunbeam Alpine II to an Aston Martin DB 10.
In the the soon-to-be released movie Spectre, Aston Martin created 10 Aston Martin DB 10 models. The villain's car is Jaguar's hybrid supercar, the C-X75. According the several newspaper articles, filmmakers destroyed $36 million worth of cars, including seven DB10 models, during filming.
In the original James Bond film, Dr. No, made in 1962, producers failed to obtain a free Sunbeam Alpine from the carmaker, so they had to rent the car from a local owner in Jamaica for about $2 a day.
The first great chase in the iconic film series' history is when Bond is driving to Miss Taro's house in the mountains. While en route, he evades a hearse driven by the Three Blind Mice, assassins working for Dr. Julius No.
When the hearse plunges off a cliff, Bond quips: "I think they were on their way to a funeral."
Here's a list of the movies and the prominent cars used in the two-dozen James Bond movies to date:
Dr. No., 1962,
1961 Sunbeam Alpine II
From Russia With Love 1963
1935 Bentley Drophead
Goldfinger 1964
1963 Aston Martin DB5
Thunderball 1965
1963 Aston Martin DB5
You Only Live Twice 1967
1967 Toyota 2000GT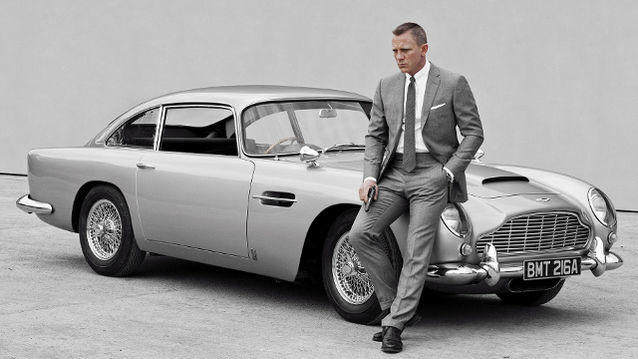 On Her Majesty's Secret Service 1969
1968 Aston Martin DBS
Diamonds Are Forever 1971
1971 Ford Mustang Mach 1
Live and Let Die 1973
1947 AEC Regent III
The Man With the Golden Gun 1974
1974 AMC Hornet X
The Spy Who Loved Me 1977
1976 Lotus Esprit S1
Moonraker 1979
Chevrolet C10 ambulance
For Your Eyes Only 1981
1981 Citroën 2CV
Octopussy 1983
1981 Alfa Romeo GTV6
A View to a Kill 1985
1983 Renault 11 TXE
The Living Daylights 1987
1985 Aston Martin V8 Vantage
Licence to Kill 1989
1987 Kenworth W900
GoldenEye 1995
1963 Aston Martin DB5
Tomorrow Never Dies 1997
1997 BMW 750iL
The World Is Not Enough 1999
1999 BMW Z8
Die Another Day 2002
2002 Aston Martin V12 Vanquish
Casino Royale 2006
2006 Aston Martin DBS V12
Quantum of Solace 2008
2008 Range Rover Sport HSE
Skyfall 2012
1963 Aston Martin DB5
Spectre 2015
Aston Martin DB10