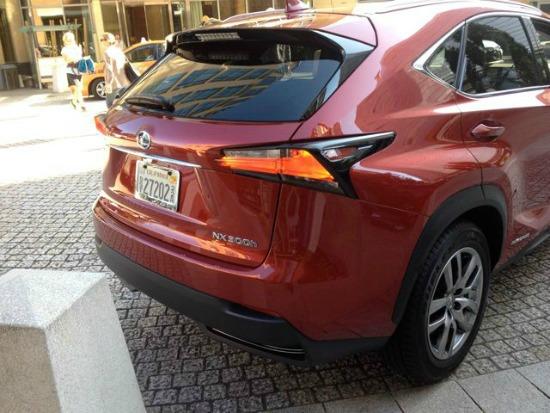 The 2015 Lexus NX, the new entry level sport utility vehicle from the upscale division of Toyota, will debut in the United States in December in two versions.
The NX stands for "Nimble Crossover." It fits. The NX 200t has a turbocharged 2.0-liter four-cylinder engine. The NX 300h hybrid will features a new transmission that splits the hybrid battery into two pods for better weight distribution. The result: a more efficient use of cabin space.
Built on a Toyota RAV4 platform, the Lexus NX more resembles a sports car more than an SUV and both models of all-weather drive (AWD). Despite the similarity to its sibling, platform, the new NX lineup will be 90 percent new.
The new factor is what Lexus stressed during recent regional press review in Seattle, Washington.
There's a lot of new. Some of it is striking like a futuristic-looking grille. Some of new look is innovative like the uniquely shaped headlights. Some reviews have described the design of the new lights as a modernized "Nike swish." But it's a more a modern version of the Lexus logo presented at a different angle.
There's a lot of new in the interior, too. The 2015 NX's cabin features several Lexus debuts: A Lexus-first Wireless Charging Tray for compatible phones and devices; the new Lexus Remote Touch Interface (RTI) with a touch pad; and a comprehensive Multi-information Display that features a Lexus-first G-Force meter and boost gauge.
The F SPORT badge has an aggressive grille and front lower bumper. Special wheels, black exterior mirrors and exclusive interior trim and front sport seats completed package.
The 2015 Lexus NX will debut with two powertrain choices, each with front-wheel drive or all-weather drive: a 2.0-liter, 235-horsepower turbo gasoline engine, the brand's first turbo gasoline engine, is matched to a new six-speed automatic transmission.
In the NX 300h hybrid, a 2.5-liter Atkinson-cycle gasoline engine has a new automatic transmission with a unique kick-down feature.
The 2.0-liter turbocharged port and direct-injection engine uses an advanced valve control system to switch between Atkinson cycle and Otto cycle operation to optimize performance and fuel efficiency.
A new sequential six-speed automatic transmission networks with the turbo engine to achieve an ideal level of boost pressure for performance and fuel economy. Torque-demand control logic calculates required engine torque and maximizes it, delivering quick response and exhilarating acceleration feel with good fuel efficiency.
Drivers can optimize fuel economy using Eco or Normal modes in Drive Mode Select, or use Shiftmatic in Sport mode to better enjoy a winding road.
Like any Lexus, driving the new Lexus defines steady performance, comfort and convenience. In some manufacturers, some styles feel comfortable and don't require a learning curve. Every Lexus I've driven feels like "home" from the first drive.
It's a high-tech car, and during my hour's test drive and another hour as a passenger, I kept thinking the new Lexus model would be ideal for long journeys.
Like other Lexus Hybrids, the NX 300h is quiet. It uses the electric motor exclusively when reversing. A continuous sound emitted from the vehicle proximity notification speaker mounted near the front bumper alerts pedestrians and cyclists of the approaching vehicle.
A sharply raked tailgate and integrated spoiler are punctuated by Lexus' signature L-shape light clusters featuring seamless LED (light emitting diode) lighting, while the tailgate detailing echoes the spindle grille design.
The 2015 Lexus NX makes extensive use of low energy consumption LEDs for front and rear lights. Two types of LED headlights are available. The NX 200t uses LEDs for the low beams and halogen bulbs for the high beams.
Available for NX 200t and standard for NX 300h, the same LED light source provides the high beam and the low beam, yielding uniform light distribution with no chromatic variation. A two-color (black and clear) molding method gives the thick-walled lens a crystal glass appearance even when not illuminated.
The high-grade daytime running lamps (DRLs) create the distinctive L-shape light, and the LED turn signals illuminate sequentially. Adaptive LED fog lights are available for NX 200t and standard for NX 300h. When the turn signals are used, two of the fog light bulbs illuminate automatically to enhance illumination in the turn.
For the LED taillights, thick-wall molding technology gives the outer lens the impression of crystal glass. Reflectors provide side illumination, sourced from the rear-facing LEDs, without the need for additional LEDs.
The cabin design combines structural elements with luxurious yet functional materials and textures. The center console is the focal point, framed by bold silver-colored architectural elements and featuring kneepads on both sides. Leather-wrapped metal over high contrast metallic colors provides visual depth. The NX dashboard and console continue the Lexus concept of display and operational zones.
Lexus NX models have eight SRS airbags, including a dual stage driver's airbag and knee airbag, dual-stage and dual-chamber front passenger airbag, front side airbags and full-length side curtain airbags, and offer the available Lexus Pre-Collision Safety System (PCS).
Available Lane Departure Alert warns the driver when it determines the vehicle is about to veer from a traffic lane. A camera mounted to the windshield recognizes lane markings. It sounds a warning and provides a visual representation on the Multi-Information Display screen if the vehicle is veering from its lane. The system works in rain and on roads where the lane is marked on one side only.
Intelligent High-beam uses the same windshield-mounted camera. When the driver turns the high beam on, it will switch to low beam to help prevent blinding other drivers and restore high beam when there are no vehicles ahead are detected. The system can also dim the high beams when it detects bright streetlights. When conditions permit, the high beams will automatically resume.
Pre Collision System (PCS) uses the all-speed Adaptive Cruise Control system's millimeter- wavelength radar sensor to detect vehicles and other obstacles. A buzzer and a light help warn the driver of impending collision. The system can increase the driver's braking effort, and activate Pre-Collision Brake if the driver doesn't apply the brake. The system can also bring the NX to a full stop. Pre-Collision Brake deceleration works from a maximum speed of 37 mph.
The NX 200t F SPORT also features Active Sound Control (ASC) to enhance the auditory experience. The engine note volume resonating through the cabin can be adjusted when then the driver turns on ASC.
The MSPR for NX lineup has not been announced.
For additional information, visit: www.leuxus.com
Support independent journalism. Many of us are undergoing pay cuts and decreased hours. Shop on Amazon using this banner, and The Weekly Driver receives a small commission at no cost to you.
Advertising Disclosure: TheWeeklyDriver.com is a participant in the Amazon Services LLC Associates Program, an affiliate advertising program designed to provide a means for sites to earn advertising fees by advertising and linking to Amazon.com.