Now in its second year, the Lexus IS 500 F Sport Performance is a manufacturer outlier. The luxury brand extension of Toyota is geared toward upscale interiors and comfort on the open road.
The 2023 edition of the V8 sedan is more focused on performance while maintaining the Lexus reputation.

Without much change from its debut offering, the 2023 Lexus IS 500 F Sport is available in Base and Premium trims. The Launch Edition is gone. Powered by a 5.0-liter V8 with 472 horsepower engine, the small luxury sedan's engine ia paired with an eight-speed automatic transmission. It has Sport S, Sport S+ and Custom drive modes for customizing the driving feel. Gas mileage averages are underwhelming, with 17 miles per gallon in city driving, 25 mph.
A sport-tuned adaptive suspension, Torsen limited-slip differential, larger brakes and 19-inch Enkei wheels fitted with performance tires are also part of the touted performance push of the 2023 Lexus IS 500 F Sport.
Driving the IS 500 F Sport provides an additional example of the carmaker's reputation In its second year, has moved toward the top of its segment. It offers a smooth, comfortable ride, particularly noticeable at high speeds.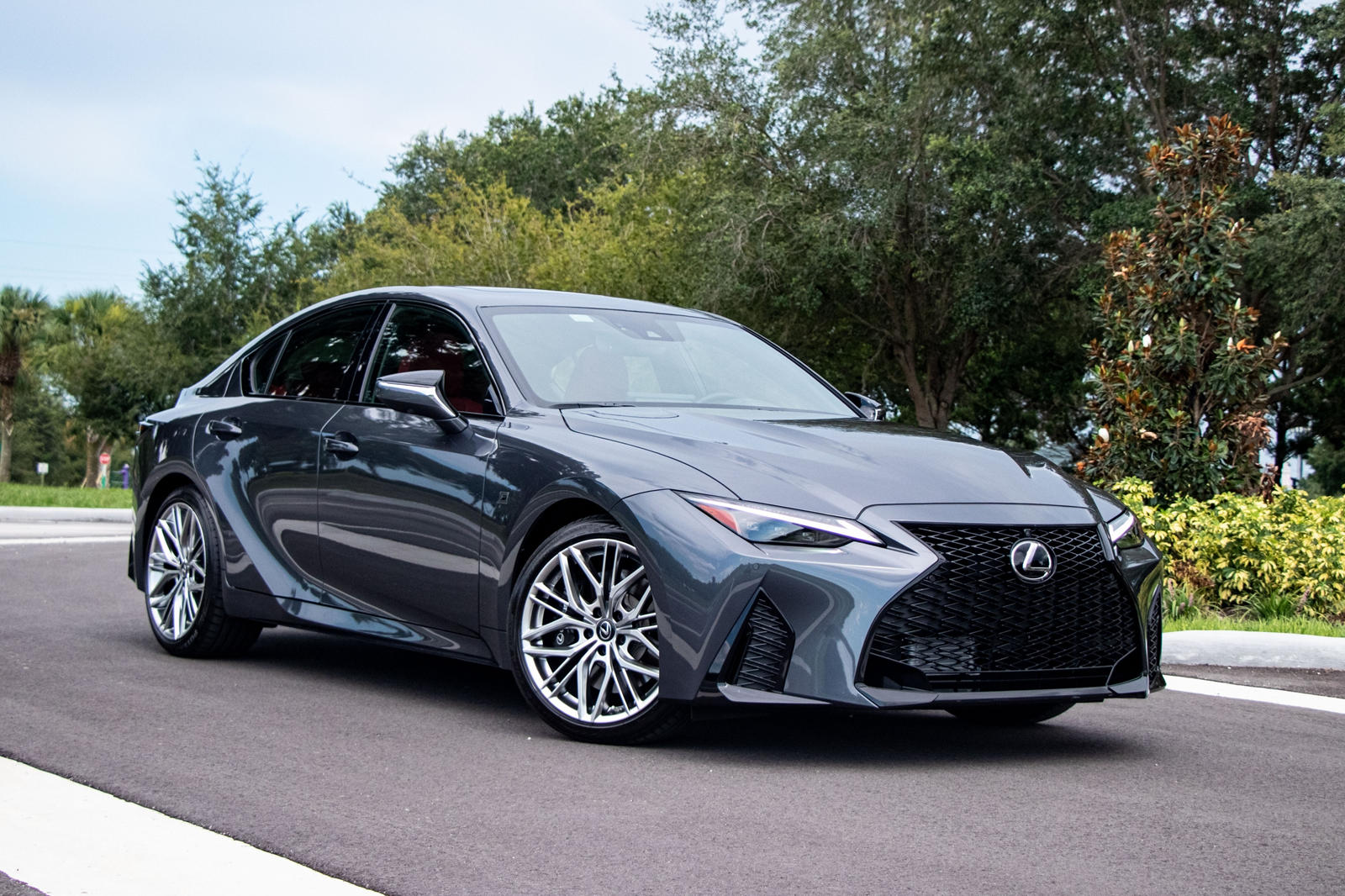 The adaptive suspension provides the sport sedan's maneuvering poise and its nimble personality adds to the enjoyment. Several stellar competitors have better acceleration. The Audi RS is rated at 3.7 seconds from 0-60 miles per hour, the BMW M3 is marketed with a 4.1-second effort.
The Lexus is plenty quick enough for everyone except for the speed-obsessed at 4.4 seconds. It's fastest enough to advance the notion that the IS 500 F Sport should be offered with a six-speed manual transmission. It's not.
Lexus vehicles are always chock-full of standard equipment. The base model IS 500 follows tradition, with an impressive variety of stuff, adaptive sport suspension a heated and power-adjustable steering wheel to simulated leather upholstery to front and rear parking sensors with automatic braking.
Safety also gets priority treatment via automatic emergency braking, lane departure mitigation, a lane-keeping system, adaptive cruise control and a blind-spot monitor with rear cross-traffic alert.
The reviewed Performance Premium trim adds upgraded LED headlights, a 10.3-inch touchscreen display navigation system, a 17-speaker Mark Levinson audio system, a 360-degree camera system and a power rear sunshade.
Apple CarPlay, Android Auto, satellite radio, and connected services including Wi-Fi access, and Amazon Alexa integrations are all in the mix. And so is the signature Lexis touchpad. It once was a slick new feature. Now it's dated and cumbersome.
The electric brake lever also needs a new location. It's hidden in the lower right-hand corner position below the steering wheel.
Lexus also always gets interiors right. While not as lavish as some competitors, Lexus uses top-quality materials. The front seats are supportive and comfortable and have a wide assortment of positions. Like many smaller sedans, rear seating while also quality-emphasized, provides adequate space only for petite passengers.
Here's hoping Lexus one day soon discards its unattractive spindle grille. It's among the car's only few downsides. Restrictive rear seat space and small overall cargo space are the car's only downfalls.
The IS 500 has quad exhaust tips and a spoiler. Neither is necessary but the equipment further accentuates the sedan's sportiness. The engine's growl will appeal to those who enjoy the sound of throat-clearing.
While competitors may be well-heeled and offer more flash, the newbie Lexus has a second-year legitimate contender.
With its upscale black-matted wheels ($2,450) and a few less expensive items, the Lexus IS 500 Sport Performance is a $66,500 vehicle. It's a crowded marketplace and it's always good for competition to have many choices.