Not too many years ago, the term "four-door sports car" rattled automotive purists. It's now part of the accepted lexicon only to be replaced with the latest oddity, "supercar luxury family sports sedan." A few abound including the 2021 Mercedes-AMG GT 63 S.
The addition to the German stalwart manufacturer began as a 2016 model as a two-seat coupe. But a convertible and four-door sedan are now offered. The niche of niche segments also includes the Audi S7 and RS 7, BMW 8 Series Gran Coupe and M8 Gran Coupe and the Porsche Panamera.
For 2021 (2022 models are pending via supply chain shortages), the AMG GT 63 S is the top-line of four trim levels. All-wheel drive is standard and matched with a nine-speed automatic transmission. With an extensive list of standard equipment from its stablemates, the full-on technology, comfort and safety-loaded wonder includes a bi-turbo V8 and a selectable rear-wheel-drive mode.
2021 Mercedes-AMG GT 63 S: Lots of bells, whistles
Several optional packages combine to present a perplexing question: How does all of the gadgetry fit into one vehicle? It's accomplished with some heady prices. The AMG Carbon Ceramic Braking System ($8.950), DC4 AMG Exterior Carbon Fiber Package II ($4,000), RWC 21″ AMG Forged Twin 5-Spoke Wheels ($3,200), 397 Carbon Fiber Roof Panel ($3,000) and DC3 AMG Aerodynamics Package ($2,850) help catapult the uber-beauty to just under $200,000.
It's a shortlist of high-end sedans that offer 40/40-split folding twin rear seats, heated and cooled rear cupholders, three-zone automatic climate control and rear-cabin wireless charging. None of it seems necessary but if offered, why not?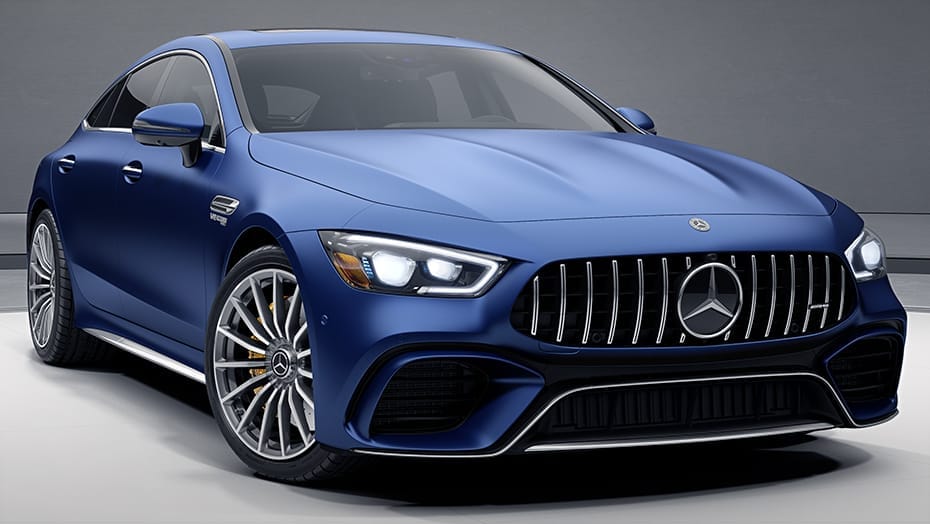 With its impressive engine specs, the AMG GT 63 S has been labeled as the fastest new luxury sedan. The point of taking a family to weekend sports activities with 0-60 miles per hour speed possible in 3.5 seconds is unknown.
2021 Mercedes-AMG GT 63 S: Too Noisy
A family's conversation may overshadow the vehicle's annoyances. It's loud and the car's large wheels often rub on tight cornering, adding to the unpleasant tones.
What the AMG GT 63 S offers is beauty. Matte exterior finishes are increasingly popular (and prone to easily chipping), but its works on the luxury sedan, notably the Brilliant Blue Mango palette. It's matched with a black carbon roof and silver trim. A statement it does make.
The interior defines plushness. Top-level Nappa leather and a skilled designer's touches on the console design, inside door layouts and equipment fit, finish and positioning resonate like style should, refined. The exception is a lack of seat comfort, with the hard-packed, contoured configurations not conducive to long hauls.
2021 Mercedes-AMG GT 63 S: It's no family car
Audiophiles will delight in the Burmester Surround Sound System and its concert hall quality. It provides keen enjoyment when the 5,500-pound supercar luxury family sports sedan is cruising along on the open road, in charge and preferably while being enjoyed by a family of one or maybe two.
FACTS & FIGURES: 2021 Mercedes-AMG GT 63 S.
Acceleration: 0-60 mph, 3.5 seconds.
Airbags: 8.
Fuel economy: 16 mpg, city; 21 mpg, hwy.
Horsepower: 630.
Manufacturer's Suggested Retail Price: $161.900.
Manufacturer's Web site: www.mbusa.com.
Price As Tested: $199.910.
Warranty: Bumper to bumper, 4 years/50,000 miles; Powertrain, 4 years/50,000 miles; Corrosion, 4 years/50,000 miles; Roadside Assistance, 4 years/50,000 miles; Maintenance, various pre-paid plans.