What would a James Bond movie be without iconic cars doing the impossible?
OK, there's espionage, guns, chase scenes, adventures in exotic places, tuxedos, pretty women in slinky dresses, villains and a martini or two (shaken, not stirred).
But other than that, fans of the 24 films (and soon to be 25 movies) in the franchise need to see cars, notably various Aston Martin vehicles.
Aston Martin needs the James Bond movies. The James Bond movies need Aston Martin.
In the final preview before the nationwide debut of No Time To Die on Oct. 8, cars are in the mix, including a homage to yesteryear with protruding automatic weapons all the rage.
James Bond: Retired? Not So Much
The premise of the new film, as promoted:
"James Bond has left active service and is enjoying a tranquil life in Jamaica. His peace is short-lived when his old friend Felix Leiter from the CIA turns up asking for help.
The mission to rescue a kidnapped scientist turns out to be far more treacherous than expected, leading Bond onto the trail of a mysterious villain armed with dangerous new technology."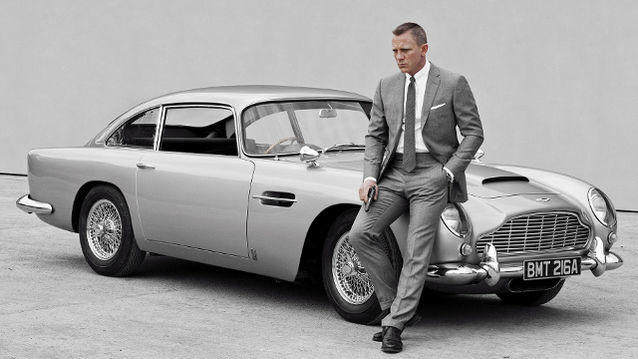 "No Time To Die "stars Daniel Craig, Rami Malek, Léa Seydoux, Lashana Lynch, Ben Whishaw, Naomie Harris and Jeffrey Wright, Christoph Waltz and Ralph Fiennes.
The cast also includes Rory Kinnear, Ana de Armas, Dali Benssalah, David Dencik and Billy Magnussen
Cary Joji Fukunaga is the director and co-wrote the screenplay with Neal Purvis & Robert Wade and Phoebe Waller-Bridge. Michael G. Wilson and Barbara Broccoli are the producers.
The film's management and Aston Martin representatives have reiterated for months that "No Time To Die" will include four models of the iconic sports car.
Not every Bond film has featured an Aston Martin, but there's little doubt the human and automotive icons are meant for each other.
Here's a list of the movies and the prominent cars used in the two-dozen James Bond movies to date:
Dr. No., 1962,
1961 Sunbeam Alpine II
From Russia With Love 1963
1935 Bentley Drophead
Goldfinger 1964
1963 Aston Martin DB5
Thunderball 1965
1963 Aston Martin DB5
You Only Live Twice 1967
1967 Toyota 2000GT
On Her Majesty's Secret Service 1969
1968 Aston Martin DBS
Diamonds Are Forever 1971
1971 Ford Mustang Mach 1
Live and Let Die 1973
1947 AEC Regent III
The Man With the Golden Gun 1974
1974 AMC Hornet X
The Spy Who Loved Me 1977
1976 Lotus Esprit S1
Moonraker 1979
Chevrolet C10 ambulance
For Your Eyes Only 1981
1981 Citroën 2CV
Octopussy 1983
1981 Alfa Romeo GTV6
A View to a Kill 1985
1983 Renault 11 TXE
The Living Daylights 1987
1985 Aston Martin V8 Vantage
Licence to Kill 1989
1987 Kenworth W900
GoldenEye 1995
1963 Aston Martin DB5
Tomorrow Never Dies 1997
1997 BMW 750iL
The World Is Not Enough 1999
1999 BMW Z8
Die Another Day 2002
2002 Aston Martin V12 Vanquish
Casino Royale 2006
2006 Aston Martin DBS V12
Quantum of Solace 2008
2008 Range Rover Sport HSE
Skyfall 2012
1963 Aston Martin DB5
Spectre 2015
Aston Martin DB10
RELATED CONTENT
Aston Martin Valkyrie Spider unveiled and unavailable
James Bond films mean Aston Martin scenes but no DBX
2020 Aston Martin Vantage: James Bond sports car cool