A 1968 Ford Mustang GT Fastback and a 2004 Pontiac Aztek are as far apart on the automotive spectrum as possible — with one exception.
With a few dozen other vehicles — an Aston Martin DB5 to AMC Pacer and a Plymouth Fury to Pontiac Trans AM — the Mustang and Aztek are cultural icons.
Younger automotive and movie enthusiasts may only know the Aztek from the "Breaking Bad" series on Netflix or a Toyota MK IV Supra from the movie "The Fast and the Furious." But the Bullitt Mustang, released in three time frames in the past 20 years, dates to the 1968 movie "Bullitt."
Bullitt Mustang: Relevant Then, Now
Actor Steve McQueen epitomized coolness as Police detective Frank Bullitt. With his black turtleneck sweater, open chocolate-brown blazer and gun in a shoulder holster, Bullitt chased criminals around San Francisco. The film's seven-minute, high-speed, climactic chase scene showcases the Mustang chasing a 1968 Dodge Charger 440 Magnum.
More than 50 years later, the footage remains as relevant as any movie car chase scene. It's also the impetus for Ford to sell more Mustangs of different variants as homages to the increasing legend of the original car.
Sometimes called the "Holy Grail" of muscle cars, it sold in January for $3.4 million at a Mecum Auction in Florida.
The 2019-2020 model debuted at the 2018 North American International Auto Show, with McQueen's granddaughter Molly as the presenter. It's still available and attracts plenty of attention, particularly with Dark Highland Green exterior paint as featured in the movie and of which only 3,041 of the original were made. Shadow Black is also available, but why bother?
Muscle car enthusiasts don't always prioritize value. But the Bullitt Mustang qualifies. It features a 5.0-liter, 480 horsepower V8. It's only available with the six-speed manual transmission operated with another ode to the original — a cueball shift knob. 
There's also further coolness with automatic rev-matching. Acceleration from 0-to-60 takes 4.6 seconds. Gas mileage averages are 14 miles per gallon in city driving, 23 mpg on the freeway.
The appropriately named Mustang Performance Pack 1 further feeds performance and engineering enthusiasts' wonts. Six-piston brakes, a stiffer suspension, an uprated radiator, extra chassis bracing and thicker anti-roll bars add to the fun. 
Multiple choice ambient lighting is included but there's also plenty of plastic. There's a 12-inch digital instrument cluster with lots of gauge layouts, functions and toggles. There's a healthy-sized trunk but its access is hampered by substantial liftover.
Despite its performance bravado, the Bullitt Mustang is understated. The exterior is complemented by a black leather interior and Recaro bucket seats. Technology and infotainment systems are more than adequate and the upgraded sound system plays its part well.
Further impressive, there's little badging beyond the Bullitt insignias and Mustang icon on the wheels. The words Ford or Mustang are absent. Projection lights showcase the Mustang image at night below the driver and passenger doors.
Simultaneously a beast and stealth, the Bullitt Mustang weighs 3,705 pounds and has heavy, cumbersome doors. Still, the Mustang slices along the road with 420 lb-ft. of torque. It's a lot of car for a starting MSRP of $46,705 and about $52,000 as driven with destination fee and gas-guzzler tax.
Channeling Steve McQueen isn't required and nor is wearing a black turtleneck and brown blazer. But why not have some fun? The mothball smell will quickly fade while you're chasing some imaginary bad guys or just driving along on a winding country road. 
RELATED CONTENT
Ford Mustang Dominates Internet Vintage Car Search
2018 Ford Mustang: Less is More With Ecoboost Model
Article Last Updated: November 9, 2020.
About the Author
Latest Posts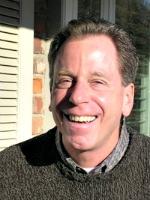 A sports, travel and business journalist for more than 45 years, James has written the new car review column The Weekly Driver since 2004.
In addition to this site, James writes a Sunday automotive column for The San Jose Mercury and East Bay Times in Walnut Creek, Calif., and a monthly auto review column for Gulfshore Business, a magazine in Southwest Florida.
An author and contributor to many newspapers, magazines and online publications, James has co-hosted The Weekly Driver Podcast since 2017.