The Honda CR-V has been attractive to Americans since its U.S. debut in 1997. Since arriving about the same time as the rival Toyota RAV4, it's been among the top-selling small SUVs and is keeping up the pace with major improvements for 2015.
Honda was a master at giving its 2015 Fit small car impressive interior room, and it continues its roominess tradition with the new CR-V, which also can be called a crossover vehicle.
Despite its roominess, the new CR-V only has a 103.1-inch wheelbase and is about 180 inches long, which allows it to fit in just moderately sized parking spaces.
All doors of this four-door hatchback open wide, and there's good front and rear occupant room in the quiet interior. which has supportive front seats, easily read gauges and generally handy controls. A dashboard-level shifter in front of the console helps enhance room. However, the rear seats could use more occupant support for long trips.
Cargo room is good, and flip-down rear seats (both cushion and backrest) provide impressive cargo space. After all, this is a utility vehicle. The cargo opening is low and wide for quick loading.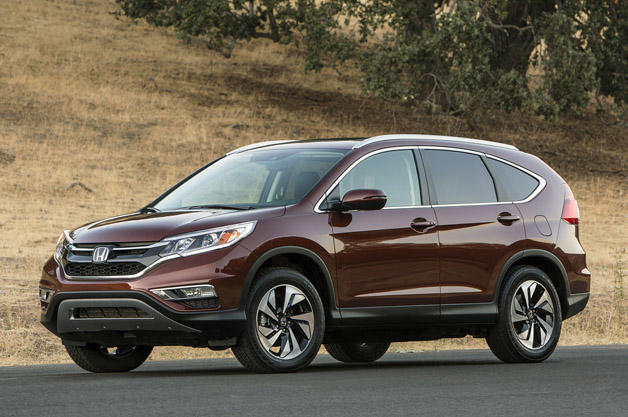 But there's considerably more to the new CR-V than interior space. For instance, it has a more efficient higher-compression direct—injected 2.4-liter four-cylinder engine with the same horsepower as the 2014 model at 185. But it has a significant torque increase at a lower r.p.m. for more responsiveness in typical driving.
I'll take added torque over horsepower anytime with a daily driving vehicle.
Estimated fuel economy is 26 to 27 miles per gallon in the city and 33 to 34 on the highway, with AWD versions getting the slightly lower figures.
The CR-V drives more than ever like a car, thanks partially to an updated suspension design, although it calls for a little extra effort to enter because its floor is higher than a typical car floor.
Front MacPherson strut and multi-link suspension systems benefit from tuning changes. The multi-link system helps maximize rear seating and cargo space while providing stable handling and a smooth, supple ride. Revised shock absorber turning helps deliver a refined driving feel. There's also a new front subframe and lower control arms, new bushings, anti-roll bars and a wider track.
Higher-line CR-Vs have wider front and rear track dimensions to accommodate wider wheels.
The motion-adaptive electric power steering is pleasantly firm and precise, and the anti-lock brakes have a linear pedal feel that helps allow consistently smooth stops.
Overall, the body gets more than 60 changes to improve stiffness and collision performance.
As an aside, during a visit to Honda's proving grounds in Japan several years ago, the then-head of worldwide Honda operations told me he felt four to six cylinders were enough for a car. Even now, you won't find Honda's upscale Acura luxury division offering a V-8.
Working with the CR-V four-cylinder engine is a remarkably smooth CVT (continuously variable) automatic transmission. It replaces a conventional, dated 5-speed automatic.
The CVT has a torque converter and specific shift logic that makes the transmission feel normal in regular daily driving but allows a quick downshift to a ratio near the power peak for, say, a faster pass.
The 0-60 mph time is approximately 8.5 seconds, although my test CR-V felt faster. The 65-75 mph passing times were quick, and the engine only became moderately loud when the gas pedal was floored. But then, Honda always has been a master with engines.
The 2015 CR-V comes with front-wheel drive (FWD) or all-wheel drive (AWD). List prices range from $23,320 for the base LX FWD model to $32,770 for the new premium Touring version with AWD.
The Touring version has leather seats, power tailgate, navigation system, dual-zone automatic climate control, larger 18-inch wheels and Honda's first application of its Collision Mitigation Braking and Lane Keeping Assist systems and the first CR-V adoption of Adaptive Cruise Control.
Further, all 2015 CR-V versions have a longer list of standard features.
I tested the mid-range $25,420 EX FWD version, which has a sunroof, 7-inch Display Audio, a 10-way power driver's seat, heated front seats, push-button start, LED daytime running lights, 17-inch aluminum wheels and Honda Lane Watch.
The Lane Watch system is intriguing. Its camera displays a blind-spot view of the right side of the CR-V when that turn signal is on. My reaction to Lane Watch when activated by me for the first time was "What the heck?"
New available features for lower-line models include a power tailgate. And those who are very safety minded can opt for these systems: Forward Collision Warning, Collision Mitigation Braking, Adaptive Cruise Control, Lane Keeping Assist, Lane Departure Warning and Lane Watch.
It makes you wonder if we are getting closer to cars that drive themselves.
The new CR-V looks rather imposing. All models have exterior styling upgrades, including restyled front and rear bodywork, mirrors and wheels for a bolder, sportier look. However, the styling partially impedes rear-driver vision, so thank goodness for the decent outside rearview mirrors.
The improved interior has a new configurable center console, new rear console with heat/air ventilation ducts and an available 7-inch touchscreen Display Audio telematics interface.
The new CR-V has so many standard and optional high-tech features I expected hydraulic struts to help open the heavy hood instead of an old-fashioned prop rod. But then, most motorists just check the engine oil level when looking under the hood, and the oil dip stick is easily reached directly in front of the CR-V engine, which has the futuristic words "Earth Dreams Technology" printed atop it.
Owners of the new CR-V who are looking a few years down the road for more dreamy technology can count on Honda's high resale value.
Pros: Revised styling. More punch. New transmission. Roomy. Carlike. New features. Decent fuel economy. Good resale value.
Cons: Slightly high step in. Rear seats need more support. So-so rear vision.
Bottom Line: One of the top small SUVs.
Dan Jedlicka has been an automotive journalist for more than 40 years. To read more of his new and used car reviews, visit: www.danjedlicka.com.