Englishman David Brown was a machinist's apprentice and he was knighted. He raced motorcycles, built tractors, played polo and bred racehorses. He also bought Aston Martin in 1947 and thus began the British automaker's use of the initials "DB" on its vehicles.
Brown died 30 years ago, around the same time of year this year the periodically struggling niche manufacturer unveiled the 2024 Aston Martin DB12 Volante.
The industrialist orchestrated models through the James Bond movie heydays when the sports car's image was at its apex. It's also had its share of automotive doldrums when the company's debts ballooned and a buyer couldn't be found.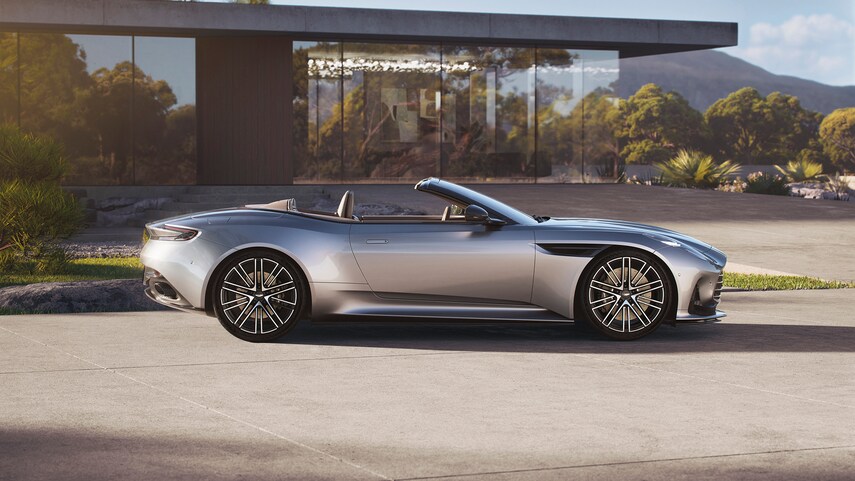 Still, brand purists likely wonder how Brown might have assessed more recent models, including the DB12 Volante convertible. It debuted in August during Monterey Auto Week, the annual festivities often known for the Pebble Beach Concours d'Elegance and other automotive artistry.
Aston Martin calls the duo "super tourers." The name comprises high-end performance with the grand touring persona of the carmaker's traditional offerings. The name Volante has several meanings, notably "flying" in Italian.
It's likely the namesake of the sports car would be pleased.
For driving enthusiasts, the new 2024 Aston Martin DB12 Volante has been tweaked to feature a more rigidly mounted steering wheel and as well in suspension mounting points. The overall driving experience is touted as more responsive, a keen quality for secret agents of all kinds.
The 2024 Aston Martin DB12 Volante also includes hand-stitched leather wraps on nearly every surface, adding to the comfort. The rear seating area is best for petite occupants only. Aston Martin assumes the infotainment design from Mercedes-Benz for the first time. It's a 10.3-inch configuration that supports wireless Apple CarPlay and Android Auto. A 390-watt, 11-speaker audio system is standard, with a 1,170-watt, 15-speaker Bowers & Wilkins system available.
The interior design is further different from the DB11 with new buttons, knobs and switches, a brand signature. Safety considerations are covered in detail: Forward collision warning to autonomous emergency braking, adaptive cruise control with stop-and-go function to lane departure warning and a 360-degree 3D surround-view camera to blind-spot warning.
The coupe and the just-unveiled convertible are propelled by 4.0-liter twin-turbo V-8 engines with 671 horsepower and 590 lb-ft of torque. The DB11 included 528 horsepower and 513 lb-ft of torque of the DB11 Volante. Fuel economy is 14 miles per gallon in city driving, 22 mpg on the highway. The MSRP is $248,086.
Aston Martin markets the car with a 0-to-60 miles per hour effort in 3.6 seconds and a top speed of 202 mph. The engine is mated to a rear-mounted eight-speed automatic transmission. The coupe and convertible are equipped with 21-inch forged wheels and Michelin Pilot Sport S 5 tires. Driving modes are GT, Sport, Sport+, Wet and Individual.
Convertible tops can be problematic, even on luxury and super luxury sports cars. It's an Aston Martin specialty. The DB12 features a stealthy automated cloth top only 10 inches tall when stacked. The top-line roof has eight layers of lined acoustic and insulation materials for less noise and protection during inclement weather. It's quick, too, opening in 14 seconds and closing in 16 seconds. It's also operational remotely with the ignition fob within six feet of the vehicle.
And as smoothly as can be expected it's secured under a flush hard tonneau cover. The process is available while driving as fast as 31 mph. Roof colors range from the standard black to red, blue and a black and silver combination, all ideal for knights of all persuasions.