Monterey Auto Week has a problem, and it's about as good as it gets.
After a two-year hiatus because of COVID-19, the return edition ended Sunday, August 15 with the 70th anniversary of the Concours d'Elegance. It was the grand finale to a now 10-day occasion of about 30 events.
And therein the issue for automotive enthusiasts gathering on the Monterey Peninsula: Where do we go and what do we all do first? How do we prioritize? Isn't it great to have choices?
Bruce Aldrich and I have represented The Weekly Driver website and podcast at Monterey Auto Week for several years. I've attended various auto shows, racing, auctions and related events on the peninsula since 1987 while contributing content and images to several local, regional, national and international publications.
Monterey Auto Week returned in splendor
Attending the festivities is a wondrous grind. What's not to like?
This year's event had a special vibe, a celebration of automobiles amid coronavirus protocols. Fewer cars were showcased at some events, but exuberance prevailed.
The usual assortment of multi-million-dollar vehicles found their usuals perches at the Concours d'Elegance and high-end auctions. But attainable vehicles have always been more interesting, and we found plenty. We talked to car owners and memorabilia vendors. And we chatted with entrepreneurs, collectors and a museum curator.
I did most of the interviewing and writing, including an article on the COVID-10 protocol at the Concours on the Avenue for The Monterey Herald. Bruce took all of the images and produced our podcast. It was fun teamwork — once again.
We interviewed Donald Osborne, the long-time co-emcee of the Concours on the Avenue and an international automotive businessman. We talked with Kit and Rick Franke of Pacific Grove about their 1960 Buick Electra 225; We talked with David and Pam Hibbert about their 1974 Type E 4.2 liter Jaguar; And we talked with Jessica Denecour of Pacific Grove, the owner of a 1947 Crosley Convertible.
Bruce and I attended the Porsche Monterey Classic in Seaside upon our arrival from Sacramento on Monday night, Aug. 9. We couldn't have timed it any better. Vintage Porsches of all shapes, sizes and eras arrived in a steady stream of wheeled history.
Of course, we wouldn't miss the Concours on the Avenue in Carmel (Aug. 10)  and The Little Car Show (Aug. 11) in Pacific Grove. We visited the streamlined Pop-up Memorabilia Show (Aug. 11) at the Embassy Suites in Seaside.
Aston Martin invited Bruce and me to the unveiling of the manufacturer's new hypercar, the Valkyrie Spider and Valhalla at Pebble Beach. The late morning, early afternoon gathering Aug. 12 couldn't have been presented better. The press conference was held at a private residence parallel to the 18th fairway of Pebble Beach Golf Links.
Tobias Moers, Aston Martin's CEO, and Marek Reichman, CCO and Head of Design, made clear, easy-to-digest presentations. A casual Q&A followed, emceed by former versatile driving pro Derek Hill, son of the automotive legend Phil Hill. The debuts corresponded to Aston Martin's 70th anniversary.
And just before making the return trip to Sacramento, we visited with Chris Bright and his colleague Aaron Lalibert from Collector Part Exchange.
Chris was a recent guest on The Weekly Driver Podcast, talking about the site he recently co-founded with Lalibert. It's growing fast. Chris and Aaron had just arrived from Portland and they drove over from Salinas in Chris' one-of-a-kind vintage Maserati 300S. It attracted attention just in the parking of Dust Bowl Brewing Co. in Monterey where the four of us chatted for a while after lunch (Thanks for the beers, Chris.)
We saw a lot and talked with a lot of people about their car passions. But there's so much more to consider for Monterey Auto Week, 2022. Is it still a year away?
RELATED CONTENT
Monterey Auto Week Podcast: Classic Cars, Classic Owners
Monterey Auto Week: Sensory Overload For All Things Cars
Monterey Auto Week: Tuned Up, Ready For Restart
Article Last Updated: August 17, 2021.
About the Author
Latest Posts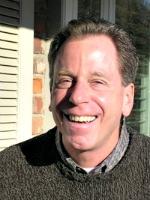 A sports, travel and business journalist for more than 45 years, James has written the new car review column The Weekly Driver since 2004.
In addition to this site, James writes a Sunday automotive column for The San Jose Mercury and East Bay Times in Walnut Creek, Calif., and a monthly auto review column for Gulfshore Business, a magazine in Southwest Florida.
An author and contributor to many newspapers, magazines and online publications, James has co-hosted The Weekly Driver Podcast since 2017.