The 2022 Volkswagen Golf R will mark the return of the manufacturer's top-performance model after a three-year hiatus.
While similar to its predecessor, the new VW Golf R will have its differences. The upgraded 2.0-liter turbocharged 4-cylinder will deliver 315 horsepower, an increase of 27 horsepower from the previous edition.
The new Golf R will be propelled by a six-speed manual transmission or an automated seven-speed, dual-clutch direct-shift gearbox.
According to the manufacturer, the new Golf will advance from zero to 62 miles per hour (100km) in 4.7 seconds. The top speed is 155 miles per hour. New, lighter 14.1-inch disc brakes will be featured as will a new ABS braking system and an improved pedal feel.
2022 Volkswagen Golf R: New, Faster
A release date has not been announced and nor has a manufacturer's suggested retail price (MSRP).
The top-of-the-range Golf again includes VW's 4Motion all-wheel-drive system. The carmaker says power can be equally transferred from the front to rear wheels as needed to boost traction. New are two electronically controlled clutches that can transfer torque to each of the rear wheels to boost handling and or traction, or both.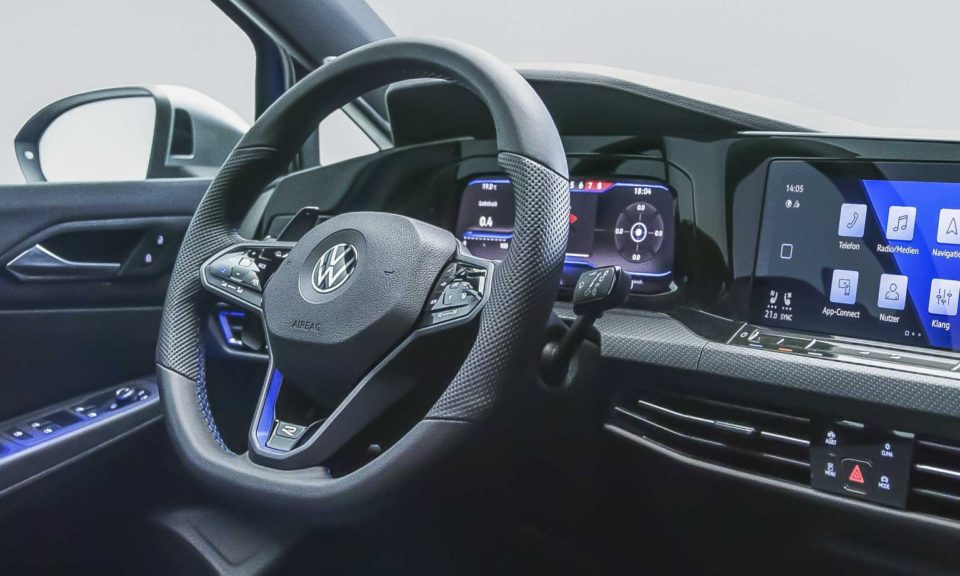 The 2022 VW Golf R will be offered in six driving modes: Sport, Comfort, Race, Individual, Special and Drift. The car defaults to Sport mode, which VW says provides the best balance of performance and comfort for everyday use.
The Special mode was designed specifically for the car to perform on the Nürburgring, the famed German racetrack. Drift mode is another performance option. It's also reserved for track use.
A new steering wheel has an "R" button to control all the driving modes, except Race mode, with one gentle push. Race mode requires a second squeeze.
The new Golf R's interior is modern and screen-heavy with VW's Digital Cockpit. The gauge cluster is fully reconfigurable.
While not confirmed, the new Golf R is expected to debut in the fall of 2021. It will only be available in blue, white and black exterior colors. The estimated starting price will be $41,000.
The manufacturer said it will simultaneously debut the GTI.