The 2017 Toyota Prius Prime plug-in hybrid is the most upscale addition to the Prius family. Its exterior design removes the stodgy image of many of the models in the country's best-selling hybrid lineup.
The Prime's interior is chock-full of technology, most visibly the JBL navigation system. It's an 11.6-inch vertically oriented high-resolution touchscreen. While not available on the entry-level Prime Plus, it's standard on the Prime Premium ($29,965) and the top-line Prime Advanced ($33,965).
I'm driving the Advance trim for two weeks during the Amgen Tour of California, May 11-20. It will take the women's field from South Lake Tahoe to Sacramento over four days. The men's race will begin in Sacramento on May 14 and progress to Pasadena during a weeklong race.
The touchscreen system includes a suite of phone apps and easy-to-read maps instructions. The look of the touchscreen resembles an iPad. I haven't had a chance to experiment much with the system, which allows users to customize the recharging function, monitor energy consumption and control climate control, cool or warm, before driving the car.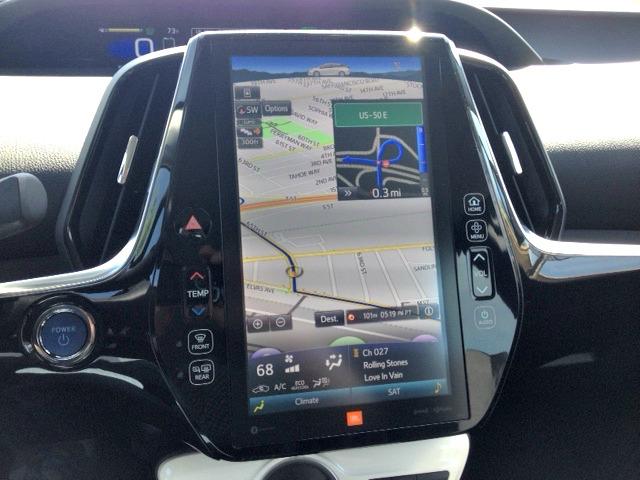 My first day driving the Toyota Prius Prime took me 103 miles from Sacramento to South Lake Tahoe. With afternoon traffic and a half-hour stop for a late lunch, the trip took 3 hours and 5 minutes.
The route along Interstate 50 steadily climbs from the foothills outside Sacramento into the Sierra Nevada. The narrow, winding road includes some short, steep inclines and peaks at Echo Summit, elevation 7,382 feet. The route then drops in the Lake Tahoe basin, about 1,000 feet lower.
While using the all-gas driving mode, the Toyota Prius Prime is rated at 54 miles per gallon. I averaged 45.3 mpg. I often drove at the posted 65 mph speed limit. But I also advanced at lower speeds and in the slow lane when the Prime's engine didn't accelerate as well as more powerful vehicles or when impatient, aggressive drivers bolted past in the passing lane.