I'm happy to see Volvo is surviving. I've been an on-off-on Volvo fan since I bought a seemingly indestructible 1956 Volvo PV444 in 1963 with its stick shift and lively twin-carburetor engine.
The Volvo midsize XC60 upscale crossover has progressed nicely since introduced a few years ago and is one of the best such vehicles offered, although it faces stiff competition.
For 2014, the XC60 got a new hood, front fenders, redesigned headlights and new instruments, along with paddle shifters for the automatic transmission. It also got new 18-inch alloy wheels and new "corner traction control."
The XC60 is generally handsome, from its lower front spoiler to its nicely integrated exhaust tips. The interior is upscale, with easily read gauges and good-quality materials. There's a mixture of large and small controls, and locating information such as sound system information on the dashboard screen can be tedious.
There are a good number of cabin storage areas, but the covered front console storage bin is set too far back for an easy reach.
A driver sits high, but thick rear roof pillars obstruct visibility. However, the heated power rearview mirrors are good-sized. The XC60 calls for a little extra effort to enter despite large door handles because it has a rather high floor.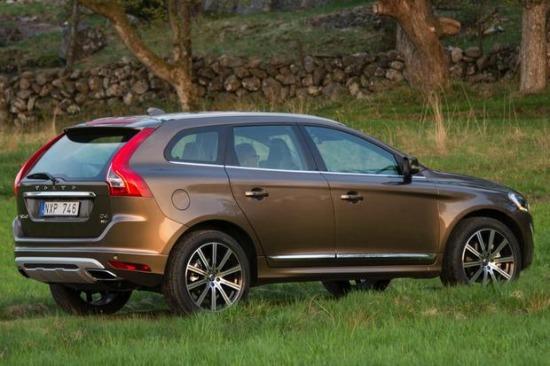 Also, rear door openings are somewhat narrow. The interior is roomy, although a long-legged passenger behind a tall driver will want more knee room. The stiff center of the otherwise comfortable backseat is best used for the large pull-down armrest, which contains dual cupholders.
The opening for the floor of the large cargo area is wide, but rather high. Split (40/20/40) rear seatbacks fold nicely flat and allow a giant cargo area. A handy option is a power up/down rear hatch, which has a pull-down handle for manual tailgate operation.
I tested the 2015 XC60 T6 model, which gets Volvo's new, potent turbocharged and supercharged 2-liter four-cylinder engine. It's quiet and smooth and kicks out 302 horsepower and 295 pound-feet of torque. An engine usually is turbocharged or supercharged, not both. The new engine also comes in just turbocharged form, with 240 horsepower and 258 pound/feet of torque.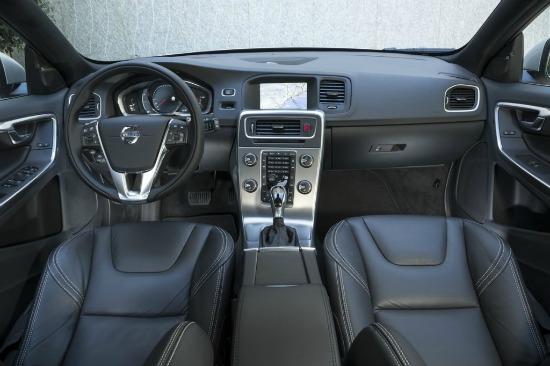 Estimated fuel economy of the 302-horsepower engine is 22 miles per gallon in the city and 30 on highways
The engine is hooked to the new eight-speed (up from six-speed) automatic transmission, which has a good manual-shift feature controlled by steering wheel paddles or the console shifter lever.
My test XC60 T6's engine provided quick acceleration, although the XC60 is heavy and there's mild torque steer when moving fast off the line. My test car had front-wheel drive, but the XC60 also is offered with all-wheel drive, which should eliminate torque steer.
There are a variety of XC60 models, which have list prices ranging from $35,750 for the T5 Drive-E model to $49,800 for the T6 Drive-E Platinum version.
My XC60 T6 Drive-E model (Whatever happened to plain old model names?) had a $44,050 base price, but desirable option packages and a $925 freight charged upped the bottom line to $50,725.
Alluring options included a $4,000 Platinum package. It had a power tailgate, rear park assist camera and premium sound and navigation systems. A $1,500 Sport package contained nifty sport seats and 20-inch alloy wheels, while a $1,500 Technology package had adaptive cruise control, collision warning system with full automatic brake, pedestrian/cylist detection, distance alert and lane departure warning.
There's also an $800 blind spot information package with cross-traffic alert that can save you crumpled fenders in crowded parking lots, lane-change merge aid and front/rear park assist. My test car's metallic white paint was $550, and heated front seats were $355.
Still, my XC60 T6 Drive-E had plenty of standard items. They included a laminated panoramic sunroof with a power sunshade, blonde/off-black leather sport seats, dual-zone electronic climate control, power/heated front seats, push-button engine start/stop, leather and silk metal tilt/telescopic wheel, electronic parking brake, 7-inch color Sensus HMI screen and paddle shifters.
There also was a high-performance audio system with 8 speakers that, as noted earlier, took some time to figure out.
Safety items included a City Safety low-speed collision avoidance system that works remarkably well, all sorts of air bags, including inflatable curtain head impact bags, and whiplash protection.
The quick power steering was a bit heavy at low speeds, but not objectionally so, and felt generally reassuring. The rather firm but supple suspension allowed a comfortable ride. Handling for such a big guy was quite good.
Volvo is nothing if not safety minded, and thus helping keep things stable if a driver finds himself going too fast for conditions are dynamic stability control, roll-stability control and a "Touring Chassis" with advanced stability control. Brake effectiveness is helped by an anti-lock system with Ready Alert brakes and electronic brake distribution and assistance.
Those who want to open the hood to check fluid-filler containers may have to consult the owner's manual because they'll find that yanking the inside hood release handle won't release the hood, which is the case with virtually all cars.
Rather, they must pull the release handle twice—likely because of some Volvo safety measure. But then they must search, with scant finger room, under the hood for a cheap plastic release lever, located at a far end of the hood opening. Let's hope all this isn't done in a pouring rain.
Pros: Hot new engine. Fast. Secure handling. Supple ride. New automatic transmission. Mostly roomy. Good cargo space. Mode variety. Available all-wheel drive.
Cons: Tight knee room behind tall driver. Rather high passenger and cargo floors. Small rear door openings. Weighty. Some costly options.
Bottom Line: Volvo makes worthwhile updates to its practical crossover.
Dan Jedlicka has been an automotive journalist for more than 40 years. To read his new and vintage car reviews, visit: www.danjedlicka.com.