Nearly 80 percent of all vehicles on American roads have white, black, gray or silver exterior pain. White cars lead the parade of plainness at nearly 26 percent, a dominance related to ease of fleet maintenance and public convention. BMW in recent years has decided not to always conform.
The German automaker makes plenty of cars within the spectrum of the mundane. But three 2023 models stretch the limits. The M8 Competition Gran Coupe includes an offering with an Urban Green exterior matched with a Black Full Merino leather interior. The X7 xDrive40i is available with a Sparkling Copper Metallic exterior and Ivory White Merino Leather. The iX M60 EV has an Oxide Grey Metallic exterior choice matched with Oyster Sensatec perforated seating.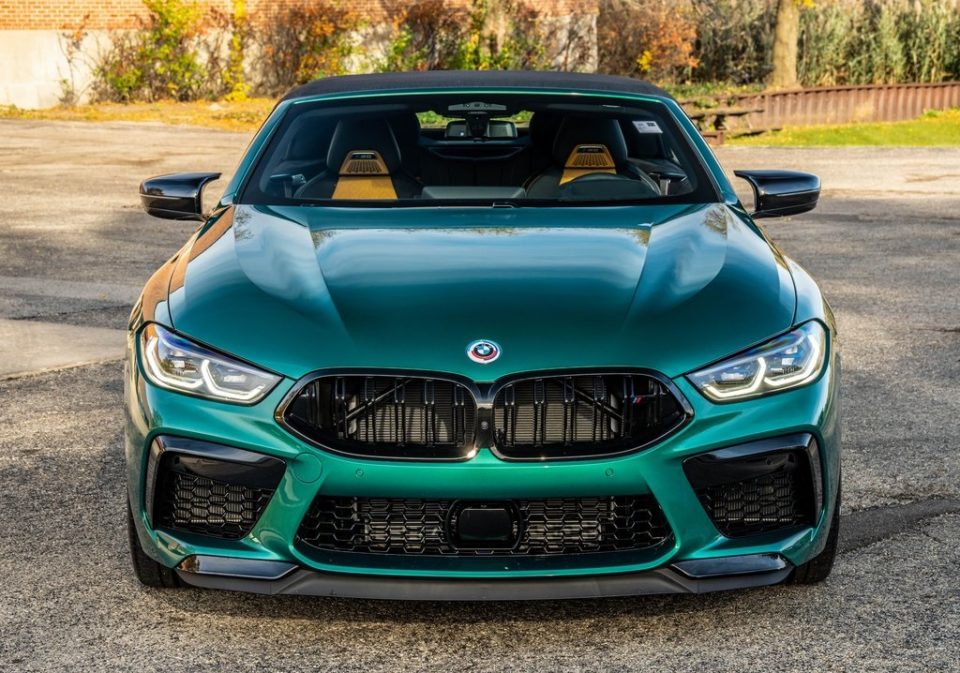 While the least bold-colored of the trio, the EV grey is among the new exterior choices among several manufacturers that appear to change color in various degrees of sunlight.
2023 BMW M8: Polarizing Paint
The 2023 BMW M8 Competition attracts immediate attention among BMW enthusiasts as a gran coupe. Its high-end performance features, including its 4.4-liter, 32-value turbo V8 with 617 horsepower, impress. Its 0-60 miles per hour in 4.2 seconds is noteworthy. Its Urban Green exterior paint ($4,700) is polarizing. The color is reminiscent of military green, disliked by vocal neighbors and strangers in parking lots. It's stunning to others including an onlooker who, grinning in approval, saluted the vehicle.
As BMW's most expensive and largest SUV, X7 xDrive 40i can haul around seven occupants while also competent as a performance vehicle it's powered by a turbocharged 3.0-liter, inline-six-cylinder engine with 375 horsepower and 383 lb-ft of torque. Its Sparkling Copper Metallic exterior isn't alarming. But it's unique enough not to blend into maddening highway malaise.
As the newest BMW sibling, the IX M60 EV also stands out with its chameleon exterior paint traits. The IX features 610 horsepower and 811 lb-ft of torque. Zero-to-60 miles per hour acceleration is achieved in 3.6 seconds. Standard also is a 1-speed direct drive transmission and all-wheel drive. The combined EPA mileage is estimated at 77 MPGe. The full-charge range is 288 miles.
The 2023 BMW M8 Competition Gran Coupe is big and beautiful. It's a sports car for a family, with a sizeable back seat and expansive cargo space for its class. An eight-speed automatic transmission (including a rear-drive mode) smoothly propels the vehicle to city and highway speeds.
2023 BMW M8: Speed Rules
But like other high-performance luxury sedans with sports car tendencies, the M8 is made for speed. It has a wondrous starting growl but quiets down at cruising speeds. It takes a concerted effort early in the driver-vehicle relationship to keep the car within legal freeway speed limits. The M8 Competition wants to compete.
The M8 Competition has a starting MSRP of $130,000. Its rivals are all impressive: Audi RS7 ($126,000), BMW M5 ($111,895), Cadillac CT5-V Blackwing ($93,390), Mercedes-AMG E63 S 4Matic ($113,850) and Mercedes-AMG SL55/SL63 ($140,000).
With a high-class collection of vehicles in the segment, BMW added several new features for 2023 to keep their competition hones. There's a larger touchscreen, updated accents and further options — carbon-ceramic brakes to retractable rear shades and multiple heated seats and adaptive LED headlights.
2023 BMW M8: Race Car, City Streets
Since the M8 Competition is all about performance, lightweight M Carbon competition seats are available. It's a race car approach with the raised side grip handles enveloping front-seat occupants. The idea is understandable for the driver, why not have a non-grip option for the front-seat passenger? The raised sides are prohibitive for entering and exiting during routine daily use.
With its option packages, gas guzzler tax (city-highway fuel average is 17 miles per gallon) and various minor extras, the M8 Competition is priced at $161,895.
Its performance and head-turning green paint attract the attention of car owners with those preferences desire. But if it's not quite and extrovert's fix, other possibilities may satisfy. Exterior color choices also include Isle of Man Green and Tanzanite Blue II.