Podcast: Play in new window | Download (Duration: 28:28 — 39.1MB)
Subscribe: Apple Podcasts | Spotify | More
Greg Griffin is likely the only race car driver whose heritage features an Italian grandfather who owned 18 Ferraris including one used as a farm tractor by famed artist Andrew Wyatt.
The owner and president of Griffin Builders in Naples, Florida, Griffin has been a custom home builder for nearly 20 years. But he's been around the supercars for as long as he can remember.
Co-hosts Bruce Aldrich and James Raia interview Griffin in Episode #131 of The Weekly Driver Podcast.
Greg Griffin: A family full of Ferrari
After a two-week hiatus during the early stages of the coronavirus, Bruce and I resumed our weekly podcast with practicing social distancing from the backyard of the home Bruce share with his wife and Doberman Pinscher , Indy.
Griffin discusses growing up Ferraris and he discusses how his passion for the vehicles began. He also talks about the intricacies of driving, his dislike of iRacing and several other topics.
"Ferraris in the 1970s weren't nice cars, they were like little Fiats," recalls Griffin, 51. "My grandfather thought they were nice cars but they weren't as expensive as they are today. He bought one from Wyatt. He was using it on his farm because of its powerful engine."
Griffin grew up cleaning the family collection and helping with maintenance. He remembers people saying how fast Ferraris were but he wondered why no one was taking them on tracks. Eventually, Griffin did. It's his passion and a metaphor for his life.
"Enzo Ferrari (the founder of Ferrari) always said, 'The cars are better than the drivers. The drivers need to learn to drive these cars,' " Griffin says. "So I became fascinated with improving myself as a driver and trying to live up to the performance of the car.
"When you take a Ferrari on a track, it's just a different animal. It's just a different experience. You have no idea a car you go stoplight to spotlight to pick up groceries with is such as capable machine on the track. I need to improve my driving skills and that what I set put to do."
Griffin has been "tracking" since the mid-1990s and started competitive racing 15 years ago. He owns a Ferrari 458 Challenge. Like others, his interest piqued in the mid-1980s when the television show Miami Vice debuted. The co-lead detective played by Don Johnson drove a black 1972 Ferrari 365 GTS/4 Daytona.
"I am a pretty hardcore amateur," Griffin says. "We do really good amateur racing but on a budget."
Although motorsports schedules have changed with the coronavirus pandemic, Griffin has several competitions planned later this year, including the Classic 24-Hour at Daytona International Speedway in November and 12-Hour Classic at Sebring International Raceway in December.
"One thing they quickly teach you is to look where you are going, not where you don't want to go. If you are going around a corner and you're looking at the wall, you are going to hit the wall. You always look where you want to go."
"I know it's a silly thing, but a lot of racing analogies go hand-in-hand with life. It's a little sentimental, but it's true. Life is racing. It really is. It's the same thing. I like the challenge."
The Weekly Driver Podcast encourages and appreciates feedback from our listeners. Please forward episode links to family, friends and colleagues. And you are welcome to repost links from the podcast to your social media accounts.
Support our podcast by shopping on Amazon.com.
Please send comments and suggestions for new episodes to James Raia via email: [email protected].
All podcast episodes are archived on theweeklydriver.com/podcast
Every episode is also available on your preferred podcast platform:
Article Last Updated: November 16, 2020.
About the Author
Latest Posts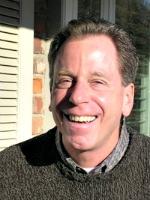 A sports, travel and business journalist for more than 45 years, James has written the new car review column The Weekly Driver since 2004.
In addition to this site, James writes a Sunday automotive column for The San Jose Mercury and East Bay Times in Walnut Creek, Calif., and a monthly auto review column for Gulfshore Business, a magazine in Southwest Florida.
An author and contributor to many newspapers, magazines and online publications, James has co-hosted The Weekly Driver Podcast since 2017.