Podcast: Play in new window | Download (Duration: 34:23 — 47.2MB)
Subscribe: Google Podcasts | Email | RSS
Rivian debuted two concepts last November at the Los Angeles Auto Show and attracted as much attention as any vehicle at the automotive industry's first major show of the year.
The all-electric concepts, the R1T pick-up and R1S SUV, have gained substantial attention since. The vehicles' debut is scheduled for late 2020 through direct sales.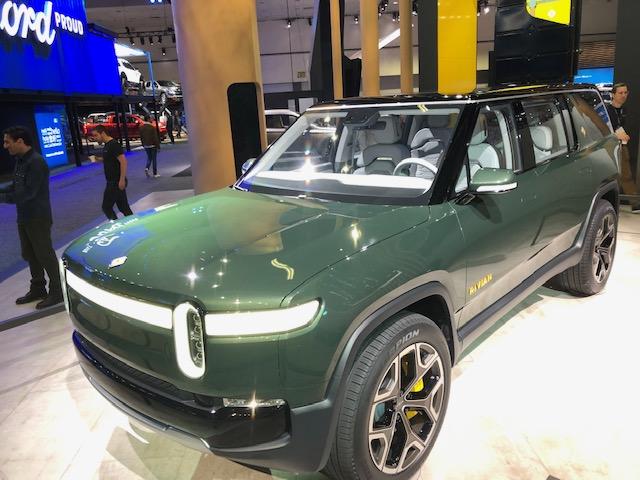 Michael McHale, the company's director of communications, is our guest on this week's episode of The Weekly Driver Podcast.
Co-hosts Bruce Aldrich and James Raia discuss with McHale the pending debut of the vehicles and how the innovated truck and SUV could change the automotive landscape. The company has been touted as a competitor to Tesla, a proposition it welcomes.
Rivian was founded nearly 10 years ago by Mainstream Motors in Florida. Its name was changed to Avera and now Rivian. The SUV and pick-up have beautiful futuristic designs and impressive specs, including a 400-plus mile range and 0-60 miles per hour acceleration in 3.0 seconds.
Among other topics, we also discuss with McHale, how Rivian was named, its eco-friendly mission, level 3 autonomy, pricing and available deposit reservations.
Rivian also has a brand partner relationship with Alex Honnold. The Las Vegas-based mountain climber whose ascent of El Capitan in Yosemite is subject of the move Free Solo has an environmental-based foundation. Honnold is a past guest on The Weekly Driver Podcast. Listen here.
The Weekly Driver Podcast encourages and appreciates feedback from our listeners. Please forward episode links to family, friends and colleagues. And you are welcome to repost links from the podcast to your social media accounts.
Support our podcast by shopping on Amazon.com.
Please send comments and suggestions for new episodes to James Raia via email: james@jamesraia.com.
All episodes of the podcast are archived on www.theweeklydriver.com/podcast
Every episode is also available on your preferred podcast platform:
Google Play
iTunes
Spotify
Stitcher
The Weekly Driver Podcast is presented by www.americanmuscle.com.