Imagine a 2016 Honda Civic being an automotive hipster. It's now in its mid-40s, but with a redesign inside and outside, the perennially top-selling coupe and sedan have gained a lot of attention with the new look and optional wild exterior paint colors.
The Honda Civic is also among the most versatile cars in the industry. It's available as a coupe or a sedan and in 10 trims, five in each model.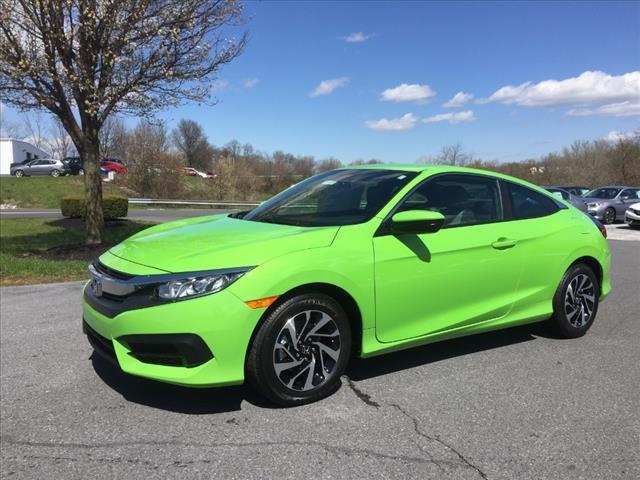 While further moving away from its once stodgy reputation as driveable box with four wheels, the 2016 model has a sharp-edged appearance and a sloping roofline. Its overall European style resembles the appearance of appreciably higher-priced vehicles. It's no longer just a fall-back car for buyers seeking basic reliable transportation at a value price.
The Weekly Driver Test Drive
A few weeks ago, I drove the 2016 Civic sedan just shy of 2,000 miles round trip from my home in Sacramento to Salt Lake City. While often traveling on vast open stretches of the desert at an average speed faster than the posted 80 mph speed limit and with the air conditioner engaged, I averaged slightly less than 40 mpg on the trip.
The Honda Civic has been among the top-10 best-selling cars in the country for many years. There are plenty of reasons and my two weeks with the sedan confirmed many of those reasons. It's a comfortable, economical and well-equipped car ideally suitable for a long haul or city transportation for individuals or small families.
Equally important is the Honda Civic's versatility. The sedan is available in LX, EX, EX-T, EX-L and Touring trims. Likewise, the coupe, my more recent weekly driver test vehicle, is available in LX, LX-P, EX-T, EX-L and Touring trims.
The Civic comes standard with a 2.0-liter four-cylinder engine, front-wheel drive, and a six-speed manual transmission. An automatic transmission (CVT) is available. EX-T and higher trims have a turbocharged 1.5-liter four-cylinder engine paired exclusively with a CVT.
Standard features include a rearview camera, automatic climate control, Bluetooth, Pandora internet radio compatibility, and a USB port. Available features include heated front and rear seats, leather upholstery, a moonroof, Apple CarPlay and Android Auto smartphone integration, an eight-or 10-speaker audio system, a touch-screen infotainment system, satellite radio and navigation. There's also the Honda Sensing package, which includes forward collision warning, automatic pre-collision braking, active lane keep assist and adaptive cruise control.
The EX-T, EX-L and Touring trims are powered by a turbocharged 1.5-liter four-cylinder rated at 174 horsepower. Acceleration in the standard 0-60 mph test in 6.7 seconds, the quickest vehicle in its segment.
During my week with the 2016 Honda Civic coupe, I drove far fewer miles, often in city driving. Several friends and passersby commented on the car's appearance, most with the same general question comment: "That's a good-looking car" or "That's a Honda Civic?" A few strangers just yelled in parking lots: "Hey, dude, great color."
The reason: My test vehicle had a polarizing exterior color, Energy Green Pearl or extraordinarily bright lime green. Matched with black and silver rims and a black and silver interior, the new Civic is about as far removed from the original Civic as imaginable.
In addition to new, modern lines, the 2016 Honda Civic is 3 inches longer and 2 inches wider than its predecessor and the wheelbase is also longer. All of which means that while the previous model might have be too small for anyone at least 6-feet tall, that's no longer the case. The extra interior space is also good for family needs, like large child safety seats.
Further space improvements include a deep storage bin under the console and an expanded overall interior capacity to 15.1 cubic feet from 12.5 cubic feet in the previous model.
Beyond its improved appearance, the 2016 Honda Civic offered a substantially improved driving experience. The CVT power is seamless. The sportier suspension provides keen handling. The new Civic is surprisingly quiet and the overall ride is refreshingly pleasant.
2016 Honda Civic Likes:
Strong gas mileage averages.
Multiple trims and fuel options.
Long list of standard features.
Spacious interior.
Handsome new exterior design.
2016 Honda Civic Dislikes:
None.
Facts & Figures: 2016 Honda Civic Coupe (Touring)
Acceleration: 0-60 mph, 7.3 seconds.
Airbags: 6.
Fuel economy: 31 mpg (city), 41 mpg (highway), 35 mpg (combined) continuously variable automatic transmission.
Horsepower: 174.
Manufacturer's Suggested Retail Price: $26,125.00.
Manufacturer's Web site: www.honda.com.
Price As Tested: $26,960.00
Warranty: Bumper to bumper, 3 years/36,000 miles; Powertrain, 5 years/60,000 miles; Corrosion, 5 years/unlimited miles.
The Weekly Driver's Final Words:
"The new Honda Civic, with its edgy exterior color and new design, may be polarizing to some old-school buyers, but it should attract younger buyers who might not have previously considered the mainstream segment. Honda is smart."