As a spectator, participant, judge and son of the most distinguished individual in the event's history, Derek Hill has attended the Concours d'Elegance for as long as he can remember.
This year, seven years after his father's death, Hill will have a new role — master of ceremonies.
Hill, 40, a prominent professional driver in numerous disciplines, will assume the responsibilities of Edward Herrmann, the former actor, director and automotive enthusiast who died last December.
Hill's father Phil, the 1961 Formula One world champion and three-time 24 Hours of LeMans titlist, died in 2008 in Salinas at age 81. He was a judge at the Concours d'Elegance for 40 years and won Best of Show in 1955 with his restored 1931 Pierce-Arrow.
I recently spoke to the younger Hill about his father, his racing career and the importance of the Classic Car Week to the Hill family. He will compete for the second straight year Saturday in the Rolex Monterey Motorsports Reunion at Mazda Raceway in a 1962 Maserati Tipo 151.
Question: When you're at the Concours what do people say to you about your father and what do you remember about being there with him?
Derek Hill: My father was so serious about the automobile. He wasn't just a driver. He was so passionate about the cars. He was a mechanic by trade. He really understood the automobiles. He had such a vast knowledge. He was like a beacon of knowledge. For this type of show, he represented everything that it was about.
I can remember going around with him when he had started to get sick and he was in a golf cart and he was still judging. It was at the judge's breakfast and it was at 7 a.m. on the morning of the show. All of the judges are there gathered in the conference room. My father received a standing ovation. It was my first time being there with him in that room.
I will never forget it. There was so much energy in that room and then thunderous applause from everyone for my father. There was so much love for my father. It almost put me in a state of shock, how much good will there was from people who appreciated him being there. It blew me away.
Q: What was your relationship with Ed Herrmann?
DH: Edward was such a fixture of the Concours a great car enthusiast and a great actor. I have always been around but I was never that close with Ed personally. But I am grateful for the opportunity in last year Concours to co-host with him. It really meant a lot. It was great experience to sit along side him a pick up a lot and how to do it and the cadence. Wed was such a warm, funny, witty individual.
Q: What does the master of ceremonies do at the Concours d'Elegance?
DH: The MC is there to welcome people, the lead the show, to kick off the ceremonies. As a participant and judge through the years, I think the MC becomes an overall voice of what's going on, rather than just what people are looking at. You carry people through the day, through the day. It's all very exciting and fun I sort of feel like I am an actor to what's going on.
Q: How do characterize your style, if you do, as an MC?
DH: Edward was a trained actor, who was skilled and scripted. I tend to be more improvisational. We still have a script and the timing has to be on because there are cars coming onstage and there are people to introduce and there's a lot of coordination going on. What struck me last year, is that as well planned as the day can go, there's always a lot of maneuvering going on to get the timing right throughout the day. My style will more to just be in the flow in the moment and just being present. You don't want to sound too scripted while you're engaging the audience.
Q: Do you think your background as a driver helpful in the job or might it be a hindrance?
DH: It's all been help in the sense that it introduced me to a life and place I've enjoy very much since I grew up. My parents brought the whole family along since we were young kids. The atmosphere here is very special. You're just not a car show. You're in a beautiful setting. It's the finest cars coupled with the finest views you can have.
Q: Since you've been coming here for such a long time, do you know bring your family to the event?
DH: I have a serious girlfriend now and I will be bringing her along and my sister Vanessa and she has two kids and they're coming this year, so we are carrying on the tradition. And my mom in the enthusiastic one to have the whole family there. I give her a lot of the credit.
Q: You've seen a lot of cars. Are there cars that still surprise you?
DH: I look at it somewhat like fine art work. There's always a new buzz in the art world for work that's coming into the maturity of its appreciation It's no different with these cars. Even though people may just notice a field full of old classics, there is an evolution in what's being sought after and what is at the height of its appreciation.
In this type of event, there will always be an evolution. You'll never think it's getting stale. One of the areas I'm very much interested are the preservation classes. When you see a car that hasn't been messed with and it's in it original state or close to it, that's something that's treasured.
(Originally published Aug. 6, 2015 in the Monterey Herald.)
Article Last Updated: August 12, 2015.
About the Author
Latest Posts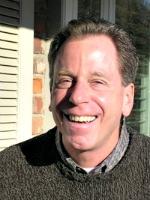 A sports, travel and business journalist for more than 45 years, James has written the new car review column The Weekly Driver since 2004.
In addition to this site, James writes a Sunday automotive column for The San Jose Mercury and East Bay Times in Walnut Creek, Calif., and a monthly auto review column for Gulfshore Business, a magazine in Southwest Florida.
An author and contributor to many newspapers, magazines and online publications, James has co-hosted The Weekly Driver Podcast since 2017.