Now in its fifth year and second generation, the Ford Fusion Hybrid debuted with its twin, the Mercury Milan Hybrid, in March 2009.
The Mercury Milan hybrid has been defunct since 2010. But the Ford Fusion Hybrid continues to improve and build larger audiences as a top choice in the gasoline-electric hybrid segment.
The 2014 Ford Fusion Hybrid includes small changes, but in major areas, the three trim levels remain the same as the inaugural second generation unveiled in 2013.
The Weekly Driver Test Drive
My weekly test vehicle was the top-line Titanium trim. It includes all of the features on the standard and optional list present on the SE trim. But it also adds: remote start, sport front seats and an upgraded Sony 12-speaker audio system (with HD radio).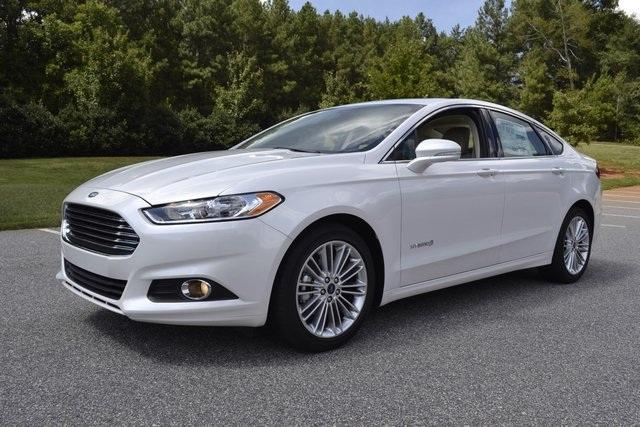 My Titanium edition was also equipped with the optional navigation system, automated parallel-parking system, a heated steering wheel and adaptive cruise control with collision warning system and brake intervention.
And there's also the Luxury Driver Assist package: automatic high-beam control, a 110-volt power outlet, blind-spot monitoring, rear cross-traffic alert and lane-departure warning and lane assist. A sunroof is optional for both the SE and Titanium, and the Titanium can be had with ventilated front seats.
With all of the equipment, the Ford Fusion Hybrid stretches the limits of the usual hybrid sedan features offerings. Which makes sense because the European exterior and interior styling further make the Fusion Hybrid a near entry-level luxury sedan.
The 2014 Ford Fusion Hybrid has a 2.0-liter four-cylinder engine joined to an electric motor run by a lithium-ion battery pack. Combined, they produce 188 horsepower that's sent to the front wheels through a specialized continuously variable transmission (CVT).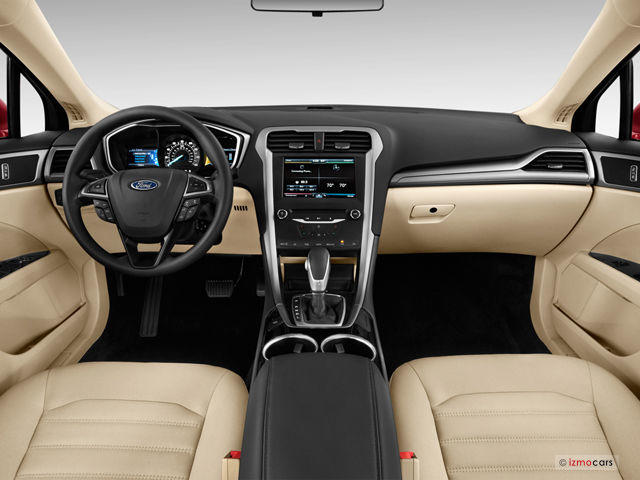 What was immediately noticeable about the Fusion is that, unlike other hybrids, it isn't awkward, and nor is there any compromise driving it. It's a five-passenger sedan with strong acceleration, adept steering and maneuverability. And it's as comfortable as any non-hybrid, midsize sedan I've driven.
Further, Ford has equipped the Fusion with extensive acoustic insulation. As such, it's appreciably quiet at both city and highway speeds. The only exception was during maximum acceleration when the engine noise is noticeable. It's a minor issue, overshadowed by the Fusion's strong attributes in all other areas.
Likes:
Quiet hybrid powertrain.
Great fuel economy.
Spacious interior.
Trunk space is not restrictive like many hybrid sedan rivals.
Dislikes:
Braking is inconsistent.
Facts & Figures: 2014 Ford Fusion Hybrid
Acceleration: 0-60 mph, 8.4 seconds.
Airbags: 7.
Fuel economy: 47 mpg (city), 47 mpg (highway), 47 mpg (combined).
Horsepower: 188.
Transmission, 2.0-liter, 4-cylinder, continuously variable transmission.
Manufacturer's Suggested Retail Price: $32,600.00.
Manufacturer's Web site: www.ford.com.
Price As Tested: $37,905.00.
Warranty: Bumper to bumper, 3 years/36,000 miles; Powertrain, 5 years/60,000 miles; Corrosion, 5 years/unlimited miles; Roadside assistance, 5 years/60,000 miles; Hybrid components, 8 years, 100,000 miles.
What Others Say:
"Within the hybrid sedan segment, the pickings are pretty slim. This is especially true if you're looking for one with an upscale vibe that doesn't carry a premium price tag. The 2014 Ford Fusion Hybrid is one of the few hybrid midsize sedans that meets these requirements with its neatly tailored styling, fine road manners and wealth of high-tech luxury and safety features." — Edmunds.
"The original Ford Fusion Hybrid was no slouch in the efficiency department, but the second-generation model raises the bar even higher with a class-leading 47-mpg combined rating. Factor in European-flavored handling, striking looks and a plethora of high-tech options, and Fusion Hybrid becomes one of the top choices in the midsize hybrid sedan segment." — Left Lane News.
"The Fusion Hybrid doesn't make the same compromises as other sedans-turned-hybrids. The refinement and seamlessness of the Fusion's hybrid system is commendable, as is its retention of a folding rear seat." — Cars.com.
The Weekly Driver's Final Words:
"If the goal is to purchase a hybrid that's economical, comfortable, stylish and that doesn't look odd like many hybrids, then the Fusion is the right purchase. It's attractive, gets terrific gas mileage and is reasonably priced."