Some American brand sports/luxury sedans are edging closer to costlier foreign rivals as the auto world shrinks.
A few minutes at the wheel of the 2014 Buick Regal gave me the feeling I was driving a foreign luxury sports sedan. It sure handled and rode much like one. Buick has made lots of changes, but the Regal's behavior puzzled me.
I soon found the Regal is basically an Americanized version of the high-line German Opel Insignia. No wonder it felt as if it would be happy humming along a German autobahn at 100 m.p.h. It's got a decent size, with a 107.8-inch wheelbase and 190.2 -inch overall length.
The 2014 version of the Regal has new front and rear styling, kicked off with an attractive Buick grille. The quiet, roomy upscale interior with improved materials has been redone with a redesigned instrument panel and console. A new steering wheel has controls for new safety and "infotainment" features.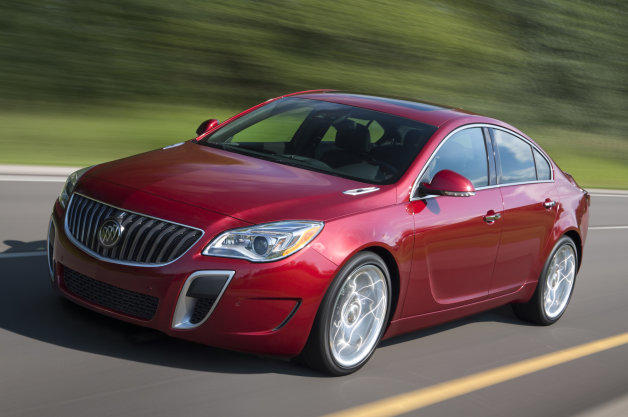 Nearly all Regals models can be had with front- or all-wheel drive and a six-speed manual or six-speed automatic transmission with a easily used manual shift feature. Imagine that–a Buick with a manual gearbox!
Still, I recommend the smooth, responsive automatic. At least one report says the manual transmission and clutch aren't much fun. In fact, automatic transmissions have become so good that manuals aren't common on foreign luxury sports sedans anymore.
Regal sticker prices range from $30,615 to $37,830–or thousands less than foreign (mainly European) rivals. A $32,485 Hybrid model sits between the base Regal, which comes in various trim levels, and the ultra sporty top-line GS model.
All Regals are well-equipped, with items including dual-zone automatic climate control, leather seating, heated driver and passenger front seats, cruise control, eight-inch color touch screen radio, electric parking brake and power windows with driver and front passenger express up/down.
A variety of extras in option groups upped the price of my test $33,760 Regal to $38,270. They included an $890 Driver Confidence Package with a following-distance sensor indicator, forward collision alert, rear cross-traffic alert and lane departure warning, besides a side blind-zone alert with a lane-change alert warning.
A $1,695 package for my test Regal contained adaptive cruise control and automatic collision preparation, along with–oddly for this package–a sunroof.
Standard Regal safety items include six air bags ( including side curtain air bags), electronic stability control with full-function traction control and anti-lock with Intelligent Brake Assist.
My test car had a rear-vision camera and its other extras included ultrasonic rear park assist, remote vehicle starter system, keyless start and a Bose Premium 9-speaker system.
Except for the Hybrid, the engine for the Regal is a turbocharged 2-liter four cylinder that generates 259 horsepower and 295 pound-feet of torque. The Hybrid has a 2.4-liter economy oriented four-cylinder with 182 horsepower and 172 pound-feet of torque.
The Hybrid "2.4" has eAssist light electrification technology, using a lithium-ion battery and electric motor-generator to enable regenerative braking. Instead of providing all-electric propulsion, the system provides power assistance to the gas engine.The eAssist system lets the engine shut down fuel delivery during deceleration, which saves additional fuel.
Fuel economy with the Hybrid is an impressive 25 miles per gallon in the city and 36 on highways. Economy with the turbo 2-liter engine ranges from 19-21 in the city to 27 to 32 on highways, depending on if it has a manual or automatic transmission or front- or all-wheel drive.
The Hybrid comes only with front-wheel drive and, at 3,600 pounds, weighs less than other Regal models. They weigh from 3,671 to 3,981 pounds, with the heaviest being the turbo GS with all-wheel drive.
Regular-grade gasoline can be used in the 2-liter and 2.4 -liter engines, although premium fuel is recommended for the turbo engine.
The turbo engine is quite advanced. Its features include such items as dual overhead camshafts, pistons with jet-spray cooling, sodium-filled exhaust valves, continuously variable valve timing, direct injection and an air-to-air intercooling system.
The 2-liter turbo, which has the punch of a strong V-6, seems perfect for the GS, which has a lowered ride height, 19-inch aluminum wheels (with optional 20-inch wheels) and unique front/rear fascias. The front fascia incorporates prominent vertical air intake slots. The rear fascia has a pair of integrated, satin-metallic trapezoidal exhaust outlets. Rocker panel extensions and a rear spoiler extension also are part of the package.
The GS has additional steering effort for more direct feedback, reduced body roll for better agility, altered shift feel for the automatic transmission and brakes with more-powerful Brembo four-piston front calipers and larger rotors for surer stops.
Still, my test front-drive turbo-engine Regal with the automatic transmission looked and drove just fine, with responsive steering, supportive seats, sharp handling, a supple ride and strong brakes, with good pedal feel.
The Regal occasionally was mistaken by some for an expensive foreign sedan, despite the discreetly placed traditional Buick fake louvers on each side of the hood (a Buick trademark) and the Buick badge on the grille.
Large power outside mirrors, which fold against the side glass to prevent parking lot damage, help provide good visibility. And there are plenty of cabin storage areas. The attractive gauges can be read at a glance, and the touch screen is easy to use.
There are a fair number of small controls, but they're clearly marked. However, rear door openings are rather narrow. The center of the backseat is too stiff for comfort and, as with many cars, is best left for the large fold-down armrest that contains dual cupholders. The front armrest partly gets in the way of front console cupholders.
The trunk is large and cargo room can be increased by folding the split rear seatbacks forward.
The hood is held open with a hydraulic strut instead of an awkward prop rod.
There are only minor changes to the 2015 Regal, so it might be a good idea at this time of the model year for those interested in this cleverly engineered car to take a good look at it.
Pros: Sharp styling. European feel. Roomy. Optional all-wheel drive. Worthy safety items.
Cons: Rather narrow rear seat openings, Front armrest partly blocks cupholders. Likely to be often overlooked.
Bottom Line: Solid American alternative to costlier foreign luxury sports sedans.
Dan Jedlicka has been an automotive journalist for more than 40 years. To read more of his new and vintage car reviews, visit: www.danjedlicka.com.
Article Last Updated: August 25, 2014.
About the Author
Latest Posts
An automotive journalist who has reviewed more than 4,000 vehicles in a nearly 45-year career, Dan is publisher of DanJedlicka.com.