The Volkswagen Jetta is an affordable German-engineered compact sedan, which might partially explain why it is VW's most popular model here.
Major improvements for 2014 include a new turbocharged and intercooled 1.8-liter four-cylinder engine that develops 170 horsepower and 184 pound-feet of torque. It has direct fuel injection and replaces a 2.5-liter inline five-cylinder engine with the same horsepower.
The new engine delivers better fuel economy than the five-cylinder: an estimated 26 miles per gallon in the city and 36 on highways with a five-speed manual transmission. A six-speed manual and efficient automatic transmissions also are available.
Enabling the front-wheel-drive Jetta to be fun to drive are a new independent multi-link rear suspension and electro-mechanical steering, which replaces a hydraulic setup. While quick and precise, the steering didn't quite have the feel of BMW, Audi or Mercedes steering.
The Jetta comes in a variety of trim levels and models, including a diesel-engine version and a gas/electric hybrid. My SE lacked optional blind-spot monitoring and didn't have the backup camera offered in some Jettas. Still, it had a good number of upscale items.
I tested an $18,895 Jetta SE with the new engine and a five-speed manual transmission. I found acceleration to be strong, with good overall torque across the rev band and no perceptible turbo "lag."
I found third gear best for passing on highways and for quick moves in town. Fourth gear is acceptable for moderately fast 65-75 m.p.h. passing, but lugs the engine at 30 m.p.h. Fifth is an overdrive gear that's nearly useless for safe passing but results in a gas-sipping 1,900 r.p.m. tachometer reading at 65 m.p.h.
The light clutch has a long throw that a driver must become familiar with to avoid stalling the engine, but the same can be said for BMW clutches. Those who spend lots of time with the Jetta in stop-and-go traffic should opt for an automatic.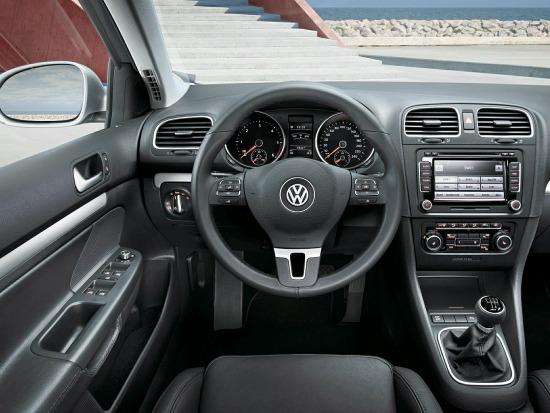 While my test Jetta SE wasn't as performance-oriented as the higher-line Jetta GLI, which has more power, a modified suspension and grippier tires, it came close to being a sports sedan—thanks largely to the new suspension.
The SE confidently handled sweeping curves taken at higher speeds with no body lean. Helping stability were electronic stability control and an anti-slip system. The Jetta SE also has an electronic differential lock.
The ride was supple, and an anti-lock braking system assured no-fuss sudden stops. The brake pedal causes the brakes to bite early and surely during routine stops.
Easily gripped door handles allow quick entry to the quiet interior, which has supportive front seats, easily read gauges, adjustable steering wheel and handy rotary sound system controls. Even the dashboard ventilation vents are well-placed, and there are a fair number of cabin storage areas.
While console cupholders are easily reached, the driver's power window door switches are awkwardly placed because those for the front windows are set too high. They occasionally caused me to lower a rear window instead of a front one. That's annoying.
The cockpit has been improved since the current-generation Jetta arrived for 2011 and is roomy—especially in back. However, the center of the backseat is stiff and best left to the fold-down armrest, which contains dual cupholders.
The SE's interior is upscale in the no-nonsense German manner. It has air conditioning, leatherette seating surfaces, decent sound system, power reclining front seats, adjustable front center armrest, cruise control, power windows, remote keyless locking system, intermittent wipers and a trip computer.
The power heatable exterior mirrors with turn signals are a nice touch, but their interior control works in a sloppy manner.
Safety items include front/rear side curtain protection head impact air bags and daytime running lights.
The rear seat has a moderately large pass-through opening from the cargo area for skis and such. And 60/40 split folding rear seatbacks flip forward and sit flat to greatly increase cargo capacity. The opening between the cargo and rear-seat area is large with the seatbacks flipped forward.
The SE's extremely heavy hood should utilize hydraulic struts, but instead uses manual hinges and is held open with just a prop rod. But the engine compartment is designed for easy access to fluid filler areas for those who want to check the engine oil level and such.
With its improvements, the Volkswagen Jetta should continue to be a strong-seller.
Pros: New engine. Better suspension. Roomy. Fun to drive. Variety of models.
Cons: Awkward driver's power window switch. High clutch throw.  Rather high trunk opening.

Bottom Line: Strategic updated have improved this most-popular model.
Dan Jedlicka has been an automotive journalist for more than 40 years. To read his new and vintage car reviews, visit: www.danjedlicka.com.
Article Last Updated: May 15, 2014.
About the Author
Latest Posts
An automotive journalist who has reviewed more than 4,000 vehicles in a nearly 45-year career, Dan is publisher of DanJedlicka.com.