There were many skeptics when Lexus introduced its auto line to America around 1990, but it was an instant success.
In recent years, Lexus slipped in popularity as rival automakers introduced alluring entry level luxury sedans. But the carmaker is holding its own in the growing entry luxury market with its posh, decently priced 2014 Lexus ES 350.
The $35,470 ES has been with us in various forms in the entry luxury market for approximately 25 years. The original model had a standard V-6 when rivals had four-cylinder engines.
The ES 350 was given a thorough redesign for 2013 and thus has no major changes for 2014. New are LED fog lamps, bamboo interior trim, heated/ventilated seats in perforated NuLuxe trim (you can still get leather) and Siri Eyes Free technology from Apple, compatible with iPhone 4S and iPhone 5 models.
I found while testing the latest ES 350 that the control interface is distracting, causing attention to leave the road for a bit too long. At least, there's an on/off switch for the radio and older, less-tech-oriented drivers should be able to adapt.
The ES 350 is a 3,549-pound highly aerodynamic front-drive sedan that sits on a 111-inch wheelbase. It's powered by a warm-butter-smooth 3.5-liter 268-horsepower V-6 that provides fast merging and passing. It exhales through a sexy dual exhaust system with discreetly placed chrome finished tips.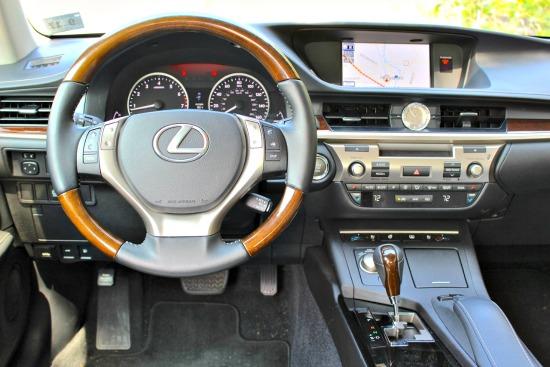 The trunk is spacious, but has a rather high opening. While the trunk lid has an interior lining, it lacks hydraulic hinges. Still, its manual hinges swing up out well of the way to avoid damaging luggage. And the lid has a hefty interior pull-down grip.
Estimated fuel economy is 31 miles per gallon on highways but a so-so 21 mpg in the city, although it seemed that I beat the city economy by a few miles per gallon. Happily, only 87-octane fuel is required.
Those wanting higher economy can get the $39,250 ES 300h gas-electric hybrid model that's estimated to deliver 40 miles per gallon in combined city and highway driving.
The ES 350's responsive six-speed automatic transmission smoothly transmits power. It has an easily used manual-shift feature. However, when shifted manually, it doesn't automatically downshift to first gear from higher gears when you stop for, say, a stop sign. You thus must slide the console-mounted transmission lever to "1" each time you start up again if you want to manually shift. I mostly left the transmission in regular "Drive" mode.
Despite the front-drive setup, I felt no hint of torque steer while accelerating normally from a stop, even on wet pavement.
The nicely weighted steering is quick, with decent road feel, and the ES 350 has a comfortable, well-controlled ride with its all-independent suspension and 55-series tires on 17-inch aluminum alloy wheels.
This is no sports sedan, but despite a nose-heavy weight distribution it has nimble handling with its well-designed suspension, which has gas-pressurized shock absorbers and front/rear stabilizer bars. There's also a vehicle stability system.
The brake pedal has a comforting linear action, and the anti-lock brakes with electronic brake force distribution and brake assist systems work efficiently.
Large door handles allow quick entry to the quiet, upscale interior, which has an array of sophisticated electronic comfort and convenience features. There's a push-button starter, and the bright optitron gauges can be quickly read in sunlight.
Standard items include piano black trim, power front seats, automatic dual-zone climate control, a Lexus premium audio system with 8 speakers and a one-touch open/close power tilt-and-slide sunroof.
One might expect the ES 350 sedan to be roomy up front, but the remarkably spacious rear-seating area may surprise many. Even the center of the rear seat is soft enough for a third occupant. A large pull-down armrest with cupholders can occupy that rear center area if only two adults are back there.
My test car's options included a handy backup camera and blind spot monitor with rear cross-traffic alert, along with a handsome, easily gripped wood-and-leather steering wheel.
The ES 350 is a comfortable highway cruiser in the tradition of America's old, large luxury cars, but without their wind and road noise and the need for constant fuel stops.
Pros: Sleek. Roomy. Refined. Fast. Upscale. Nice ride. Nimble.
Cons: High trunk opening. Carry over engine and transmission. Distracting control interface.
Bottom Line: A top affordable entry level luxury car.
Dan Jedlicka has been an automotive journalist for more than 40 years. To read more of his new and vintage car reviews, visit: www.danjedlicka.com.
Article Last Updated: April 22, 2014.
About the Author
Latest Posts
An automotive journalist who has reviewed more than 4,000 vehicles in a nearly 45-year career, Dan is publisher of DanJedlicka.com.