How do you top a long-successful car? Just ask BMW, which is offering a successor to its highly popular 3-Series coupe and convertible.
The new 2014 BMW 4-Series coupe just may be the best reasonably priced sports coupe. It's longer, lower and more stylish than its predecessor and is more luxurious.
Indeed, the new 4-Series has more than enough pizzazz, performance and comfort to back up its rakish new body.
The 4-Series coupe replaces the 3-Series coupe. It shares mechanical components with the outgoing 3-Series coupe, but is superior in many respects. The 3-Series BMW long has dominated the "Best Buy" lists of car buff magazines, and there's no reason why the 4-Series can't do the same.
The stunning interior of the 2014 BMW 4-Series Coupe.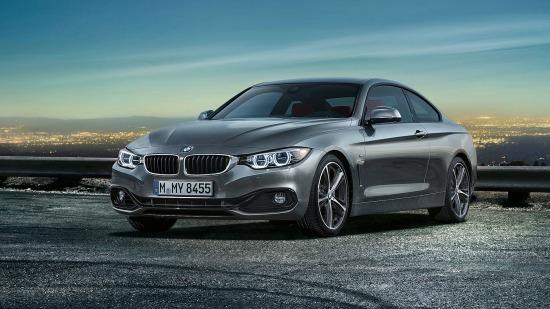 The coupe comes in various trim levels and with rear or all-wheel drive (AWD).The 240-horsepower 428i with a twin-turbocharged 2-liter four-cylinder engine has a base price of $40,500 with rear-drive and $42,500 with AWD. The base cost of the 435i twin-turbocharged 3-liter 300-horsepower inline six-cylinder is $46,000 with rear-drive and $48,000 with AWD.
(A $48,750 428i convertible and $54,900 435i convertible also will be offered, probably in the spring.)
The 4-Series coupe is offered with a six-speed manual transmission or an eight-speed automatic, with an easily used manual-shift feature. The automatic is likely to be the most popular choice.
Estimated fuel economy of the 428i with the four-cylinder and rear-drive is 23 miles per gallon in the city and 33 on highways. The figures are 22 city and 34 highway with AWD. The 435i delivers 20 city and 30 highway with rear-drive and 22 and 30 with AWD.
How fast do you want to go? I tested the 435i AWD model with the automatic and found it to be ferociously fast. It's doubtful that owners will wish it had a V-8.The 428i with its four-cylinder engine isn't as fast, but still is plenty fast. However, the four-cylinder must work harder than the smooth six-cylinder.
With all-wheel drive, my test 4-Series coupe exhibited no torque steer during fast starts from a stop.
Speed-sensitive power steering initially feels a little heavy at low speeds, but has the right amount of accuracy and feel. With nearly 50/50 weight distribution and a supple, well-designed suspension, handling is very good, although the 4-Series coupe is approximately 3,500 pounds and the weight can be felt when quickly tackling curves and making fast moves.
The brakes bite hard for sure stops. A console button allows the car to be set to "comfort" mode for relaxed driving or to "sport" mode for more spirited driving. I found "comfort" mode to be preferable for routine driving.
The 4-Series coupe has short overhangs and is one inch longer overall, with a two-inch longer wheelbase than the 3-Series coupe. It's also about an inch lower.
Flowing lines and a wide stance give the deftly restyled 4-Series coupe a costly, upscale look. But the long, heavy doors can be awkward to use in tight parking spots. The roofline partially obstructs rear visibility, so thank goodness the outside power rearview mirrors are large.The low front end can be damaged if a driver isn't wary of too-high obstructions, but it easily clears the concrete stops at, say, 7-Elevens.
The quiet, upscale interior has good fits and quality materials, including dark burl walnut trim. Controls are ergonomically arranged for the driver, although gauges can be hard to read in sunlight. Standard are such comfort and convenience items as automatic climate control.
Optional items include a navigation system, active cruise control and parking assist.
You might not think so looking at the car, but the 4-Series has a surprising amount of room for a compact coupe, especially in back, where 6-footers in contoured seats have good leg room. A large fold-down armrest with dual cupholders can occupy the center of the backseat.
There's a decent amount of cabin storage space. And rear seatbacks fold flat to allow additional cargo room if you need more space than the large trunk provides. It has a low, wide opening for easy loading or unloading during, say, those frantic pick-ups and drop-offs at airport parking lanes.
Curiously, the inside hood release must be pulled twice to get the hood open. I had to go to the owner's manual to find that one out. Once the hood is opened, one can see that the engine compartment is as precisely designed as the rest of the car.
With all its competition, BMW was compelled to come up with something as good as the 4-Series coupe.
Pros: Stylish. Fast. Roomy. Comfortable. Upscale interior. Good roadability. Supple ride.
Cons: Long, heavy dors. Gauges hard to read in sunlight. Rear visibility problem.
Bottom Line: BMW scores again with its new 4-Series coupe.
Dan Jedlicka has been an automotive reviewer for more than 40 years. To read more of his new and vintage car reviewers, visit his website: www.danjedlicka.com.
Article Last Updated: April 22, 2014.
About the Author
Latest Posts
An automotive journalist who has reviewed more than 4,000 vehicles in a nearly 45-year career, Dan is publisher of DanJedlicka.com.