Switching from a sporty car to a more practical crossover vehicle doesn't have to be disappointing. The 2014 Ford Escape compact crossover sheds the previous generation's boxy look and blends slick styling, decent utility and sporty driving.
The Escape is among Ford's top-selling smaller trucks and comes with front-wheel drive (FWD) or all-wheel drive (AWD). All versions are four-door hatchbacks with rear-door openings that should be a little wider for easier entry and exit.
All ride on a 105.9-inch wheelbase and have a fairly long 178.1-inch length. The turning circle is 39 feet, which isn't great but is decent for most urban parking.
List prices range from $22,700 to $30,850.
Rivals include the Chevrolet Equinox, Jeep Patriot, Hyundai Tucson, Mazda CX-5 and Nissan Rogue.
I tested a new $25,550 SE front-drive Escape, which ended up with a $29,075 bottom-line price, due to options and an $895 delivery charge.
Extras include a reverse sensing system and perimeter alarm, but I could never get the Sync Voice Activated System to work right. The optional power liftgate opened and closed smoothly, and you can get a "hands free" hatch that pops open if you wave your foot under the rear bumper. There's also a blind spot monitor and Curve Control if entering a sharp turn too quickly.
Standard features of my test Escape included air conditioning, keyless entry, power driver's seat and 4-way manual front passenger seat, rearview camera, remote keyless entry, power locks and windows (with no automatic-up feature) and dual folding power mirrors. Dual exhaust outlets were a sporty touch, although they should have had chrome tips.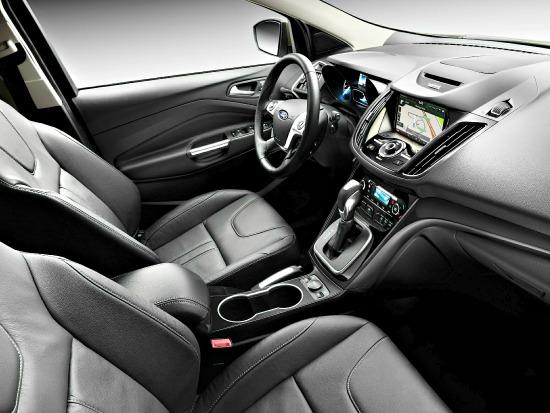 Options also include a reverse sensing system and perimeter alarm.
Other Escape options include Active Park Assist for those who hate or fear parallel parking, a large sunroof, heated leather seats, 19-inch (vs. standard 17-inch) wheels, blind-spot monitor and Curve Control to keep you on the road if entering a sharp turn too fast. I could never get the optional Sync Voice Activated System to work.
Safety items include plenty of airbags.
The Escape is fun to drive on regular roads, and its available AWD system is handy for off-road driving. It's nimble and I found it hangs right in there even in tricky decreasing radius curves.
My test Escape's tilt steering wheel was easily gripped but was overloaded with controls, including cruise and audio controls. Steering was quick but felt a bit "wiggly"—perhaps because of tires that weren't quite right. The ride was supple, but became a little jumpy on uneven tollway pavement. The brake pedal had a progressive action, and stopping distances were good with the all-disc anti-lock brake setup.
Three engines are offered, and all work with a six-speed automatic transmission. It's efficient, but has an awkward toggle switch on the side of the shifter for manual shifting.
There's a base 2.5-liter four-cylinder with 168 horsepower and two sophisticated four-cylinder EcoBoost engines: a 1.6-liter unit with 178 horsepower, which was in my test car, and a 2-liter with 240 horsepower. The 2-liter is the one to get if Escape owners do towing because it can haul 3,500 pounds.
The Escape isn't especially light, weighing 3,515 to to 3,769 pounds. But test 3,515-pound Escape's quiet, well-mannered 1.6-liter EcoBoost provided fairly quick 65-75 m.p.h. passing on highways and good merges into fast freeway traffic. Hard acceleration just elicits a mild engine drone.
Estimated fuel economy—always sort of a wild card—ranges from 21-23 in the city to 28-32 on highways, with all-wheel-drive versions getting the lower figures. My test FWD Escape's estimated economy with the 1.6-liter EcoBoost was 23 and 32. Escape fuel tanks hold 15.06 gallons.
All three engines can use 87-octane fuel, but Ford recommends 91-plus octane for the 240-horsepower EcoBoost engine. The touch screen was easy to use for such things as selecting radio stations and climate control settings. Handy redundant dashboard switches for some HVAC settings and basic radio controls came in handy to supplement the touchscreen controls.
The quiet interior had decent-quality plastics, and the dark blue pointers for dashboard gauges added a touch of class. The front seats provided good side support in curves, but needed more thigh support. Backseat comfort was adequate for tall occupants, but the stiff middle section is best left to the pull-down armrest with its two cupholders.
Front cupholders are nicely placed to avoid spills, and the covered center console storage bin is extremely deep.The console, itself, takes up a little too much room and the interior is rather narrow, compared to some rivals. Adjustable dashboard vents were well-located to deliver good heat in Chicago's sub-zero  temperatures.
The cabin has sufficient storage areas, with such things as storage/beverage container pockets in all doors. Sun visors have vanity mirrors, but they can't be lit.
The cargo area is large, and the split rear seatbacks can be easily flipped forward to significantly accommodate a lot more cargo.
The Ford Escape generally scores high marks and may be just right for former sporty car owners who need more utility.
Pros: Slick looks. Fairly roomy. Compliant ride. Agile. Fuel-thrifty. Available in all-wheel driver.
Cons: Occasional jumpy ride. More thigh support needed. Stiff backseat center. Narrow rear door openings.
Bottom Line: A compact, polished crossover that's easy to live with.
Dan Jedlicka has been an automotive journalist for more than 40 years. To read more of his new and vintage car reviews, visit: www.danjedlicka.com.