The anticipated arrival of the Elio three-wheel vehicle with a nearly 700-mile range and an estimated 84 mpg, has created vast public interest. With a top speed of more than 100 mph and its innovative styling, it's no wonder why more than 10,000 pending buyers have placed deposits ranging from $100 to $1,500.
According to the manufacturer, Elio Motors, based in Phoenix, Ariz., the Elio will feature an eight-gallon gas tank and will be made with 95 percent American parts and by an American labor force.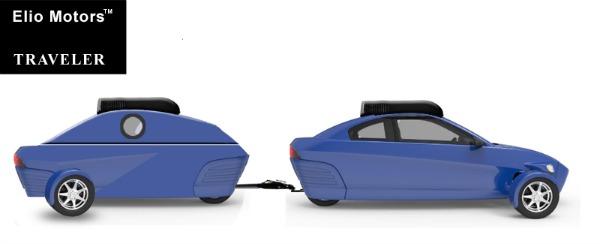 Interest in vehicle has resulted various pending owners' websites and forums. One of the most discussed topics of Elio forums is the availability of a trailer hitch. Several options are in discussion, including the concept in the image above.
Another pending question: Will the Elio be towable? Here's the answer provided by the manufacturer:
"Yes, Elio owners will be able to flat tow their vehicle although the details of how this will work our currently being finalized on our end. This might entail reverse towing the vehicle! We have several ideas on how this will work best, and we will be prepared to share these details with our future Elio Motors customers in advance of production time next year, so please stay tuned into our website in the meanwhile! Thanks so much for your time and question."
Elio vehicles will be built in an abandoned Shreveport Louisiana assembly plant. Elio will sell the vehicles at specialized retail centers in the top 60 markets across the United States. It will be available in eight colors.
Elio standard equipment will include: a reinforced roll cage and airbags for safety, radio, air conditioning and power windows for comfort.
The small front-mounted engine in the Elio is 1.0 liter, 70 horsepower and has three cylinders. It's a two-seater, with an option to fold-down the passenger seat for cargo.
For more information, visit: www.eliomotors.com.
Article Last Updated: April 22, 2014.
About the Author
Latest Posts