The first of eight Corvettes swallowed by a sinkhole in the National Corvette Museum has been removed by construction crews and was driven about 20 feet after its emergence.
With visitors, staff, media at the museum in Bowling Green, Kentucky, and an international audience watching via a live stream, the 2009 "Blue Devil" ZR1 was rescued. The car was in good shape and started after a few attempts.
"It's wonderful… just seven more to go," said Mike Murphy, construction manager for the project. "That's a GM product for you. They take a licking and keep on ticking."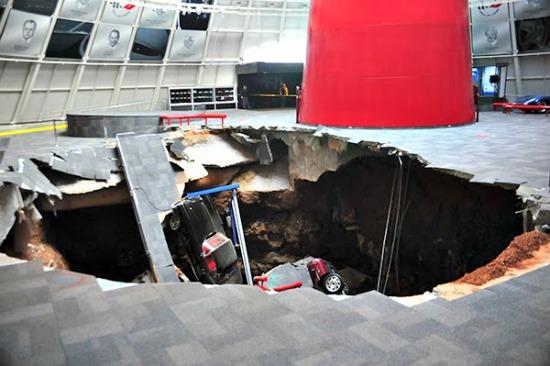 The crews have been working six days a week since the Feb. 12 sinkhole incident that swallowed eight Corvettes in the National Corvette Museum's Skydome exhibit area.
On March 1, construction crews rigged up the ZR1 and did a few test lifts.
"I was worried about the wheels," said Murphy. "This morning we took so long because we wanted to add some secondary straps in case the wheels pulled. It was just a little more insurance."
The Museum plans to display the cars as they are recovered, now through August 3. A display with information on the sinkhole incident, sinkholes and karst background details, videos, photos are planned.
"It's incredible to have the car back on display again. It's what we've been hoping for," said Bob Hellmann, Facilities and Displays Manager. "Now we just want to get the next seven, restore the cars, and get them all back on display."
more.
The removal of a 1993 "Ruby Red" 40th Anniversary Corvette was scheduled later Monday (March 3). A 1962 Black Corvette is planned to be retrieved on Tuesday. It's recovered is expected to be more difficult. A five ton slab of concrete is partially resting on the front of the car. Two cranes will be used to simultaneously lift the car and the concrete.
Here'e the list of the Corvettes affected by the sinkhole:
1993 ZR-1 Spyder on loan from General Motors
2009 ZR1 "Blue Devil" on loan from General Motors
1962 Black Corvette
1984 PPG Pace Car
1992 White 1 Millionth Corvette
1993 Ruby Red 40th Anniversary Corvette
2001 Mallett Hammer Z06 Corvette
2009 White 1.5 Millionth Corvette