Some people wonder if they're paying too much for a luxury car. The Hyundai Equus provides solace. The South Korean carmaker lacks the prestigious name of rivals such as BMW and Mercedes, but there's not much in a name these days besides snob appeal when it comes to foreign luxury sedans.
The smart money thus might be tempted to bypass competitors of Hyundai's flagship Equus sedan and save approximately $20,000 by buying the Equus and putting the money in blue-chip investments.
The 2013 Equus was fine in most respects, but has been upgraded for 2014, although the rear-drive car still doesn't offer all-wheel drive. It has a new front bumper, fascia and grille, new side mirrors and taillight graphics, standard LED fog lamps and polished 19-inch premium alloy wheels. Inside is a redesigned instrument panel and center stack, revised steering wheel control layout and genuine wood trim.
There's also revised suspension tuning for the electronically controlled air suspension for more ride comfort and handling, with a snow mode added to the drive mode system.
Ride quality comes close to matching that of some rivals.
The electro-hydraulic power steering, controlled by a handsome, easily gripped wheel, is quick. It's also a little heavy and should provide more road feel. The electronically controlled air suspension is on the firm side, but provides a supple ride as it tackles bad roads. The all-disc anti-lock brakes do a good job, working with a progressive-action pedal and a brake-assist feature.
The Equus is no sports sedan, but can be driven quickly and safely. Handling for those driving beyound their abilities is helped by electronic stability control and a stability management system with pre-collision warning.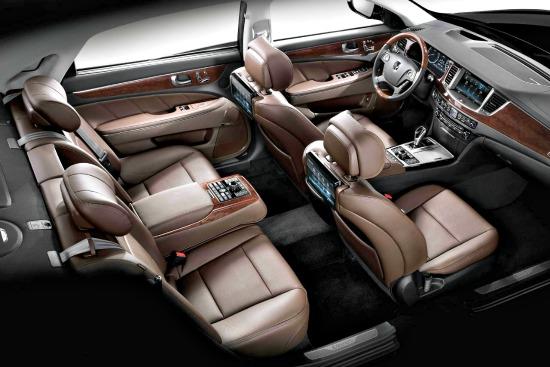 There's the standard $61,000 (without a $920 freight charge) Equus Signature model and a slightly more upscale $68,000 Ultimate version. The Signature is so loaded with equipment that the Ultimate really isn't necessary—unless you want such items as cooled rear seats, illuminated rear vanity mirrors, power trunk lid and a rear-seat entertainment system with dual 9.2-inch monitors.
The Signature's long list of features includes the air suspension for a supple ride and sure handling, premium leather seats, power tilt-and-slide glass sunroof, heated/cooled front seats, backlit gauges, AM/FM/HD radio/Sirius/XM/CD/DVD/MP3 audio system, hands-free phone system and 60/40 power reclining and heated rear seats.
Let's stop right there before we get cross-eyed, although note that the four-passenger seating option is gone. That sort of seating arrangement is generally only popular for luxury cars in China, anyway.
Safety items include no less than nine air bags, including a driver's knee air bag, front/rear seat-mounted side-impact ones and side-curtain ones. There's also Blind Spot Detection with Rear Cross-traffic Alert, Smart Cruise Control and a front and rear parking assistance system with reaview camera and Rear Crosss-traffic Alert.
The Equus is whisked along by a sophisticated five-liter direct-injectionV-8 that delivers 429 horsepower on premium fuel and 421 horsepower on regular grade gasoline. The strong engine provides plenty of power for fast merging and passing and loafs at 1,600 rpm at 65 mph.
Still, the long (203.1-inch), fast Equus weighs approximately 4,500 pounds and thus sparkling fuel economy shouldn't be expected. The estimated numbers are 15 mpgin the city, 23 mpg on highways.
Power is fed through an eight-speed automatic transmission that upshifts smoothly but hesitates on downshifts. It has an easily used manual-shift feature.
My Equus Signature test car's spacious interior looked upscale with its wood and leather, but not lavishly so. The cabin has a good number of storage areas and was quiet, with the exception of noise from my test car's low-profile tires: 45-series front and even wider 40-series rear. I didn't notice in the snow-loaded zero-degree weather, but the car might have been equipped with noisier winter tires.
The power tilt/telescopic wheel should suit drivers of all sizes, and the driver's door-mounted power seat controls are duplicates of those in a Mercedes. The electroluminescent cluster has a 7-inch LCD screen. Manual controls are small but well-marked. I especially liked the front-door pull-out storage pockets—they look like they're from a private jet. The circular roof-mounted vanity lights for the sun visor mirrors are a touch of class, as is the classy looking dashboard analog clock. All seats provide good support, although the center of the backseat is stiff.
It's a good thing the folding outside side mirrors are large because vision to the rear is generally poor without them.
I could have used the power trunk lid when shopping because my arms were full of groceries, but at least the large trunk easily swallowed them. Power folding rear seatbacks enlarge the cargo area
The Equus is backed by a 10/year/100,000-mile powertrain warranty, but most luxury sedan buyers don't keep a car that long.
If you want to impress neighbors with Equus rivals such as an Audi, BMW, Jaguar, Lexus or Mercedes, buy one. They're fine cars, but you may ask yourself if saving, say $20,000, by buying an Equus would have been a smarter move.
Pros: Key upgrades. Luxurious. Roomy. Supple ride. Nice handling.
Cons: Less brand cachet than rivals. Low city economy. Tire noise. No all-wheel drive.
Bottom Line: Most of what you can get from rivals that cost thousands more.
Dan Jedlicka has been an automotive journalist for more than 40 years. To read more of his new and vintage car reviews, visit: www.danjedlicka.com.