Now in its 10th model year and fifth year of its second generation, the Buick Lacrosse is a large four-door luxury sedan. Like many of its competitors, the refreshed 2014 Buick LaCrosse provides a comfortable, smooth, spacious ride.
Never a high volume seller (the best-selling year was 92,00 units in 2005), the LaCrosse nonetheless shouldn't be overlooked. The dilemma for Buick is that the large sedan segment is ripe with fine choices. The new Kia Cadenza, the re-designed Chevrolet Impala and stalwarts like the Chrysler 300, Toyota Avalon and Lexus ES350 all have substantial new or sustained followings.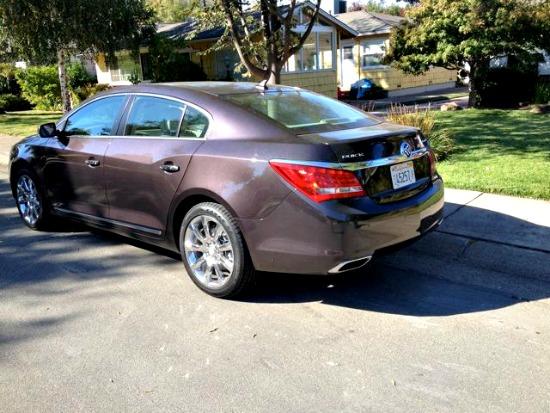 With the 2014 Buick LaCrosse, the competition in theory should increase. Its refreshed edition includes adaptive cruise control, lane change alerts, rear cross-traffic alerts, an updated touchscreen interface and a new interior with a good dose of LED accent lighting.
The Weekly Driver Test Drive
A getaway weekend in large, fine-cruising sedan? What's not to like? My wife and I took a short vacation to Santa Cruz from Sacramento in the new LaCrosse. The round-trip journey was about 400 miles, primarily on highways and freeways. But we also visited art studios and restaurants during small-city treks in urban neighborhoods.
The Buick LaCrosse provided everything expected in big sedan. The ride was smooth — as if driving while enjoying the comforts of well-adorned living room.
As a large, heavier sedan, the LaCrosse needs a little extra time for braking. And stopping required further attention because the brakes are soft. But the ride quality, smooth, steady acceleration, strong visibility and good gas mileage (for the segment) overshadowed the braking learning curve.
The Buick LaCrosse has a good selection of technology features, including an intuitive navigation system we used often. One minor concern: While the voice providing directions was pleasant, "she" sometimes gave instructions just prior to the next turn or freeway entrance or exit. We managed without any major issues, however, further adding to an overall assessment. A week with the 2014 Buick LaCrosse isn't long enough.
Likes:
Plush, comfortable, well-designed interior.
Quiet ride.
Strong standard features list.
Cameleon-like exterior color. Is it purple? Is it brown?
Dislikes:
Small trunk.
Only a few small storage areas.
Super sensitive detection system.
Soft brakes.
Facts & Figures: 2014 Buick LaCrosse
Acceleration: 0-60 mph, 6.5 seconds.
Airbags: (6).
Fuel economy: 18 mpg (city), 28 mpg (highway), six-speed automatic transmission.
Horsepower: 304.
Manufacturer's Suggested Retail Price (range): $33,691-40,410.
Manufacturer's Web site: www.buick.com.
Price As Tested: Unavailable.
Warranty: Bumper to bumper, 4 years/50,000 miles; Powertrain, 6 years/70,000 miles; Corrosion, 6 years/100,000 miles; Roadside Assistance, 6 years/70,000 miles.
What Others Say:
"This well-executed refresh comes just in time to meet increasing competition. The exterior tweaks are all improvements, while the interior upgrades are sharp and rich-looking, with only a little too much gloss remaining on the dark-colored version of the soft-touch lower dashboard (in lighter colors, it looks good)." — Popular Mechanics.
"Conservatively handsome, well equipped, capable, quiet, comfortable, and refined, the car boasts eAssist, GM's mild-hybrid system." — Kelley Blue Book.
"The 2014 Buick LaCrosse has some faults, but overall, we like this big sedan for its premium style and comprehensive features." — Edmunds.com
The Weekly Driver's Final Words:
"Big sedans that consume massive amounts of fuel aren't quite as en vogue as in their heydays of yesteryear. But the Buick LaCrosse is among only a few fairly priced big sedans that make a case for a return to non-guilty enjoyment of the large car segment."