Mini keeps innovating while also maintaining its heritage. One year, it's the Clubman, the uber-cool "storm door" model. The next time, it's the John Cooper Works, the model named after the deceased famous racing car guru who with his father founded the Cooper Car Company.
To celebrate its 50th anniversary, Mini has done it again. It's largely left alone the 2009 model for 2010, but has debuted two special editions called Mayfair and Camden. Named after London boroughs, both special editions add $4,500 to the price of a Cooper or Cooper S.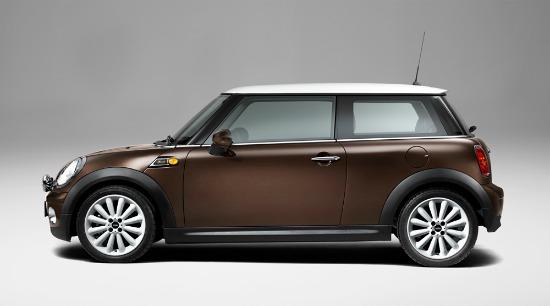 The Mayfair is available in Pepper White, Midnight Black or Hot Chocolate metallic, the option I had from my Weekly Driver. Toffy-colored metallic stripes with white outer pinstripes add to the unique primary exterior color and that's further complemented by a white roof and white-painted 17-inch wheels.
(Editor's note: We're visiting our archives to review cars once new and now well-suited for best buy status in the used market. The 2010 Mini-Cooper is four model years old, and it's on TheWeeeklyDriver.com list of Best Used Cars. Why? It was among the top-15 gas mileage cars of the year in 2010 and Mini went all out to celebrated the brand's 50th anniversary. Oh, Kelley Blue Book raved about it, too.)
The package also includes driving lights, traction control and fender vents. And there's also an anniversary grill badge as a final classy touch. It features a highly styled design of the number 50 with the red, white and blue of the English flag.
The Weekly Drive
For several years, I've test driven cars on a 400-mile, round-trip from Sacramento the Monterey Peninsula. The trip includes wide-open, high-speed flat stretches along Interstate 5 to the narrow, winding roads over the San Luis Reservoir and Pacheco Pass.
I hadn't driven a Mini for a couple years, so I was curious to see how the tiny sports car would fare if inclement weather arrived or if I were passed on the open road by an 18-wheeler.
Bad weather never happened, and the Mini surprised me. It was never intimidated and it's also smoother at high speeds than I remembered. I looked at the odometer during one straight freeway section and realized I was going 87 mph. I'm sorry (Not really).
Mini Coopers always generate a good share of attention, but the Mayfair edition is even more of an attention-grabber. Lots of folks initiated conversations about the car, particularly when someone noticed I steered the root beer-colored machine into a tight parking space or performed another equally space-crunched maneuver with ease.
The Weekly Driver's Ratings
Acceleration (8)
How does 172 horsepower in a Mini sound to you? Thought so. Enough said. They're driving machines.
Braking/Steering/Handling (8)
It's among the smallest cars in the United States, but the Mini holds the road, steers with precision and stops with confidence, particularly the 17-inch wheels for 2009. It all adds up to a lot of fun on the road — in tight city driving and blasting along the freeway.
Cargo Room (5)
It's not a luxury sedan that can hold several sets of golf clubs. That said, it's not bad. The rear split seats don't fold flat, but the overlap shelf easily attaches or detaches and the available cargo room isn't too limiting for groceries or even a folding bike (mine fit easily).
Controls (7)
Critics say the "retro" look of the toggles switches for windows, locks and other functions and the oversized, off-centered speedometer are distractions. I disagree. A driver may be distracted at first getting used to something different. But how much of distraction can a speedometer the size of a dinner plate and easy-to-use toggles really be? Once a new way is mastered, the Mini's approach is cool and functional.
Details (7)
The designers must have made an agreement to see how much coolness one car can feature. Toggle switches, the oversized speedometer, the hydraulic-style seat adjusters, the push-button controls and even the easy-to-use ball fob attachments on the cargo shelf. It's all cool and functional.
Front Seats (6)
Comfortable and firm, but restrictive for bigger drivers' knees because of the wide center console. Manual but efficient seat height adjustment on bot front seats is efficient. Visibility is good, particularly for the car's size. Head room and leg room satisfactory.
Fuel Economy (8)
A sports car getting more than 30 mpg on the highway? What's not to like? One negative: premium fuel is recommended. It's worth it.
Quietness (4)
Don't buy this car if you're not interested feeling and hearing the ride. It's not that the engine isn't quiet. It is for the car type. But on the freeway? The wind and road noise intensifies, and there's something cool about that.
Rear Seats (3)
Two adults can managed, but it's not a comfortable or enviable place to spend a lot of time. Space is at a premium and ingress and egress require substantial coordination. The Clubman model has substantially improve rear-seat room than other Mini offerings.
Ride Quality (4)
The Mini is a sports car with its own style, attitude and an advanced degree of coolness. The ride is choppy and bumps are felt. It's what every sports car should feel like, right?
Total (60 out of 100)
Class — sports performance.
Primary competition — Mazda MX-5, Scion TC, Pontiac Solstice, Ford Mustang, Volkswagen GTI
Standard equipment/option features — Air conditioning, RDS audio system (six speakers) with AM/FM and CD player CD player reads MP3, cargo area cover/rear parcel shelf, cargo area light, Front seats cigar lighter, clock, delayed/fade courtesy lights, driver front airbag with multi-stage deployment, passenger front airbag with occupant sensors and multi-stage deployment, bucket driver and passenger seat with height adjustment, fog lights, illuminated entry system, front reading lights, front and rear side curtain airbag, front side airbag with occupant sensors, leather covered steering wheel with tilt adjustment and telescopic adjustment, tachometer, illuminated driver and passenger vanity mirror.
Extras (Mayfair Package, $4,500)
17-inch alloy wheels, chrome line interior, chrome line exterior trim, color line toffee, interior surface toffee lining, driving lamps, fog lights, Xenon headlights.
For more details/images visit: www.miniusa.com.
Manufacturer's Suggested Retail Price — $22,300.00.
Price As Driven — $30,250.00
Mileage Estimates — 24 mpg (city), 32 mpg (hwy).
Warranty — Bumper-to-bumper, 4 years/50,000 miles; Corrosion, 12 years/unlimited miles; Free scheduled maintenance, 3 years/36,000 miles; Free roadside assistance, 4 years/50,000 miles.
What Others Say:
"The MINI Cooper provides the driving enthusiast with a combination of fun-to-drive performance, engineering and unconventional attitude." —- AOL Autos
"The Mini Cooper offers agile handling and crisp performance and a distinctive bulldog appearance, the latter enhanced by a variety of trim and color options. We're traditionalists, so we prefer the hardtop over the convertible. Either way, the Mini provides the most fun per dollar of any car on the market with the possible exception of the Mazda MX-5." — New Car Test Drive
"At around $30,000, these Works Minis certainly aren't cheap, and their firm ride probably won't appeal to everyone. But that's not the point. They are adorable, well-built little cars with go-kart handling and superb fuel economy – and there's definitely a market for that." —- Automobile Magazine
The Weekly Driver's Final Words:
"Driving one of the most distinct cars on the road is like being part of fraternity not everyone gets. But if you do get it (and count me in) the Mini is all about fun. Is there a better reason to drive?"