After World War II, the troubled global economy prompted innovation in the auto industry. As a result, microcars — the original green cars — became all the rage. They were city cars, relied on for local commuting and for errands. They were cheap and used little fuel.
As a description at the current display of microcars at the California Automobile Museum in Sacramento details, "Microcars were easy to park, simple to drive and mechanically similar to scooters in that they were seemingly in every city of the world."
Most of the original microcar manufacturers are gone now, but the idea has returned in recent years with the introduction of new cars and new models of old microcars like the smart fortwo, Scion IQ, FIAT 500 and BMW Mini.
The microcar industry also recently gained international attention when renowned microcar enthusiast Bruce Weiner decided to sell his vast collection.
Weiner, whose sale brought in more the $1 million, had displayed his fleet — from what's been called the world's smallest production car, the Peel P50, to a relatively spacious Smart — in a climate-controlled warehouse — 50 miles east of Atlanta, Georgia.
The Bruce Weiner Microcar Museum had about 35,000 visitors a year since it opened in 1997 on a farm he owns. But after 22 years of a near obsession with the little machines recently Weiner decided to sell all but 10 of his massive collection of more than 350 vehicles.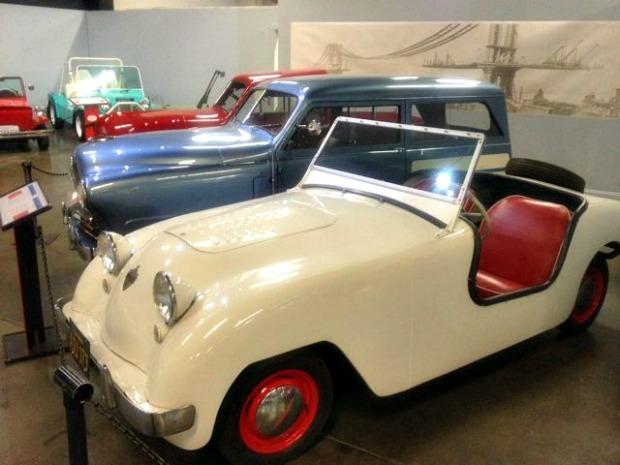 The exhibition at the California Automobile Museum is small in comparison. But the collection nonetheless provides a fine glimpse into the intriguing world of microcars.
Videographer Bruce Aldrich (truckeetahoeoutdoor.com) and I recently visited the micorcar display and produced the brief video below.
The microcar exhibit at the California Automobile Museum will be on display at least through the end of April, 2013. The museum is located 2200 Front St., Sacramento , CA 95818. Tel. (916) 442-6802; Website: www.calautomuseum.org.