Podcast: Play in new window | Download (Duration: 29:24 — 26.9MB)
Subscribe: Google Podcasts | Email | RSS
Tom Britzman learned to drive at age 10. His father was enamored with automobiles and quality father-son time behind the wheel of an Austin seemed right. It was 80 years ago, but it could have been yesterday.
"It was stupid," said Britzman, a Korean War veteran who worked for 32 years for Sears, Roebuck and Co., following his Army service. "But at the time, when you're a 10-year-old kid and you live out in the country, it was pretty exciting."
Britzman, who lives in East Garrison, California (formerly Ft. Old) is our guest in this week's episode of The Weekly Driver Podcast.
Co-hosts Bruce Aldrich and James Raia talk with Britzman about his 80 years of driving.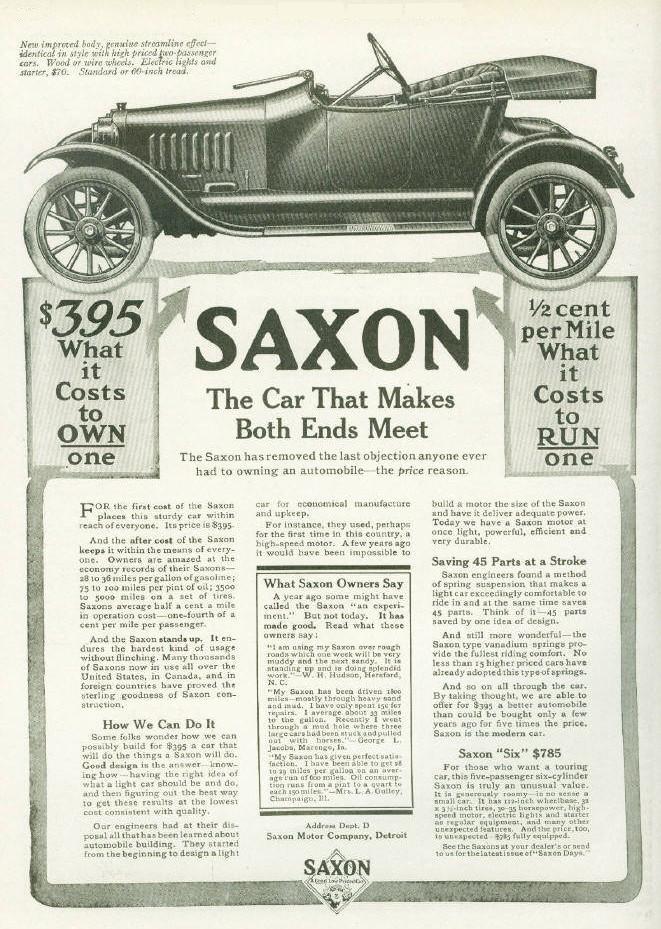 Now living with his wife in the unincorporated community of East Garrison (formerly Ft. Old), Britzman was an experienced driver when he acquired his first driver's license at age 14. It was the former minimum age.
1917 Saxon: A competitor to Ford's Model T
As a freshman, Britzman began driving a 1917 Saxon to Lodi High School. His father purchased the car for $35.
"Basically, it was made like a hotrod, but there's was no such thing as a hotrod in 1917," said Britzman, who recalls his life with automobiles with vivid detail.
"I have a picture in my garage with me sitting in it with my Levis rolled up about six inches. Of course, there are no doors, so you can see a lot of me in the picture."
Saxon Motor Car Company, based in Detroit later in Ypsilanti, Michigan, had a decade-long run beginning in 1913. It was offered as a two-seat roadster with a 2 or 3-speed rear axle gearbox. It cost $395.
Headlights were an option until electric lighting became standard in 1915. That's when a Saxon Six, with seating for five, a 112-inch wheelbase and 32×3 1/2-inch wheels, debuted. The price was $785.
A record 27,800 Saxon vehicles were made in 1916, followed by a name change (Saxon-Duplex) in 1921. The company's demise occurred two years later. Britzman didn't have his 1917 Saxon long.
An alternative to a Model-T, the Saxon Six had two more cylinders than its more renowned competitor.
"Four-cylinder cars of the day vibrated a lot, Britzman said. "A six-cylinder didn't vibrate quite as much."
Britzman's high school car was painted red and white, the colors of Lodi High School. The word Lodi was emblazoned across the grille, which was actually the radiator. The car didn't have a self-starter, so Britzman learned how to crank start the engine. The Saxon also didn't have a top, doors, running boards or fenders.
While still in high school, Britzman upgraded to a Ford Model-A. It was a substantial improvement, but the car was also topless. Britzman made a top for his new wheels in shop class.
"It was fine, even when it rained," Britzman recalled of his Saxon. "When you are 14 and you're in high school and you have wheels, you think you are pretty good. The car had a windshield and it was really kind of neat. But I think the car was more well-known than I was."
Lots of vehicles followed, including a '37 Ford with 60 horsepower, a '58 Chevy Nomad station wagon and a '54 Chevy Corvette he bought used for $1,300.
Britzman, 90, currently drives a 2010 Ford Fusion. He limits trips to five miles.
"The last moving violation I got was in the 1970s," he said. "Well, I've deserved a lot more. I did a favor for someone in the 1960s. I was helping the (California) Highway Patrol do something. They gave me a miniature highway patrol badge.
"I have it attached in my wallet. If I am stopped, which I have been occasionally, it's generally for going too fast. I always find a way to fumble around to get to my driver's license so that they see the badge. I've gotten some warnings, but I haven't gotten a ticket."
As for the 1917 Saxon, Britzman said he understood the engine was used in a irrigation ditch to water plants.