Supercars, family heirlooms and affordable vintage vehicles are nothing new to the Monterey Peninsula, particularly during Classic Car Week. Gawk at a new multi-colored Rolls-Royce or a carbon-fiber Pagani. Admire a classic Aston Martin, Ferrari or Porsche. They're all automotive works of art.
Bob Kavner appreciates cars as much as any collector or enthusiast. But he has a different perspective. While plenty of sports cars and classic sedans were showcased at the recent Concours & Cocktails at The Santa Lucia Preserve, Kavner presented two trucks.
The former Silicon Valley executive, now a resident of Carmel, lives just down the country road from The Hacienda, the 20,000-acre private community's idyllic clubhouse. As he's done before, it was only a few-minute task to drive his 1925 Ford Model TT and 1955 Ford F100 onto the facility's front lawn for the festive, three-hour evening gathering.
The Model TT, patterned after the Model T (its more famous sibling), was Ford's first pick-up truck. The black 1925 edition was the most popular with nearly 370,000 made and used as precursors to sport utility vehicles.
Kavner purchased it four years ago, six years after he bought the 1955 Ford F100. The latter is remarkably restored, including its original bright red exterior paint.
"Look at this truck; look at this design," said the jovial Kavner while providing a tour of his prized vehicle. "It's unbelievable. I just think it's an important American aesthetic. It was made 10 years after World War II. The country was proud."
Concours & Cocktails was conceived by Lisa Guthrie, the marketing director and a broker for the private community just east of Carmel in the Santa Lucia foothills. The idea was to create an alternative for residents and their friends to celebrate their vehicles and where they live without traveling to the crowded events during Classic Car Week.
It's worked. This year's event, featured about three-dozen vehicles and 200 homeowners and guests for cocktails and dinner — all connected by their enjoyment of cars and trucks and an appreciation of the serene community.
Kavner, 74, was among the most enthusiastic owners. He drives his pick-up truck about three times a week into Carmel and on rare occasions about 60 miles to Santa Cruz. Kavner's wife, Allyson, doesn't drive the truck because she can't reach the pedals.
"Guys want to buy it and gals want to know if I am single," he said. "I am being cute with that. But it touches an emotion. The best reaction I like is from kids. When they see it, they say 'oh my god; it's beautiful.' They'll never say that about a modern car.
"They've never seen anything like this before, so for them to be introduced to this piece of Americana is important. This is mass production for the common guy. I think the truck sold (new) for $2,100."
Kavner was raised in Franklin Square, N.Y. and his family owned Fords, but not a truck. He purchased the F100 from the son of the original owner in Southern Illinois. He rebuilt the rare V8 engine and had the body and interior restored.
The F100 is basic and beautiful. The truck doesn't have a radio. Its only extravagance is a small box heater. Kavner believes he's driven the truck around 3,000 miles in 10 years, pushing its original mileage to around 65,000.
"When I need gas, I take a gas can down to Carmel, fill it up and bring it back," said Kavner, admiring his vehicle. "I put in premium, but I don't know why."
Article Last Updated: August 23, 2017.
About the Author
Latest Posts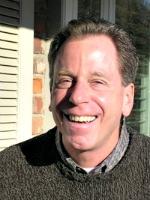 A sports, travel and business journalist for more than 45 years, James has written the new car review column The Weekly Driver since 2004.
In addition to this site, James writes a Sunday automotive column for The San Jose Mercury and East Bay Times in Walnut Creek, Calif., and a monthly auto review column for Gulfshore Business, a magazine in Southwest Florida.
An author and contributor to many newspapers, magazines and online publications, James has co-hosted The Weekly Driver Podcast since 2017.