One major consideration for car buyers considering a hybrid is the cost increase from the gas-only equivalent. Lincoln avoids the potential consternation. The 2017 Lincoln MKZ Hybrid is priced the same as its gas-only sibling.
Lincoln for several years has been trying to regain its luster of yesteryear. The MKZ Hybrid was introduced in 2011 as part of the initiative. It's the manufacturer's first entry into alternative engines, and the price match is unique in the industry.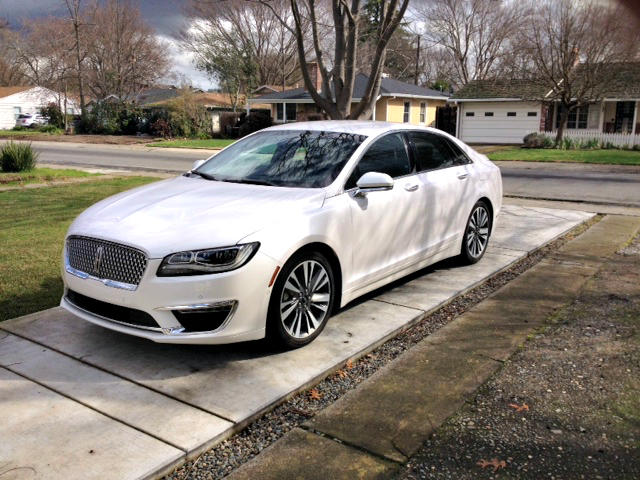 The entire MKZ lineup this year received a refresh. The interior changes included and updated radio and climate controls and a simplified console. The exterior tweaking resulted in a new front grille, new headlights and a sleeker body.
The MKZ Hybrid is powered by a 2.0-liter four-cylinder mated to an electric motor and lithium-ion battery pack. The range on one tank of fuel is an impressive 560 miles.
After reviewing the MKZ gas trim a few weeks ago, the hybrid comparison was easy. The two trims are nearly identical. And the differences, while not deal breakers, may dissuade traditionalists.
The MKZ Hybrid has significantly slower acceleration, negotiating the standard 0-60 miles per hour test in 8.9 seconds, 1.6 seconds slower than the gas only editors. Both trims offer a quiet ride, but the hybrid trim has a distinct drone while gaining speed.
Like other manufacturers, Lincoln hasn't devised a good way to utilize a hybrid engine without reducing trunk space. The MKZ gas trim has cavernous trunk storage. The hybrid trim is limited because the hybrid battery pack is housed in the bottom half of the back half of the trunk. The space is useable, but only for small and thin items.
The luxury sedan segment is chock-full of superior choices, some sports-oriented, others dutiful. The Lincoln MKZ can't compete with BMW-oriented buyers. Volvo rules the segment for mountain dwellers seeking ruggedness in their vehicles.
But the MKZ is a less expensive cruiser than the Lexus ES350, Cadillac ATS or Mercedes-Benz C-Class. It delivers a smooth, quiet ride as a suitable companion for comfortable long highway hauls.
As an homage to sedans from the 1950s, the Lincoln's transmission is a vertical column of buttons positioned to the left of the dashboard infotainment center. There's no shifter. Instead, the area between the front seats is clean and open. A recessed, nearly hidden and flat storage platform offers plenty of room for accessories and a pass-through area.
The push-button system has a learning curve, but it's a refreshingly simple approach with the options "S" for sport mode and the logical choices for driving or stopping: "P, R, N and D."
Many manufacturers have increased and varied standard equipment lists. The MXZ's offering is plentiful: An 11-speaker audio system, Bluetooth, USB ports, satellite radio, an 8-inch display, dual-zone automatic climate control, a proximity key, push-button and remote start.
A rearview camera, rear parking sensors and a built-in garage door opener are also standard. The upscale Reserve trim also features 19-inch wheels, a power trunk lid and ventilated front seats.
Additional safety features include: blind spot monitoring, rear cross traffic alert, adaptive cruise control with stop-and-go, forward collision warning with automatic braking and pedestrian detection.
And there are front and rear parking sensors, parallel and perpendicular parking assistance, lane keep assist and a driver alert monitor.
Additional equipment: A household power outlet, rear-seat USB charging ports, side view mirrors that automatically dim and fold, a panoramic glass roof and adaptive LED headlights.
There's no exact definition of luxury, but the new Lincoln has classy touches. Doors handles are backlit at night, and the Lincoln logo is projected below the driver and passenger front doors. And if you need service, a Lincoln a dealership will pick up your vehicle, provide a loaner and return your vehicle repaired and washed.
Likes:
Smooth, quiet, comfortable ride.
Quiet on the open road.
Efficient hybrid engine.
Dislikes:
The hybrid engine is noisy on ignition at low speeds.
Hybrid engine battery pack restricts trunk space.
Facts & Figures: 2017 Lincoln MKZ HEV
Acceleration: 0-60 mph, 8.9 seconds.
Airbags: 6.
Fuel economy: 41 mpg (city), 38 mpg (highway), 40 mpg combined, continuously variable transmission (CVT).
Horsepower: 188.
Manufacturer's Suggested Retail Price: $$36,095.00.
Manufacturer's Website: www.lincoln.com.
Price As Tested: Unavailable.
Warranty: Bumper to bumper, 4 years/50,000 miles; Powertrain, 6 years/70,000 miles; Corrosion, 5 years/100,000 miles; Roadside Assistance, 6 years/70,000 miles; Free maintenance, 2 years/24,000 miles.
What Others Say:
"Other than dedicated high-performance sedans such as the BMW M3, this is the most power you'll find in this class. If it's fuel economy you're after, though, there's the MKZ Hybrid, which delivers 40 mpg combined for the same price as the regular MKZ." — Edmunds.com.
The Weekly Driver's Final Words:
"Without reservation, the 2017 Lincoln MKZ Hybrid is an unheralded worthy choice for far less money than its more well-known competitors."