For its sophomore year, the 2016 Lexus RC includes two new models. The 200t features a turbo-charged, four-cylinder engine with rear-wheel drive. The all-wheel-drive RC 300 employs a 3.5-liter V6.
Regardless of models, the 2016 RC lineup is categorized in the entry level luxury coupe segment. It's a strong marketplace where BMW and Audi usually get top billing, followed by worthy offerings from Cadillac, Acura and Infiniti.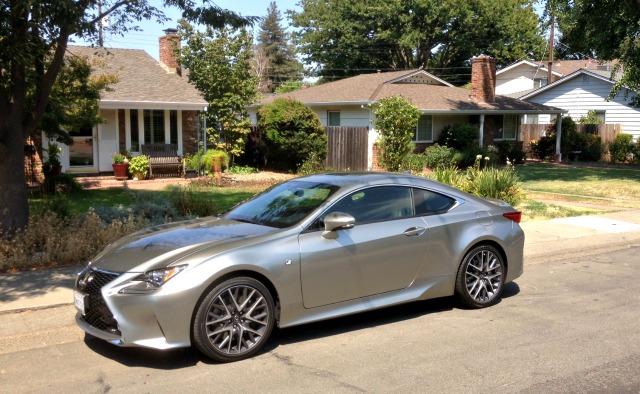 The Weekly Driver Test Drive
The 2016 RC200t is a head-turner and a keen driving machine, particularly considering the exterior color of my test vehicle (Atomic Silver) and its F Sport trim. It adds Lexus' Adaptive Variable Suspension, 19-inch wheels and a limited-slip differential. The exterior paint color is the most attractive of any car I've reviewed in the 12-year tenure of The Weekly Driver, with the exception of the two-tone scheme of the 2015 Rolls Royce Wraith.
The look and driving quality of the 2016 RC200t define the sports car ideal. The 2.0-liter, 241-horsepower turbo-charged 4-cylinder engine has steady, strong acceleration and the responsiveness and handling are agile. The turning radius is tight, and the driver and car are complementary.
There's one oddity. While the 2016 RC200t provides a top-notch overall driving experience, its acceleration is surprisingly mediocre for its class. It achieves the 0-60 mph standard in 7.3 seconds, largely because it's a heavy vehicle, 3,737 pounds. The Audi 4 and Audi A5 and Cadillac ATS are also substantially quicker off the line, according to manufacturer testing.
The Lexus RC200t has a handsome interior comprised of high-quality materials. The front seats are well-bolstered and tight-fitting, and the overall driving sensation is controlled. There's a glide-like feel over bumps.
The 2016 Lexus RC200t has a difficult entry and exit. As a 6-foot, 200-pound driver, I needed a concerted ducking posture to position myself in the driver's seat. Likewise, I needed a hefty push-off to exit the car.
The 2016 Lexus RC200t technology feature list is strong, with one exception. The touchpad-based infotainment controller is squeezed into the lower left of the console. It's awkwardly position and requires a stiff learning curve to operate.
Likes:
Best exterior color ever (Atomic Silver).
Beautiful exterior design.
Responsive steering.
Strong acceleration.
Dislikes:
Difficult ingress, egress.
Premium grade gas required.
Acceleration 0-60 mph is mediocre for the class.
Cumbersome infotainment touchscreen pad.
Facts & Figures, 2016 Lexus RC 200t
Acceleration: 0-60 mph, 7.3 seconds.
Airbags: 8
Fuel economy: 22 mpg (city), 32 mpg (highway), 28 mpg (combined), eight-speed automatic transmission.
Horsepower: 241
Manufacturer's Suggested Retail Price: $39,995.00.
Manufacturer's Web site: www.lexus.com.
Price As Tested: $50,120.00.
Warranty: Bumper to bumper, 4 years/50,000 miles; Powertrain, 6 years/70,000 miles; Corrosion, 8 years/70,000 miles.
The Weekly Driver's Final Words:
"Stunningly attractive inside and attention-grabbing outside via its exterior color (Atomic Silver), the 2016 Lexus RC 200t drives superbly. It also ideally defines the odd-sounding term 'entry level luxury sports car.' It's a lot more than that."