Now in its second year, the 2014 Hyundai Santa Fe Sport is the smaller of the two Santa Fe offerings. It remains much the same as last year's debut model with a few minor upgrades.
The small, five-passenger option in Hyundai's restyled Santa Fe lineup, the Sport is the five-passenger version of the larger Santa Fe that replaced the poor-selling Veracruz. In addition to one less passenger and a smaller engine, the Sport is eight inches shorter than the Limited.
But there are many similarities among the siblings. Most notably, the SUVs both offering a smooth ride. Hyundai's new design is featured throughout its SUV lineup, and it attracts a lot of attention in sedans and in the Santa Fe options.
The Weekly Driver Test Drive
The Santa Fe is surprisingly quiet, particularly for the SUV segment. The ride, while not superior in maneuverability or acceleration, is more sporty than rugged and that's an added attraction.
My test vehicle included all-wheel drive and the optional 2.4-liter, four-cylinder with 190 horsepower. It shouldn't be mistaken for a sports car in any way, but after the brief lag, the turbo-charged engine accelerates with authority.
Santa Fe Redesign in 2013
A year after its redesign, the Santa Fe still gets its share of looks. Hyundai has done well in recent years with it new "fluidic sculpture design" (read: flowing). It's highlighted throughout the Hyundai lineup and after a year of road mature, the makeover looks even more appealing.
Look at the angles. Look the meshing of the glovebox into the navigation system. Look the contour of the panels molding into the dashboard. The easy of use and the high-sitting seats in a tall vehicle (66.1 inches) all add to the car's comfort and efficiency.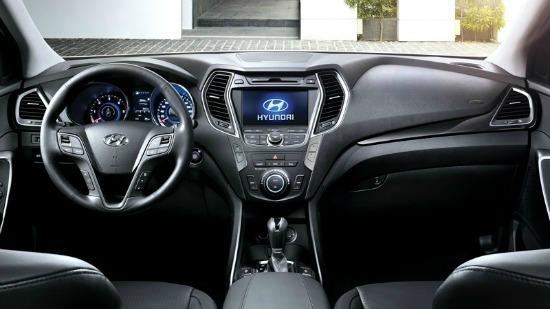 Another strong component is the Digital Navigation System. It's arguably the best in the industry. It has an eight-inch screen and offers a clear picture and easy-to-understand icons.
Instructions are precise, provided with a professional voice and give not so often that it's an annoyance, like the "recalculating" refrain common in other systems.
The Santa Fe's beginning price is just under $25,000, which seems about right. But there are also three option packages, all worthwhile and recommended. The top-line navigation system, leather seating and advanced audio system are all nearly must-have items.
My weekly driver included all option packages, which totaled about $8,500. Of course, that substantially increases the total price. It's not a deal-breaker, considering the quality of the vehicle. But it's a not a no-brainer, either.
Likes:
Sleek styling inside and out.
Great clarity in navigation system.
Comfortable ride.
Industry-best warranty.
Dislikes:
Mediocre gas mileage.
Expensive option packages.
Facts & Figures: 2014 Hyundai Santa Fe Sport
Warranty: Bumper to bumper, 5 years/60,000 miles; Powertrain, 10 years/100,000 miles; Corrosion, 7 years/unlimited miles; Roadside Assistance, 7 years/unlimited miles.
MSRP: $24,950.00.
Price As Driven: $33,500.00
Engine: 2.4 liter, turbocharged inline-4, with a six-speed automatic transmission.
Horsepower, 190.
EPA Estimated Mileage: 20 (city) 27 (highway), 23 mpg combined.
What Others Say:
"If you're shopping for a competent, stylish, efficient compact SUV with lots of features and an affordable price, plus a great warranty, the 2014 Hyundai Santa Fe Sport should be on your list." — Kelley Blue Book.
"There are lots of things to like about the new 2014 Hyundai Santa Fe. It's roomy, rides well, and comes with loads of creature comforts." — Truck Trend.
"Continuing its string of hits, the Santa Fe should satisfy just about anyone looking for a three-row family hauler." — Left Lane News.
The Weekly Driver's Final Words
"No one feature of the 2014 Hyundai Santa Fe Sport is extraordinary. But from comfort to design, everything about the Santa Fe is at least good. Add all the good qualities together, and the SUV moves to the top of the list in its segment."