Jaguars again are becoming one of the most desirable luxury/sports models in America. The supercharged 2014 Jaguar XJL continues the venerable automaker's tradition of making fast, sexy and glamorous sedans.
Never mind those old stories by no-nothings about Jaguars being unreliable because Ford Motor demolished the old Jaguar plant years ago after it bought the automaker and loaded Jaguars with reliability before selling it to its current owner, which is maintaining high reliability.
Jaguar now has two state-of-the-art engineering and design facilities and three advanced manufacturing plants in the United Kingdom.
Jaguar has an exciting racing history. Going back to the late 1940s, it has had sleek styling for all models, and the new XJ continues that tradition. But it's beauty is more than skin deep. It's fast and has quick luxury-car steering, nimble handling, a smooth ride and easily modulated powerful brakes.
Offered are large 19- or 20-inch wheels. The rear wheels are wider than the front ones and use lower-profile tires. The result is a "staggered" array that enhances the car's grip and agility.
Helping handling are dynamic stability control, cornering brake control, understeer control, electronic traction control and something called "engine drag torque control." (Don't ask.)
My test car's engine was set far back for better balance and more-responsive handling. Twin hydraulic struts smoothly raise the hood, revealing a neatly designed engine compartment. Not that you'd want to mess around in there, but you can easily check such things as the engine oil level.
The base XJ starts at $74,200 for the short-wheelbase (SWB) model and goes to $119,000 for the new XJR high-performance long-wheelbase (LWB) version with its supercharged 5-liter 550 horsepower V-8. The XJR does 0-60 miles per hour in 4.7 seconds and tops out at an electronically limited 174 miles per hour. Incidentally, you can get a SWB XJR for $116,000.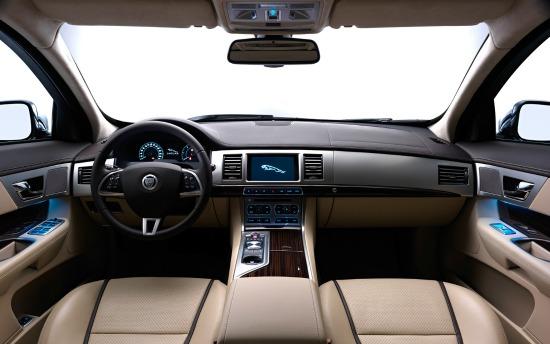 I tested a $93,600 LWB XJL (as it's properly called) with a supercharged 5-liter 470-horsepower V-8 and rear-wheel drive (RWD). An all-wheel-drive (AWD) XJ is teamed exclusively with a new 340-horsepower V-6 and costs $77,700 or $84,700, depending on trim level.
The LWB XJ has limousine-style room in back, adding a full 5.1 more inches than in the SWB model. Tall rear passengers can stretch out, although the center of the rear seat is best left to a hefty pull-down armrest, which contains dual cupholders.
A panoramic glass roof is standard on all XJ models. When open, the roof's mechanism slides the front glass panel upward and outward, preserving headroom.
Small but nifty touches include an illuminated start/stop gear shifter dial with a "sport" mode that rises from the center console and retracts when the engine is stopped. There's also an analog dashboard clock inspired by luxury wristwatches and a cover for each of the two front console cupholders.
A casual glance by most isn't likely to distinguish the sleek SWB model from the LWB version from the outside. The SWB model has a 119.4-inch wheelbase and the LWB version has a 124.3-inch wheelbase. Overall length of the SWB XJ is 201.9 inches, while it's 206.8 inches for the LWB model.
My test XJL Supercharged LWB model's V-8 made the car very fast. Like all XJ's, it worked with Jaguar's responsive eight-speed automatic transmission, which helped its engine loaf at a mere 1,500 r.p.m. at 70 m.p.h. The automatic has easily used steering wheel paddles for manual shifts.
The base XJ SWB is no slouch with its supercharged (all XJ engines are supercharged) 3-liter V-6. New for 2014, that 340-horsepower engine replaces a naturally aspirated (non-supercharged) 5-liter V-8 in models that used it. The new V-6 is said to have the smoothness and refinement of the new V-8, on which it is based.
The downside of XJs is city fuel economy, although it's not too bad for a big sedan that weighs 3,854 to 4,147 pounds—depending on model and engine. My test car's estimated fuel economy was 15 miles per gallon in the city and 23 on highways, thanks to the fuel-robbing AWD. The SWB model delivers 17-18 in town and 27 on open roads. All XJ engines call for premium gasoline.
In any case, real-world mileage is a little hard to figure in the city because the XJ has an fuel-saving Intelligent Stop/Start system that uses a twin solenoid starter to shut off the engine while the car is waiting at, say, a long stoplight. It starts the engine instantly when a driver's foot is removed from the brake pedal so he isn't stuck the instant it's time to accelerate.
The XJ is beautifully built, with new soft-close doors on all models. The posh interior also has new soft-feel trim on the instrument panel and door tops.
And get this—The LWB models (except the XJR) offer a new 1,300 watt, 26-speaker Reference Audio system with new Conversation Assist. It uses microphones to channel passengers' voices through the audio system speakers, mixing music and speech volume accordingly for more comfortable conversation.
The quiet, lush-life interior of the XJ has supportive heated and cooled front/rear seats. It's said to be the most luxurious cockpit offered in a Jaguar, blending a wide choice of leather and genuine wood finishes, many chrome details and the latest infotainment technology.
Also new are optional rear business tray tables, reclining rear seats and a backseat entertainment system with 10.2-inch screens. However, door storage pockets are too small to be of much use.
An 8-inch touch-screen display in the console showed easy read functions, including climate, audio, communications and standard navigation. Bright sunlight didn't cause the main gauges to be hard to read.
Safety items include numerous air bags, a blind spot monitor and rearview camera.
The trunk is large, but its opening is too high to allow easy loading and unloading of bulky cargo.
The XJ has plenty of competition. But there's always been something special about a Jaguar.
Pros: Sleek. Posh. Fast. Agile. Smooth. Roomy. AWD offered. New hot XJR model.
Cons: Undeserved old troublesome image. High trunk lid liftover. So-so city economy.
Bottom Line: Sexier than many rivals.
Dan Jedlicka has been an automotive journalist for more than 40 years. To read more of his news and vintage car reviews, visit: www.danjedlicka.com.