The 2014 Porsche Panamera 4S sedan seems perfect for those who want a Porsche sports car, but need more passenger and cargo room.
I almost felt as if in a jet's cockpit after settling into the Agate Grey leather beautifully finished interior of my test vehicles. It appropriately had Yachting Blue Metallic paint, which is a $790 option.
The Panamera 4S I drove seemed to accelerate like a big jet, although Panamera models weigh 3,902-4,586 pounds. The aircraft look was largely provided by a no-nonsense dashboard and button-dominated center console. The buttons are well-labeled, and their functions are easy to quickly figure out.
As a Porsche spokesman put it, "The buttons sure beat drilling down through menus that force a driver to look at a center LCD display." There's also a dashboard screen for such things as audio readouts that's simple to use.
The $78,100-$161,100 Panamera goes, stops and handles much like a Porsche sports car, yet it can swallow four tall occupants and their luggage through four doors and a large hatchback. Its ride with an adaptive air suspension is impressively smooth.
The Panamera is named in honor of Porsche's victories in the long, grueling 1950s Panamericana road race in Mexico. It has a mild facelift for 2014, but likely few will notice. The car keeps its basic 911 sports car coupe shape. It's longer and wider than the sporty Cadillac CTS and has great road presence. Four large, shapely exhaust outlets signal that this car means business.
The Panamera's price range should tip one that the car comes in a variety (nine) individual models that provide an extended range between sportiness and comfort, with various wheelbases and engine and horsepower ratings. However, even the "comfort" models are quite sporty.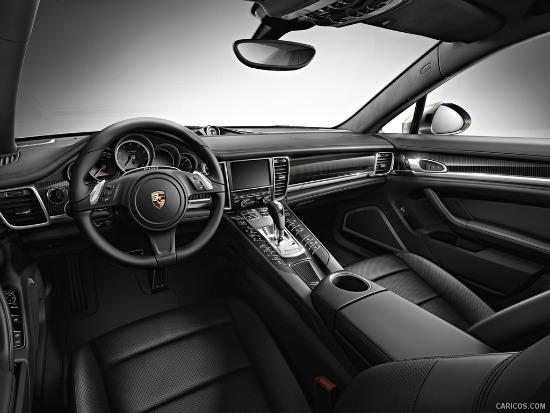 New for 2014 are Porsche's first plug-in hybrid. There also are two luxurious Executive versions for the Panamera 4S and Panamera Turbo models. The Executive versions feature a wheelbase extended by 5.9 inches. (Think wealthy Chinese being chauffeured in the back seat.)
Importantly, there's a new 3-liter twin-turbo V-6 that produces 420 horsepower. Engines begin with a 3.6-liter 310-horsepower V-6 and end at a 520-570 horsepower 4.8-litre turbocharged gasoline V-8.
My test $98,300 Panamera 4S (not Executive) model had the new twin-turbocharged 3-liter V-6. It replaces last year's V-8 and is more efficient and develops more power than that V-8, thanks partly to the magic of twin turbocharging.
The V-6 produces enough stirring acceleration to pin you back in the driver's supportive power seat, which some feel is rather narrow for the large-bottomed. However, my test Panamera was docile in traffic.
The Panamera's estimated fuel economy ranges from 18 miles per gallon in the city and 28 on highways to 16 in the city and 24 on highways. Premium fuel is needed. An engine start/stop feature system saves fuel by turning the engine off when it's not needed, as when waiting at a stop light.
Power is delivered through excellent 7-speed sequential automatic or 8-speed automatic transmissions. Manual shifting of the transmissions is simple, using either the steering wheel paddle shifters or the console mounted shift lever. But the automatic work so well that there's little need to switch out of regular "drive" mode.
For really hard chargers, Porsche offers a $6,790 Sport package, which is OK in normal or "sport" modes, but too aggressive for average driving in "sport plus" mode. I kept the car in normal drive mode most of the time.
The rear seats, which have their own climate controls, are comfortable, and there's plenty of legroom back there for 6-footers with long legs, although rear door openings should be wider. There are only two rear seats, both of which have seatbacks that fold forward and sit flat to greatly enlarge the already spacious cargo area.
This is a "driver's car," although it can be driven comfortably like any Chevy sedan. The stylish outside rearview mirrors should be larger, but gauges can be easily read in bright sunlight. Front seats are ventilated, and you can get a $420 heated steering wheel—a blessing in frigid weather.
It should be no secret by now that many Porsche options are expensive. A Premium Plus package for the Panamera S is $6,280. And even the leather key pouch is a $165 option, which seems over-the-top even for Porsche.
My test car's 19-inch wheels cost an extra $3,065. It was very quiet inside, thanks to $1,240 thermally and noise insulated glass. A Bose audio package cost $2,120.
The $1,505 front/rear Park Assist and Surround View systems are worth the price.
Putting it all together, the bottom-line price of my option-loaded test Panamera 4S was $127,990—excluding a $975 destination charge.
My test car seemed worth its price. Porsche resale values are good, and when it comes time to sell the Panamera it should be fairly easy to find a customer who wants a two-seat 911 but needs a large rear seat area and additional cargo space.
Pros: Fast. Agile. Roomy. Posh. Superb build. Mild facelift. Model variety.
Cons: High cargo opening. Rather narrow rear doorways. Small outside mirrors.
Bottom Line: For those who want a Porsche 911 two-seat sports car, but need a roomy rear seat and more cargo space.
Dan Jedlicka has been an automotive journalist for more than 40 years. To read more of his new and vintage car reviews, visit: www.danjedlicka.com.
Article Last Updated: June 30, 2014.
About the Author
Latest Posts
An automotive journalist who has reviewed more than 4,000 vehicles in a nearly 45-year career, Dan is publisher of DanJedlicka.com.