Now in its sixth year, the 2014 Nissan 370Z is the seventh generation of the Nissan Z-car line that dates to 1969. The 370Z succeeds the 350Z which succeeds five other generations — 240Z, 260Z, 280Z, 280ZX and the 300ZX.
The original Z car had innovative good looks for its time, and it was powerful. It didn't take long for the then Datsun 240Z to become a top seller. In 1972, more than 50,000 units sold in the United States.
Fast-forward 45 years since the car's debut, and the current Z car still has a reputation as a handsome, powerful sports car. The difference: there's a lot more competition.
The Weekly Driver Test Drive
My weekly driver was the NISMO trim, the sportiest of the three 370Z options. It featured some of the other trims' features but also offered a specially tuned 3.7-liter V6 with 350 horsepower. A six-speed manual is the only available transmission. Its 0-60 mph time is 5.1 seconds.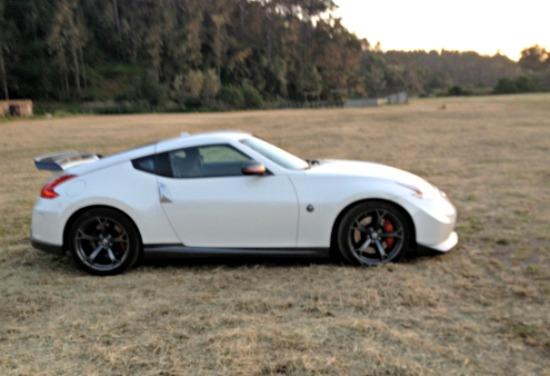 The 2014 model stays the same as 2013, with some minor amendments, including a new steering wheel.
I drove the 370Z from Monterey to several Southern California cities, to the top of Mountain High, about 7,200 feet elevation, and eventually to Thousands Oaks (just north of Los Angeles). Several days later, I drove the Z car to Sacramento, primarily on Highway 101 and then Interstate 5.
In all, I covered about 1,000 miles, mostly freeway treks, but with some city driving and high mountain winding roads.
The 370Z is a sports car, and it always seemed ready for a track session during my test week. It seemed less ready for city driving or even the open road. Its steering is precise and it's a sport car driver's nirvana with its tight cornering. But it's also noisy and the ride is rough.
Driving any vehicle is on the Los Angeles system is no fun. The roads are pitted, under a constant state of repair and drivers' attitude are keenly tuned to aggression. After every drive in the 370Z, I felt like I'd spent time in a tumble dryer needing a tune-up.
Likes:
Exterior styling.
Rear view mirror rear detection system.
Tight corning, precise handling, maneuverability.
Dislikes:
Difficult entry and exit.
Severe blind spots.
Bumpy ride, even for a sports car.
Premium fuel required.
Sensitive clutch.
Facts & Figures, 2014 Nissan 370Z NISMO
Warranty: Bumper-to-Bumper, 3 years/36,000 miles; Powertrain, miles; Corrosion, 3 yerars/36,000 miles Roadside Assistance, 5 years/unlimited miles.
Gas mileage 18 mpg (city), 26 mpg (highway), 20 mpg (combined), six-speed manual transmission.
Engine: 350 horsepower V6 with rear-wheel driver.
MSRP: $43,830.00.
Price As Driven: Unavailable.
Website: www.nissanusa.com.
What Others Say:
"Want a great sports car that offers terrific performance and handling, sharp looks inside and out, an impressive image and all at an affordable price? Few can match Nissan's 370Z." — Kelley Blue Book.
"The 2014 Nissan 370Z still holds some appeal as a dedicated sports car. But from the vantage point of practicality or performance, there are better choices available." — Edmunds
"The 370Z finds itself in a sea of damn impressive competition, and hacking the roof off adds more compromise and expense to a vehicle that doesn't need any help convincing buyers to look elsewhere for their jollies." — Road and Track
The Weekly Driver's Final Words
"The sharp exterior looks are deceiving. The Nissan 370Z is handsome and offers wild ride best suited for a track or TV movie chase scene."
Support independent journalism. Many of us are undergoing pay cuts and decreased hours. Shop on Amazon using this banner, and The Weekly Driver receives a small commission at no cost to you.
Advertising Disclosure: TheWeeklyDriver.com is a participant in the Amazon Services LLC Associates Program, an affiliate advertising program designed to provide a means for sites to earn advertising fees by advertising and linking to Amazon.com.