The redone 2014 Mazda3 shows the automaker keeps coming up with improved Euro-style models. It's sharper-looking, has more interior room and features sparkling fuel economy.
The Mazda3 is by far the Japanese automaker's best-selling model in America, and more than 3.5 million have been sold globally. The new compact, front-drive Mazda3 has the styling and enough new features to attract more buyers.
The re-engineered European-style Mazda3 has several trim levels. List prices range from $16,945 to $26,495. It comes as a four-door sedan and especially useful four-door hatchback. (Why automakers call a four-door hatchback a "five-door" is a mystery to me. Have you ever see anyone enter a car through the hatch area?)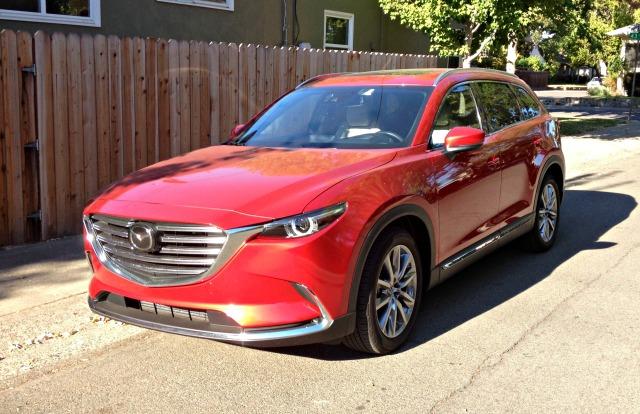 The new, roomier Mazda3 is a third-generation model. It's lower, wider and leaner than its predecessor and looks more costly than it is. It rides on a wheelbase of 106.3 inches, which is 2.4 inches longer than the previous generation. Not that you may notice, but the hatchback is 1.8 inches shorter in length at 175.6 inches.
The windshield pillars have been pulled back 3.9 inches for better front-seat-occupant visibility, and the rearview mirrors are now on the doors instead of the windshield pillars to allow better rear vision.
Mazda uses the odd word "SKYACTIV" (no "E") to relate that the new Mazda3 is engineered with "a proprietary suite of fuel-efficient, performance-driven components and manufacturing philosophies," along with slicker aerodynamic styling, to create a better car.
Well, O.K., but SKYACTIV will just sound like a misspelled word to many Americans. Mazda also says the Mazda3 styling has "KODO" design language, which will mean nothing to most—although Mazda emphasizes that it means the styling is highly aerodynamic to let the car slip through the air with little noise.
On the other hand, more front/rear elbow room and, most especially, long-needed extra backseat knee room will mean a lot to many potential buyers. Also, rear seatbacks are about two inches taller for more passenger comfort.
The Mazda3 is powered by either a 2-liter four-cylinder with 155 horsepower and 150 pound-feet of torque or a 2.5-liter four with 184 horsepower and 185 pound-feet of torque. Transmissions are a slick six-speed manual or six-speed automatic.
My test Mazda3 had the 155-horsepower engine and six-speed manual, which used a long-but-light clutch throw.The gear shifter worked nearly as crisply as the manual in the Mazda MX-5 Miata sports car—quite a compliment.
The engine had plenty of punch, but the manual called for a good amount of shifting on highways or freeways to keep it in the right power band. A downshift to fourth or, preferably, third gear provided my test car with the fastest passing times above 65 m.p.h. The smooth, responsive automatic is said to be the best transmission for the Mazda3.
The Mazda3 is a genuine fuel-sipper for such a lively car. Estimated fuel economy with either transmission is quite good. It ranges from 28 miles per gallon in the city to 37-41 on highways.
My test Mazda3 sedan with a manual gearbox was rated at an estimated 29 city, 41 highway. Its base price was $22,475 and its few options included "Soul Red Metallic Paint," which made the car's sleek styling really stand out.
Styling is one thing, safety is quite another. There are six air bags (front, side and full side curtain). My test car had blind-spot monitoring, rear-cross-traffic alert, heated power side mirrors with turn signal lights and a rearview camera.
Available are Forward Obstruction Warning and Radar Cruise Control to adjust the cruising speed after determining the distance to the vehicle ahead. There's also Smart City Brake Support. It can help prevent or minimize a collision with a vehicle at speeds less than 19 miles per hour.
My test car also had a moonroof, cruise control, navigation system and easily read pop-up center dashboard panel that displays vehicle speed, navigation directions and other driving information.
The large speedometer can be quickly read, even in bright sunlight, but the small digital tachometer to the left of it seemed to be put there more for show than usefulness. I found the seven-inch color touch-screen display to be relatively easy to use. But it could be improved because some drivers may find it to be complicated when underway.
The quiet interior looked rather upscale. There was a power driver's seat, pushbutton starter and leather-trimmed variable-heated front sport seats, dual-zone automatic climate control and a Bose 9-speaker sound system. Most controls could be easily reached, and  sun visor mirrors had vanity lights.
The cabin had decent cargo space and the rear seat had a fold-down armrest with cupholders. To ensure that Mazda3 occupants can continue to be connected in real time with their online community, regardless of where they are, Mazda says it developed a new operating system to be intuitive and less distracting. However, I didn't try it out.
The electric power-assisted steering had decent road feel and was quick. It's good for fast moves in town—but almost too quick on freeways. Let your attention wander a bit, and you can find yourself partly out of your driving lane.
The European-style handling was sharp, assisted by dynamic stability and traction control systems. The brake pedal has a long, linear throw. Response of the anti-lock brakes has been improved, and stopping distances were short.
My test car's ride was supple, with the suspension easily absorbing potholes and other road imperfections. The longer wheelbase helped here.
The large trunk had a wide opening and its lid had a pull-down indented area to help close it. Rear seatbacks can easily be flipped forward to enlarge the cargo area.
The hood is held open with a prop rod, instead of convenient hydraulic struts.
The stoutly built Mazda3 has a 60-month/60,000-mile powertrain warranty, and Kelley Blue Book recently said it found that Mazda has the most affordable five-year cost of ownership "among any other automotive manufacturer."
For the money, the Mazda3 offers a lot of driving goodness and features.
Pros: Sportier look. Driving fun. Roomier. Excellent fuel economy. Affordable.
Cons: Much shifting with base engine and manual gearbox. small digital tachometer.
Bottom Line: Good combination of practicality and driving kicks.
Dan Jedlicka has been an automative journalist for more than 40 years. To read more of his new and vintage car reviews, visit: www.danjedlicka.com.