Toyota kicked open the door to the party with its all-new 2007 Tundra full-size pickup truck for the lucrative U.S. large pickup market — only to find an empty room. Where was everybody?
Well, the economy had collapsed, causing full-size pickup truck sales to drop an estimated 50 percent. Toyota, which had built a $2.2 billion plant in San Antonio to build the new Tundra, was left with egg on its face. Here was a Toyota full-size pickup that finally was a direct challenge to domestic full-size pickups, with comparable size, power and capabilities.
%JSCODE%
There also were long faces at Ford and General Motors, which had made fortunes selling large pickups—long the top-selling vehicles in America. Chrysler wasn't happy with the bombed-out pickup sales, either.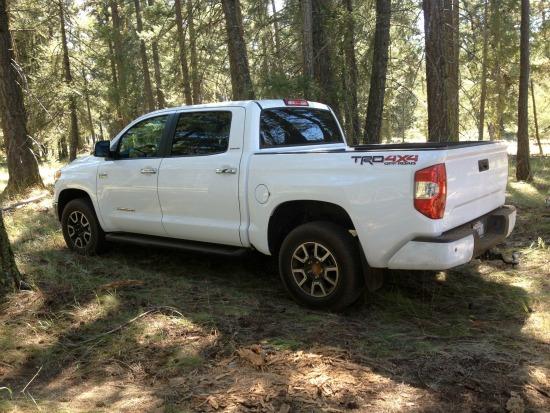 Toyota does what it's always done—it picked itself up and has come up with a redesigned 2014 Tundra. It doesn't represent a radical change from that 2007 Tundra, but, as Toyota says, that one was ahead of its time, anyway.
Toyota officials at the Knoxville, Tenn., at a recent media preview indicated the new Tundra mainly is aimed at Toyota loyalists, with plans to sell only 137,000 of the 2014 units next year. In contrast, Ford and GM will easily sell more than 500,000 full-size pickups next year.
However, Toyota also said the Tundra will see a slow but steady rise in sales because it promises to attract those who long have bought only American brand pickups. The Toyota officials at the preview said they'll partly emphasize the American nature of the Tundra to help do that.
"We'll tell potential Tundra buyers via various media that this is really an American truck," one official said. "It was engineered by Toyota in Ann Arbor, Mich., and its new look came from Calty Design Research centers in Newport Beach, Calif., and Ann Arbor. Its engines are built at Toyota Manufacturing in Alabama, and transmissions are from a North Carolina Toyota facility. The Tundra continues to be assembled only at Toyota Motor Manufacturing in San Antonio, Texas."
I drove a pre-production 2014 Tunda on narrow, rugged, winding two-lane mountain roads during the media preview. It had the Tundra's largest V-8, a smooth 5.7-liter sophisticated dual-overhead-camshaft motor. It generates 381 horsepower and 401 pound-feet of torque, and there was no question about its neck-snapping punch. It's the Tundra's most popular engine.
Driving the improved new Tundra is virtually like driving a big car, although the Tundra is long at from 228.9-247.7 inches, and very wide at 79.9 inches. Steering is precise, thanks to steering system enhancements, and the suspension has been modified with such things as retuned shock absorber valving for a smoother ride over harsh surfaces. My test Tundra just shrugged off deep potholes and ruts.
However, the pedal for the big anti-lock disc brakes felt rather spongy, perhaps because I was driving a pre-production model.
Helping keep things safe are standard vehicle stability control and traction control. There are eight standard air bags and front and rear roll-sensing side curtain air bags.
Much effort has been made to keep the new, upscale cabin quiet and comfortable. After all, many Tundra buyers use it as a car.
The Tundra has high floors, and its narrow optional running boards weren't well suited to my large shoes. But the interior of my top-line four-door model looked like it could easily accommodate the starting lineup of the Chicago Bulls professional basketball team.
Tundra prices range from $25,920 for the regular rear-drive V-6 model to $47,320 for both the Platinum CrewMax with 4WD and the 5.7 V-8 and "1794 Edition" CrewMax 4WD model with that engine.
The "1794" has to be the oddest name for a big pickup. It reflects a western lifestyle theme and is a tribute to the ranch, founded in 1794, on which the Tundra plant is located in San Antonio.
The base 4-liter V-6 has 270 horsepower and 278 pound-feet of torque. It's paired with a five-speed automatic transmission. There's also a 4.6-liter V-8 with 310 horsepower and 327 pound-feet of torque that is hooked to a six-speed automatic—as is the 5.7 V-8.
Maximum Tundra V-8 towing capacity is 10,400 pounds.
The V-6 provides the best estimated fuel economy: 16 miles per gallon in the city and 20 on highways. The 4.6 V8 provides 15 city and 19 highway with 2WD and 14 and 18 with 4WD. The 5.7 V-8 delivers 13 city and 18 highway with 2WD and 13 and 17 with 4WD. Only 87-octane gasoline is needed for all engines.
There are three cab styles with standard or long beds: A two-door Regular cab, four-door Double Cab and four-door super-sized CrewMax. All are offered with rear- or an on-demand electronically controlled 4WD system with 4×2, 4×4 Hi and 4×4 Lo ranges. A driver selects the drive mode using a dashboard dial.
Each Tundra grade is nicely equipped with standard features for simplified ordering. Usually ordering a big pickup can be a nightmare with all its various equipment features and options.
The lower-line SR and SR5 models have air conditioning, updated next-generation Entune Audio systems and standard backup camera, while all Limited, Platinum and 1794 Edition models have standard dual-zone air conditioning with individual temperature settings for the driver and front passenger.
The Limited has leather-trimmed seats, 10-way power driver seat, chrome door handles and outside mirrors and 20-inch alloy wheels, instead of the standard 18-inch wheels.
The Platinum model has perforated, diamond-pleated premium leather seats, door and instrument panel inserts. The 1794 Edition has saddle brown premium leather-trimmed seating with embossed leather and ultra-suede accents.
Top-line models have a standard 10-way power driver's seat with memory, 4-way power passenger's seat, both with heat and ventilation, power tilt/slide moonroof, parking sonar and a premium audio system with a navigation system.
So far, the Tundra is the only full-size pickup with an optional Blind Spot monitor with Rear-Cross-Traffic Alert (available only on Limited, Platinum and 1794 CrewMax models).
An option for hard-core off-road Tundra owners is the TRD Off-Road Package. It includes Bilstein shock absorbers, 18-inch TRD off-road alloy wheels, rear side privacy glass, engine skid plate, fuel tank skid plate and front tow hooks for 4×2 models.
Front seat occupants sit far apart in this wide pickup, besides sitting high. To eliminate complaints about excessive driver reach to controls, improvements include easier driver access to them, with the reach to audio and climate controls reduced by 2.6 inches.
Large knobs have been retained so they can be operated with or without work gloves. There's also a new front and rear (CrewMax) seat design and improved front-seat ventilation.
Got "big box" store items that can't be handled even with flip-down rear seatbacks? Then note the rear seats now can be folded up for more cargo carrying capability.
A new front design integrates the hood and grille for a chiseled image, and a larger front fascia and tightened-up body surface and character lines punctuate the trucks pulling power and wide stance. As with the front bumper, the rear bumper now changes from one piece to three for lower replacement costs.
Toyota said it listened closely to customer comments from Tundra owners and used some useful suggestions for the new Tundra.
Sales of the rugged-but-refined 2014 Tundra seem destined to rise if the economy continues its slow, steady growth.
Pros: Dweftly redesigned. Rugged. Roomy. Comfy. Upscale cabins. Potent to V-8. Model variety.
Cons: High Step-up. Narrow running boards. Top V-8 no fuel miser.
Bottom Line: Redone Tundra is outstanding in most respects.
Dan Jedlicka has been an automotive journalist for more than 40 years. To read more of his new and vintage car reviews, visit: www.danjedlicka.com.