The Mazda MX-5 Miata was a sensation when it arrived as a 1990 model. It was an alluring, reliable copy for only $13,800 of the unreliable-but-respected 1960s-70s Lotus Elan costly low-volume sports car. The 2013 MX-5 Miata, which I tested in new "Club" trim, hasn't lost the original's charm.
The first Miata quickly won over male auto buffs and replaced the Volkswagen convertible as the most desirable car among female high school and college students. And never mind that this two-seater lacked the Volkswagen's back seat.
The Miata is still very much with us, and is the record-holding top-selling two-seat roadster, with more than 900,000 produced. That means many have had two or three owners by now.

While the small car's Lotus-Elan-style flip-up headlights are long gone and its styling has been revised, there's no mistaking that it's a Miata.
Mechanical upgrades have greatly improved the car, and the original 1.6-liter four-cylinder engine has been replaced by a racy, sophisticated 2-liter four-cylinder. Other added features include a retractable hardtop. The higher cost of everything since 1990 puts 2013 Miata base prices at $23,270 to $28,450.
The original Miata was an essentially basic, no-frills two-seat roadster that revived the market for true, affordable sports cars. Its engine even was tuned to mimic the sound of dual-carbureted sports cars of the 1960s. (The 2013 Miata's intake manifold has been designed to transmit certain frequencies to match the original sports car tone, while suppressing less ideal sounds.)
The Miata now can be equipped with items such as air conditioning, cruise control, power doors locks and windows and a tilt steering wheel containing audio and cruise controls. There's also an available 7-speaker Surround Sound System.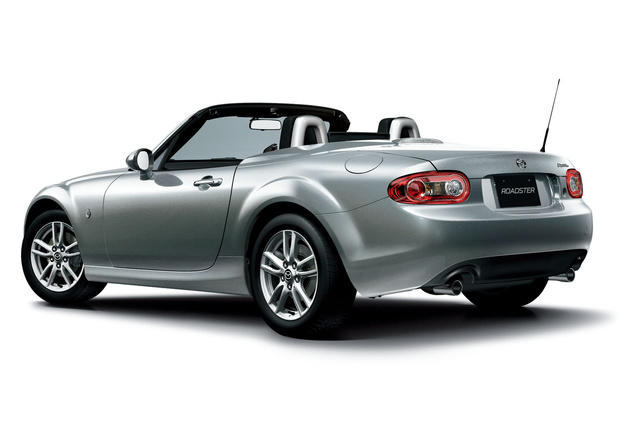 The Miata comes with a five- or six-speed manual transmission or a 6-speed automatic with paddle shifters. I didn't test the five-speed manual or six-speed automatic. The automatic is said to be pretty good and has steering wheel paddle shifters.
My test Miata's six-speed manual helped provide good passing punch at highway speeds in fourth and fifth gears. The precise manual shifter had short throws but required a firm hand. And the long-throw clutch needed a more linear action. It engaged quickly near the very top of its travel, causing the engine to stall if I wasn't paying attention. This was a media test car, so it might have had an abused clutch.
The 2-liter double-overhead-camshaft, 16-valve  engine has variable valve timing for better low-end torque and high-end power. It's set way back to allow the Miata to have better weight distribution—nearly 50/50. It revs at a high 3,000 r.pm. at 65 m.p.h., although it doesn't sound strained or too loud—for a sports car, that is.
The engine with a manual transmission generates 167 horsepower—or 158 with the automatic. There's 140 pound-feet of torque at 5,000 r.p.m.
Estimated fuel economy is in the low 20s in the city and high 20s on highways. Premium fuel is recommend.
Base weights go from 2,447 to 2,543 pounds. Fully equipped, the car only weighs 2,619  pounds.
The power steering is heavy, but lightning quick. My test car's handling was especially sharp, with dynamic stability and traction controls on hand if a speedy driver overdoes it. An all-independent suspension helped provide a supple ride, although some  roads caused the short-wheelbase (91.7-inch) car to become a bit jumpy. The strong anti-lock brakes had good pedal feel.
Changes to all 2013 Miatas include a redesigned front/rear fascia with a front air dam and diffuser, contoured gauge hood and body colored "decoration dash panel." The white-on-black gauges could be quickly read, and the large climate and smaller audio controls were easy to use.
The bucket seats were especially supportive during fast cornering, and the console cupholders were conveniently placed, although they were a little close to occupants in the snug interior. They have a sliding cover that acts as an armrest.
The Sport trim gets fog lights and chrome headlight bezels, and the Grand Touring trim model has new 17-inch alloy wheels, chrome headlight bezels and a redesigned shift knob.
The Club trim model has 17-inch gunmetal alloy wheels, a "Club" emblem on each front fender and black outer mirrors, rooftop and headlight bezel. Dual exhaust outlets are a nice touch.
Many feel the rear-wheel-drive Miata is well worth the money for the sheer driving fun it provides, although new rear-drive models such as the Subaru BRZ and Toyota's Scion FR-S are strong rivals. The Miata has only two bucket seats, but the BRZ and FR-S  are essentially two-seaters, with a tiny backseat suited mainly for toddlers or pets.
Other Miata rivals include the BMW Z4, Honda CR-Z, Hyundai Veloster and Volkswagen Eos.
My new Miata arrived on a sunny, warm June day, so I lowered the optional, beautifully engineered retractable hardtop, which operates swiftly at the touch of a button. Wind buffeting was tolerable at freeway speeds, and the hardtop provides extra security and a slightly quieter interior.
But the Miata is still too noisy and tiring for long drives, with the top up or down. The ride is supple for a short-wheelbase car, thanks partly to an all-independent suspension. Handling is extra-sharp. My test Miata provided almost a go-kart feel.
This is a low drop-in/climb-out 49-inch-high car, but doors open widely to assist entry and exit. The trunk has a high opening, but is usefully shaped and decently sized for a small car. The power top doesn't consume trunk space. There's a small, covered vertical storage bin between and behind the front seats.
The hood is held open with a prop rod but has an inner lining for noise control. Fluid filler areas can be easily reached.
Some say the Miata is beginning to show its age and is due for a major redesign. Many hope that doesn't come too soon.
Pros: Nifty styling. Quick. Sharp handling. Supple ride. Precise manual shifter. Available retractable hardtop.
Cons: Heavy steering. Firm hand required for shifting. Clutch needs better linear action. Noisy and tiring on ling trips.
Bottom Line: A traditional fun-to-drive sports cars with modern features.
Dan Jedlicka has been an automotive journalist for 45 years. To read more of his news and vintage car reviews, visit: www.danjedlicka.com
Article Last Updated: June 24, 2013.
About the Author
Latest Posts
An automotive journalist who has reviewed more than 4,000 vehicles in a nearly 45-year career, Dan is publisher of DanJedlicka.com.