The revamped 2013 Toyota Avalon sedan is a far cry from the first Avalon, which debuted for 1995 as a stretched, roomy version of the Toyota Camry with a front bench seat (remember those?) and a column shifter. Toyota called it the "most American of Toyotas," and it was sort of a Japanese Buick.
The plain-looking, front-drive Avalon eventually was upgraded with such things as improved styling for 1998 and a larger V-6 for 2005. But as late as 2011 it still had a soft suspension and floaty ride, with small steering corrections needed during turnpike crosswinds and pavement changes.
%JSCODE%
Still, a turnpike trip from Chicago to Maryland showed the 2011 Avalon to be a comfortable, fairly economical long-distance cruiser.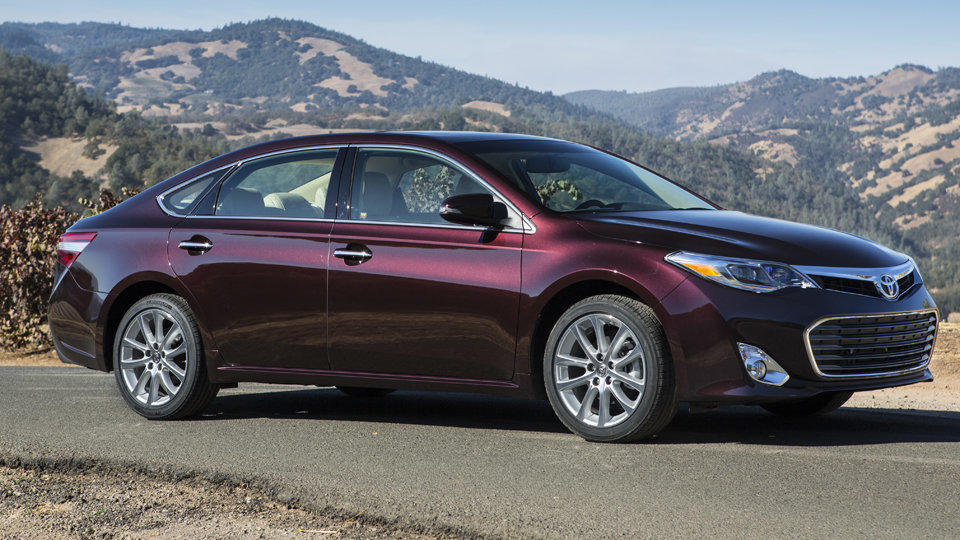 Not much changed for 2012, but the redesigned front-drive 2013 Avalon is something else again. It's now a viable rival to full-size cars such as the Buick LaCrosse, Ford Taurus and Hyundai Azera. The new Avalon was designed, built and engineered in America.
Avalon list prices go from $33,195 for the base model to $41,400  Models start with the base XLE and go to the XLE Premium, XLE Touring and top-line Limited.
There are new hybrid versions of each Avalon model, except the base one, that cost $35,555 to $41,400.
Estimated fuel economy for the standard Avalon, with its more fuel-efficient 268-horsepower V-6 (a carryover from 2012) and six-speed automatic transmission is a decent 25 miles per gallon in the city and 31 on highways. Figures for the 200-horsepower gas/electric hybrid are impressive, at 40 city and 39 highway.
The new 268-horsepower Avalon is no sports sedan, but it's fast and has a stiffer, lighter body and sleeker (Toyota says "more emotional") styling. It's also got a more stylish and refined interior. The low front end must be kept in mind when parking, but the nifty looking dual exhaust outlets look as if they could belong on a Ferrari.
My test car had unusual "sizzling crimson mic/black" paint, which changed color depending on lighting conditions. I expected that striking paint to be optional, but the car's price sheet said it wasn't.
Features of the standard model include power heated front leather seats and a touchscreen display. The XLE Premium adds a backup camera and power tilt/slide moonroof, while the XLE Touring adds a blind spot monitor, rear cross-traffic alert and 18-inch alloy wheels. However, its awkwardly placed paddle shifters were difficult to use, so I just used the console shifter to manually change gears with the automatic.
I drove the regular top-line $39,650 Avalon Limited, which adds heated and ventilated front seats, a premium audio system and rear-seat heaters.
An optional $1,750 Tech package contains adaptive cruise control, a pre-collision system and automatic high beams.
The new Avalon's suspension has been stiffened for better handling and to keep body sway in check, and the floaty ride thus is gone. The quick electric steering has been firmed up. The steering can be made even more responsive by hitting a "sport" console button, which also changes transmission shift points. Traffic was too congested to see if the console's "Eco" button increased fuel economy.
The brake pedal had a nice linear action, and the anti-lock brakes are assisted during panic stops by a brake-assist feature.
Safety items include 10 air bags and stability and traction control systems.
The 2013 Avalon's 111-inch wheelbase has been unchanged, but the aerodynamic new car is slightly smaller on the outside than its predecessor. It has a whisper-quiet, upscale roomy cabin with a spacious rear seat. The center backseat area is stiff and best left for the fold-down armrest that contains dual cupholders. But doors have wide openings and large outside handles for quick entry.
Gauges, controls and the dashboard screen can be easily used, but new owners should become familiar with them before driving. A starter button fired up the smooth engine, and there were a good number of storage areas, including pockets in all doors and at the rear of the front seats, besides a deep, covered console bin.
The easily loaded trunk is huge, so there's no need most of the time for fold-down rear seatbacks, which aren't available anyway. However, there's a pass-through area from the trunk.
The hood swings open on twin struts to reveal an engine covered by a large plastic cover and a crowded compartment.
If you can't afford a Lexus or don't want to spend the money for one, the new Toyota Avalon is an attractive alternative.
Pros: Nearly all news. Sleeker. Roomy. More defined. Better handling. New hybrid models.
Cons: Low front end. No folding rear seatbacks. Awkward shift paddles.
Bottom Line: Comes close to resembling a Lexus.
Dan Jedlicka has been an automotive journalist for nearly 45 years.  To read more of his new and vintage reviews, visit: www.danjedlicka.com.