One of my favorite car review testing routes is the estimated 200-mile drive from Sacramento to the Monterey Peninsula.
I've mentioned the high-speed trek along the congested city stretches, open agricultural farmlands and rolling fields along Interstate 5 . And I've written about how in Gilroy, the road changes for a short stretch onto highway 101 and then onto two mall connecting 152 and 156 routes as the peninsula and Pacific Ocean appear on the horizon.
It's these secondary roads I enjoy most. Form the hectic nature of Interstate 5, the road abruptly changes onto an oddly cambered route past San Luis Reservoir and through a winding downhill section. It snakes past ranch-style homes, old barns, fruit stands and a variety grazing animals.
Last week, I drove a 2008 Hyundai Veracruz along the route, and unlike some sport utility vehicles, the Hyundai had little difficulty accelerating or descending tight corners. I maneuvered along the technical sections almost carlike.
And on two briefs occasions, I also drove the Veracruz off-road, although just in the dirt and gravel in driveways and roadsides to take this blog's images.
Like lots of folks, I like old barns. This dilapidated example has somehow remained erect for the past 25 years I've driven to the Monterey Peninsula. It's just off the road a few miles past the San Luis Reservoir.
The image of the horses almost didn't happen. I've seen horses along the same route many times, but I'd never before seen a foal. But the moment I noticed it, was out of vision.
A few miles later, I couldn't resist. Traffic was steady in both directions, but I looked for a quick opening, made an abrupt, safe U-turn and headed back to capture an image of mother and child.
Article Last Updated: April 21, 2008.
About the Author
Latest Posts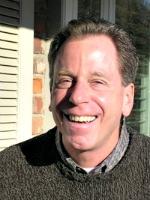 A sports, travel and business journalist for more than 45 years, James has written the new car review column The Weekly Driver since 2004.
In addition to this site, James writes a Sunday automotive column for The San Jose Mercury and East Bay Times in Walnut Creek, Calif., and a monthly auto review column for Gulfshore Business, a magazine in Southwest Florida.
An author and contributor to many newspapers, magazines and online publications, James has co-hosted The Weekly Driver Podcast since 2017.