The Super Bugger was a strange little machine, a hybrid camper conversion for the 1970 VW Beetle introduced 45 years ago by an entrepreneurial company in Southern California. It cost $6,000.
The rage for the strange little machine conversion didn't last long, and not many of the campers in decent shape remain.
Beyond car shows and parades, Super Bugger choices show up for sale on vintage automotive, including this option on eBay. The asking price is $39,900, just shy of five times what it costs new.
Super Bugger: Minimalism defined.
The vehicle includes: A 1.6-liter four-cylinder rear-mounted engine with a four-speed manual transmission and 60 horsepower.
There's seating for four, a small sink, a two-burner stove and a dinette table. The table lowers and creates the two-person bed. A toilet and shower are missing.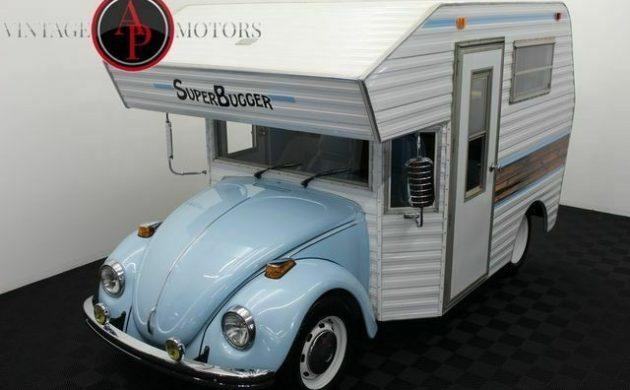 The safety of the frail-looking camper has been discussed since it debuted. Internet images show couples in campgrounds enjoys the outdoors with their rig in the background.
But many detractors abound. How can a Super Bugger find its way in any amount of inclement weather? Can it advance satisfactorily when mountain driving is required?
One keen idea for a potential buyer is a similar approach to others who work on the road in their RVs.
With its simplicity, the odd little machine could make ideal mobile offices, particularly during the coronavirus pandemic.
Here's the eBay listing: 1973 Super Bugger
Article Last Updated: October 13, 2020.
About the Author
Latest Posts