Playmates of the Year get a lot of attention. Playboy, the magazine selecting the honored women since 1964, promotes the models and, among other accolades, gives each winner a new car.
For the first 12 years of the award, all of the new cars awarded were pink. But once the odd color selection ended, another more curious occurrence happened — the sometimes bizarre choices of the cars selected.
In some instances, the Playmate of the Year received what has become an iconic car, including several Jaguar and Porsche models. In other years, the cars awarded are now nearly worthless.
The Playmates of the Year through the years have also on occasion been rewarded with a motorcycle or boat. The women are also each given $100,000.
The first playmate awarded a car was Donna Michelle and she was presented with a 1964 1/2 Ford Mustang, the year the now classic car debuted. A first-year Mustang convertible with V8 and 289 horsepower could be worth about $50,000.
In 1970, Playmate of the Year Claudia Jennings was awarded a  Mercury Capri in its debut year. It was still in the pink car era and it had a certain "style." But it's not in the same league as a Ford Mustang — of any year.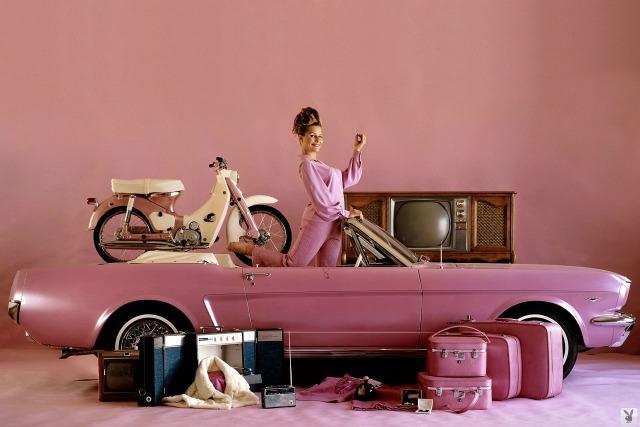 In 1985, Playmate of the Year Karen Velez was awarded a Toyota MR2. It's the only Toyota on the list, and it's a rather humble car compared to the Porsches and other high-end vehicles given to the Playmates.
But as one auto journalist noted, at least Velez could always count on the Toyota MR2 as reliable transportation.
The car choices have been diverse, Mini Cooper (2007, Sara Jean), Sunbeam Tiger (1965, Jo Collins), Shelby GT500 (Connie Kreski, 1969). In all, three jaguars, three Corvettes and three Shelbys have been awarded. In one instance, a car kit that resembled a Lamborghini was awarded.
For the complete list of Playboy's Playmates of the Year and the cars the women were awarded, visit:  Playmates' Cars